Well, ladies and gentlemen, it's time for another Breening Thursday article! On October 14, I breened The River from 1984 for The Third Annual Great Breening Blogathon. It has been several weeks since I have published a regular breening article on Thursday. I decided to breen a pre-Code film today. I started breening this movie and composing this article in June as one of my last Breening Thursday articles before #CleanMovieMonth85, but I was unable to finish it. Now, I have completed the project for today.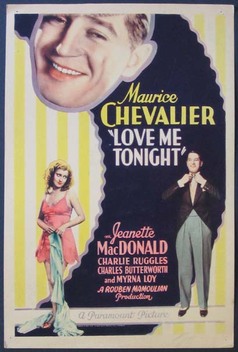 The movie I have chosen for today's topic is from 1932. This film is Love Me Tonight, a Rouben Mamoulian musical from Paramount with Jeanette MacDonald and Maurice Chevalier. This musical has been heralded as a masterpiece. Some say that it is the greatest musical ever made! I'm afraid that I must have been looking down at my breening notepad when the brilliant part happened, since I didn't see what made it a masterpiece. I try not to blatantly criticize a film I am breening, but I really feel that it is a poor film.
This film does not have any major structural problems. It's the sort of film one could surface breen to death. It has very few plot problems because it has very little plot! Let's briefly overview the synopsis. A romantic Parisian tailor, Maurice (Maurice Chevalier), makes fifteen suits for the Vicomte Gilbert de Vareze (Charlie Ruggles) only to realize that the lecherous rascal is notorious for not paying his debts. The tailor goes to his chateau to collect his payment where he is introduced by the Vicomte as a baron, since the latter doesn't want his uncle, Duke d'Artelines (C. Aubrey Smith), to know that he has accrued more debts. The chateau is run by the duke, who controls the money of Gilbert and his amorous niece, Countess Valentine (Myrna Loy). The chateau is also occupied by the lonely, widowed young Princess Jeanette (Jeanette MacDonald), the goofy but bumbling Count de Savignac (Charles Butterworth), who wants to marry her, and her three eccentric aunts (Elizabeth Patterson, Ethel Griffies, and Blanche Friderici). The princess initially spurns him, but at a party that night they impulsively confess their love for each other. The next day, the "baron" criticizes that riding habit the princess wears for a hunt. When the family finds him in her bedroom, he claims that he is just measuring her for a new riding habit. He proves his honesty by deftly making the habit in two hours, but he reveals that he is a tailor. The princess and the rest of the chateau are horrified. He leaves in disgrace, but the princess immediately regrets sending him away. She rides after his train on horseback, stands on the tracks to stop the conductor, and ends the film in her sweetheart's arms. Can that really occupy an hour and a half of time?
Apparently the writers of the original advertising for this film thought so, since one of its original taglines was, "You Could Watch it for Hours and Still Want More!!" The other original tagline was, "Warm Love! Hilarious Fun! Sweet Music! Hot Lyrics!" I can confirm that at least the first and last statements are true. When this film was re-released in 1949, a few cuts were made before a PCA Seal was issued. About six minutes of footage were cut. I find it hard to believe that what was cut could have been much more risqué than what remains. In my breening pad, I listed ninety objectionable points! Although some may be combined in my actual breening here, that gives you an idea of how questionable this film is. Let's delve right into the actual breening and see what we have left when we are finished.
The movie opens with morning in Paris. Various people going about their work form a rhythmic pattern which becomes very musical as it grows. This is my favorite part of the movie! It's very clever. Soon, we meet Maurice, who leaves his flat and walks through the streets singing "That's the Song of Paree." The risqueity begins in this song, which is fraught with Lorenz Hart's mischief. He sings the following lyric: "Our city makes postcards/Much naughtier than most cards." The reference to naughty postcards is unacceptable. The word naughtier should be replaced with prettier.
As he walks along singing, Maurice encounters a young lady and says, "Hello, Friday!" Overhearing this, a nearby woman says to him, "Friday is my day." This exchange, and many of the following aspects in this song, establish Maurice as a promiscuous lecher. Since he is our sympathetic leading man, this should be toned down. This exchange should be removed.
Maurice soon comes to a bakery, where he sings his greeting to a lady working there. She sings, "I need a beau." He asks, "How is your husband?" She replies, "He needs/kneads the dough." Maurice's flirtation with this married woman and her reference to wanting another man are unacceptable. The word husband should be replaced with father. That would be acceptable as long as Maurice's flirtation seems innocent in its intent.
Next, we see Maurice flirting with a woman who is walking along with a man. That makes the fourth woman he has romanced in one song! The man with the woman says, "This is my wife," which makes Maurice hurry along. This exchange, which hints at adultery, must be removed.
Then, he encounters a merchant who clearly looks Jewish. This depiction is farcical and could be offensive. This shop owner should not be offensively depicted as Jewish.
The tawdry song finally having ended, Maurice goes into his tailor shop. He brags to a customer, Emile (Bert Roach), of all the business he has gotten from the Vicomte Gilbert. Just then, a race of men in tank tops and very short shorts passes by. Among them is the Vicomte! He rushes into the store. Although he is holding a numbered card, he is not part of the race. He is just wearing his undershirt and undershorts, so he looks like he is in the race. In case we couldn't guess why he is running around in his underwear at this time in the morning, Gilbert explains that the girl's husband came home unexpectedly, so he ran until he happened to find himself in the race. This clearly implied adulterous situation is disgusting and entirely unacceptable. Gilbert must not be shown running around in his underwear as he tries to escape a jealous husband! The only other business in the scene between Maurice and Gilbert is that the Vicomte asks for one of his suits to wear, which he dons without shirt or tie although he hasn't paid for it yet. Rather than settling his bill, he borrows 2,000 francs from Maurice! This set the plot, what little there is, in motion, since it forces Maurice to go to his chateau in pursuit of his payment. However, it just won't do. He must not be undressed. Instead, he should be in a suit which has been mussed and tattered. He should say, "The girl's fiancé dropped by unexpectedly." That makes it sound like he was having an innocent rendezvous with an engaged girl rather than an illicit affair with a married woman. The idea that he was disheveled when being pursued by a jealous fiancé would give him an acceptable excuse for needing a new suit. Since he is no longer in his shorts, the race will have to be removed. It's just as well, since the real racers didn't seem decently dressed to me anyway.
After the Vicomte leaves, Emile, who has been putting on his new suit in the dressing room the whole time, comes out. As he admires himself in the suit, he says, "I'm beautiful." His giddy pleasure with his own appearance seems rather effeminate. There must be no pansy flavor with this character.
Maurice soon begins telling his satisfied customer about the joys he gets from making clothes. He breaks into a chorus of "Isn't It Romantic?" the now-famous Rodgers and Hart standard. He doesn't sing the usual romantic lyrics, though. Instead, he sings about how romantic sewing is. This is very suggestive and totally unacceptable. I don't even need to bother with breening the individual lyrics. I'm just going to cut this whole rendition of the song. Bert Roach walks out of the scene singing this tune, and it is quickly picked up by a cab driver. His passenger, a writer, begins singing it in turn. Next, soldiers are singing it, and a deserter brings it to a band of gypsies. Finally, it arrives at the chateau, where Jeanette sings it on a balcony.
When she has finished singing, a ladder is propped against her terrace. The Count de Savignac climbs up it, carrying a piccolo to serenade her. Although he is unbelievably droll, his intentions hardly seem proper. She says that she thought bed was the proper place for her, and he replies, "Wait, I'll join you!" His unsuccessful and unimpressive wooing ends when the ladder falls backwards. He informs her, "I fell flat on my flute." His visit on the balcony implies questionable intentions. The ladder, the lines about bed, and the remarks about falling on his flute, which is actually a piccolo, must all be removed.
Next, we see Jeanette's three aunts performing some strange incantations to free her from her fainting spells. This is a quote from Shakespeare's Macbeth. Reference to witchcraft, even if farcical, is in poor taste. It is offensively dark to religious people, but it could be insultingly comical for people who believe in occultism or black magic. The aunts' spell-casting should be eliminated. Instead, they should be praying aloud to God or some saint. It would be historically accurate for French noblewomen to be Catholic at this time.
We soon meet Countess Valentine. Her first dress is very tight. The neckline is also quite low. Myrna Loy spends most of her time in this film in indecent costumes. This is not surprising, considering her image as a tramp and a vamp in pre-Code films. Despite that, she was a very beautiful woman who could be attractive without flaunting her figure. She should be wearing an acceptable costume.
There is another intrinsic problem in this character, and it is not outward but inward. She is intensely amorous. Pursuing men is her only interest. Although interest in men is normal for a young woman, hers borders on indecent obsession. She seems very lustful and immoral in her desires, similar to a man who is a promiscuous "Casanova." If that element is removed from her character, there will be absolutely nothing left. She has no character. She is just an amorous tramp who delivers racy lines in revealing dresses. The pathetic truth about most the characters in this film is that they have no personality. They just are caricatures of different "types" of people, mostly focused on desires of the flesh. They wholly follow the Freudian idea that people, like animals, are primarily driven by amorous desires. If all the risqueity were removed from this film, the filmmakers would have been forced to give the characters some, well, character. If they didn't, there would be absolutely nothing in this film but too many musical numbers. Some suitable character needs to be developed for Countess Valentine. She may be slightly flirtatious, but currently she is ridiculous!
After asking her uncle if she can go back to Paris, Valentine surveys three footmen who come in. They are all quite elderly. She says, "Can't we ever get a footman under forty in this place?" This line is quite suggestive, since it implies that she wants to have immoral relations with male servants. It should be deleted, and no point of the footmen's age should be made.
In the next scene, Countess Valentine wears an evening gown. Its neckline is too low and unsupported. Also, the skirt is too tight.
Gilbert enters the mansion and sees Valentine sitting on the bottom step of the staircase with her eyes closed. He greets her, and she opens her eyes. Seeing the masculine shoes, she gleefully cries, "A man!" Looking up, her face falls as she sees who it is. "Oh, no," she says. "Just cousin Gilbert." This is just part of Valentine's whole unacceptable characterization. This is just part of Valentine's whole unacceptable characterization. These lines should be deleted.
Gilbert asks Valentine why she is sitting there, and she replies that she is trying to get up enough energy to go to bed. This line is suggestive. (Basically, any references these characters make to bed are unacceptable.) Also, the way she is sitting on the stair looks very strange. Instead, she should be sitting on a chair or couch looking bored, which eliminates the need for the line in the first place.
Gilbert tells Valentine that she doesn't know how to handle their uncle to get money from him. He says that he will tell the old "sky hawk" that he needs the money for charity, "to provide good homes for bad stenographers." The reference to bad stenographers is unacceptable, since it implies that the Vicomte gives money to loose women. Instead he should say that the money would serve to "buy clothes for the ragged of Paris." This would still be comical, since he obviously intends to pay his tailor debts with the money.
Then, we see the three aunts performing more ceremonies. This time, they say, "Lord," which fits the theory that they are praying. They just shouldn't seem like such sorceresses.
Back in Paris, a credit man comes to Maurice's store. Maurice mistakes him for the angry husband, now father, who pursued the Vicomte to his store. He tells him to forgive and forget. This dialogue would be acceptable if the word wife were replaced with daughter. However, the gentleman who plays this role doesn't look old enough to have a grown daughter. Either an older-looking actor should play the role, or the misunderstanding should be removed.
As Maurice is about to leave, a young woman runs up to him. Having heard that he is leaving, she tells him that her husband, Pierre, who is a chauffeur, has to pick up his employers. She insists that he would love to drop him, and Pierre grudgingly confirms this. The fact that this lady is so eager for her husband to help Maurice and drive very carefully implies that Maurice is more than just a friend to her. Since a romance is implied, Pierre should be the lady's brother instead of her husband.
When the automobile has car troubles very near the estate, Maurice meets Jeanette. She is riding around in a horse-drawn carriage. In this scene, she is wearing a white dress which appears to have very little support for her figure. She should be wearing proper undergarments.
As she is driving her carriage, she is singing "Lover." During the song, she interrupts her singing several times to yell at her horse. However, each time, the words she says have a meaning that fits with the rest of the lyrics. One of the lyrics is, "Like two children playing in the – Hey!" Although the hey is directed toward the horse, it sounds like she is saying "playing in the hay." This line is suggestive and must be changed.
After Maurice rescues Jeanette from a ditch, he sings a chorus of "Mimi" for her, since he insists her name is Mimi. In this song, he sings the lyric, "You know I'd like to have a little son of a Mimi, by and by." This lyric is highly suggestive by itself and is especially bad when coupled with Maurice's roguish look. The lyric should be changed to something like, "You know I'd like to have a little wife of a Mimi, by and by."
Back in the house, Jeanette has another one of her fainting spells, for no particular reason. The Count de Savignac sees her faint and calls for help. Several people come over. Gilbert recounts that he had an elder brother who had fainting spells and was a "nipomaniac," a term I'm sure the screenplay-writers invented. He explains how he used to go around pinching things. The Count then says that he had a friend who used to pinch business girls in elevators and had to be sent to a cooler climate. This exchange about pinching is unacceptable and completely unnecessary. It should be eliminated.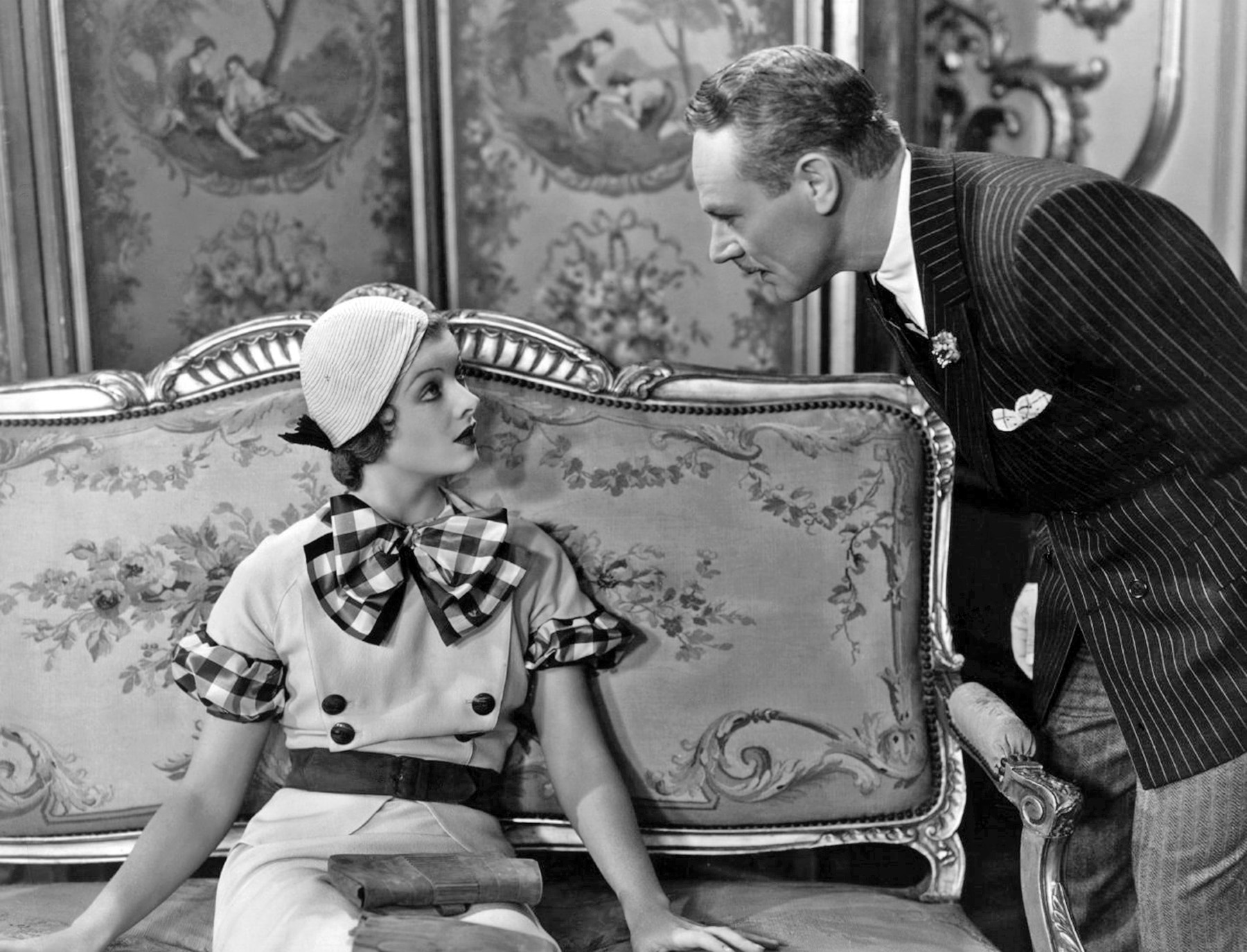 The Duke tells Gilbert to fetch the doctor, but he tries to give the duty to Valentine. He finds her sleeping on the couch. I don't know why she is always snoozing. He asks her, "Could you go for a doctor?" Perking up, she says, "Certainly! Bring him right in." She is confusing his request for her to go and get the doctor for a question inquiring whether or not she could "go for" the doctor. Naturally, she can go for any man! This exchange should be eliminated. The lazy Gilbert should just go for the doctor himself.
When the doctor arrives, he goes to Jeanette's room, where she is lying in bed. He promptly tells her to take off her dress, assuring her that he will only look at her with a physician's eye. All the dialogue in this scene is spoken rhythmically and in rhyme, so it seems quite natural when Jeanette begins to sing. This silly Sprechstimme and singing instead of normal dialogue reminds me very much of passages I eliminated from The Phantom of the Opera by Andrew Lloyd Webber when I turned it into a Code film for The Phantom of the Opera Blogathon, especially considering its risque content. Anyway, Jeanette takes off her dress, which is more like a robe, and the camera pans down her figure, which is only in a step-in, a popular one-piece lingerie combination of camisole and panties, as the doctor leers at her. The thorough examination he must perform consists of little more than taking her heartbeat, which he surely could have done through her dress. Her disrobing is completely unacceptable and must be removed.
After the doctor pronounces Jeanette healthy, she tells him about the way she has been "wasting away" for three years since her husband's death. She is sad when she lies in bed at night, music does things to her, etc. Then, the doctor discovers that her deceased husband was seventy-two! Basically, she is romantically frustrated. The doctor says, "With eyes, red lips, and a figure like that, you're not wasted away. You're just wasted." This whole exchange is indecently suggestive. Instead of this ridiculous singing and exchange of rhyming spoken lyrics, they should have a serious conversation. Her lines should be along the same lines, but she shouldn't mention lying alone in bed at night. Also, the multiple references to her symptoms occurring "at night" should be removed. The doctor should tell her that she obviously is lonely. She has never known true love, so she should get married to a man her own age.
After the doctor conveys this news to the family, the Count thinks that he may have another chance at marrying the Princess, since the doctor prescribed marriage. The Duke reminds him that his rank is lower than Jeanette's. The Count says that he mustn't forget the tenth Count de Savignac. When the other asks, "What about him?" the Count whispers in his ear. Afterward, the Duke says, "Marie Antoinette?" in surprise. This secretive information is significant enough to convince the Duke to allow the Count to ask for Jeanette's hand again. One can only guess what they were discussing, but he must be talking about some affair between the Count and Marie Antoinette. If it weren't scandalous, he would have said it aloud. He should instead say that the Count was the best friend of King Louis XV.
When Maurice arrives in the mansion, he searches for the Vicomte. First, he comes upon the three aunts, who are sewing. They ask him, "We bore you with our sewing?" He responds, "Oh, no. A needle is magnetic!" This reference to a needle is suggestive. Instead, he should say, "Sewing is magnetic!"
Maurice eventually stumbles across the Duke. He mistakes the nobleman for a servant because he is polishing a suit of armor and advises him to use flannel instead of silk. When Gilbert comes in, the Duke tells him that he likes Maurice, whom he has mistaken for his nephew's noble friend. He says, "He recommended flannel," providing absolutely no context for this statement. The Vicomte's reaction reveals the double entendre in this line. The Duke should instead say, "He recommended that I polish the armor with a flannel cloth." This would leave only the first meaning, which is what the Duke intends. However, the filmmakers probably only wanted to include the line because of the other meaning, so they may want to remove the line altogether.
In the next scene, the Duke, the Vicomte, the three aunts, and the Count all reprise "Mimi" as they go about their morning activities. They like the ditty which they learned from their guest, whom Gilbert introduced as the Baron Courtelin. The lyric about "a little son of a Mimi" would obviously have to be changed as before. Other than that, there is nothing wrong with this scenario from a Code standpoint. Artistically, I find it very silly, but that isn't the business of breening.
The next day, they have a hunt. Maurice joins, despite the fact that he has never ridden a horse before. Jeanette picks the meanest horse for him, Solitude, who always comes home alone. When Valentine asks why she chose that horse, Jeanette replies, "I want to test the Baron." Valentine suggestively replies, "I can think of several better ways to do that. Let me try!" Valentine's line is unacceptable. Instead, she should say something like, "I would think there might be a less dangerous way to do that."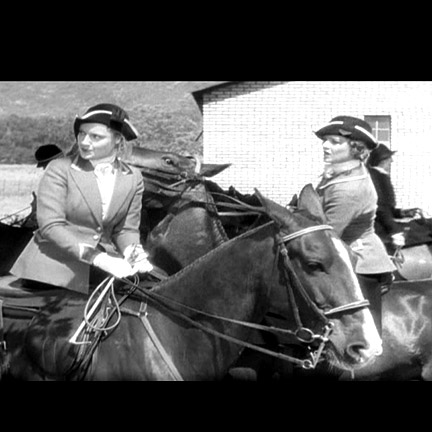 In response to Valentine's lustful remark, Jeanette asks, "Tell me, do you ever think of anything but men, dear?" "Oh, yes," Valentine replies. "Of what?" "Schoolboys!" This line is totally unacceptable, since it is a perfect summation of this character's whole objectionable view toward life.
During the hunt, Jeanette dismounts and goes into a cabin. Inside, she finds Maurice, who is feeding the stag, the object of the hunt. She asks, "What is this?" Referring to the bowl of food, he replies, "These are oats, Madame. Very wild." The italicized part of this line is an unacceptable reference to "sewing wild oats." That part of the line should be deleted.
Later in the scene, Maurice criticizes Jeanette's riding habit, since it isn't graceful and in the mode. He closes his eyes and says, "I am thinking of you without these clothes." Shocked, she insists, "Open your eyes at once!" He quickly protests that he was thinking of her with different clothes, smart clothes. However, the implication of his line was very pointed. This gimmick is one of the most common un-Code gags. Instead, he should immediately say, "I am thinking of you in different clothes, smart ones," lest there be no confusion.
After the hunt, the Count tells the Duke that he has searched records of noble family in search of the Courtelins. He says that he has discovered that there is no such title as the Baron Courtelin. He states, "I've even been through the better class illegitimates." This line is unacceptable and should be removed. Gilbert explains that he is actually royal, so he is going under a false name to hide his identity. He says that his title is "merely a nom de Pullman." Rather than nom de plume, the French phrase for penname, he says that he is using a Pullman name. This is probably a reference to a Pullman car, a sleeper car on trains. This has suggestive connotations. Instead, he should say nom de plume.
Later, there is a costume ball in Maurice's honor. At the party, the Duke asks the Count if he could do something to entertain. The Count replies that he has been helpless since his accident, saying, "I fell flat on my flute." Like the earlier reference to having damaged his flute, this dialogue must be removed.
At that ball, several people are wearing indecent costumes. Remarkably, one of them is Gilbert. He is wearing a Scottish ensemble with the shortest kilt I have ever seen. It barely reaches to his thighs. He looks ridiculous in this inaccurate costume. The kilt should reach to his knees.
Referring to Valentine, Gilbert remarks to the Duke, "You know, it's dangerous inviting guests here with a girl like that around. Somebody will sue us." This further supports the unacceptable characterization of Valentine.
Valentine soon appears. She says that she has been watching Maurice put on his costume! The Duke is outraged, but the Vicomte explains that it is "alright" because she only bored holes through the door between their rooms. This is disgusting! It must be removed. The following dialogue about doors and instincts having come down through generations must also be eliminated.
At this party, Valentine wears a very striking black dress with paniers and a powdered wig. Unfortunately, the neckline is frightfully low. It must be raised to a decent level.
Jeanette is wearing a white Empire dress in this scene. Her neckline is also very low, loose, and unsupported. The neckline needs to be raised and tightened.
Maurice attends the party dressed as an Apache, which is similar to his regular commoner attire. He sings a song entitled "The Poor Apache" to explain what an Apache really is. Contrary to popular belief, this song is not referring to an Apache Indian. Apaches were street gangsters who plagued Paris in the early 20th century, known for their brutal ways. The song he sings is full of objections. In the first verse, he makes numerous references to physical abuse toward his sweetheart, a shopgirl, including twisting her wrist, blacking her eye, and hitting her where only a chair touches. In addition, a repeated phrase in the lyrics is "Nuts to you," a forbidden expression. If the violent lyrics were toned down and the forbidden expression removed, the song would still have the questionable basic of being about a criminal who ends up having his head chopped off! For this reason, he should be dressed as another type of person about whom he could sing.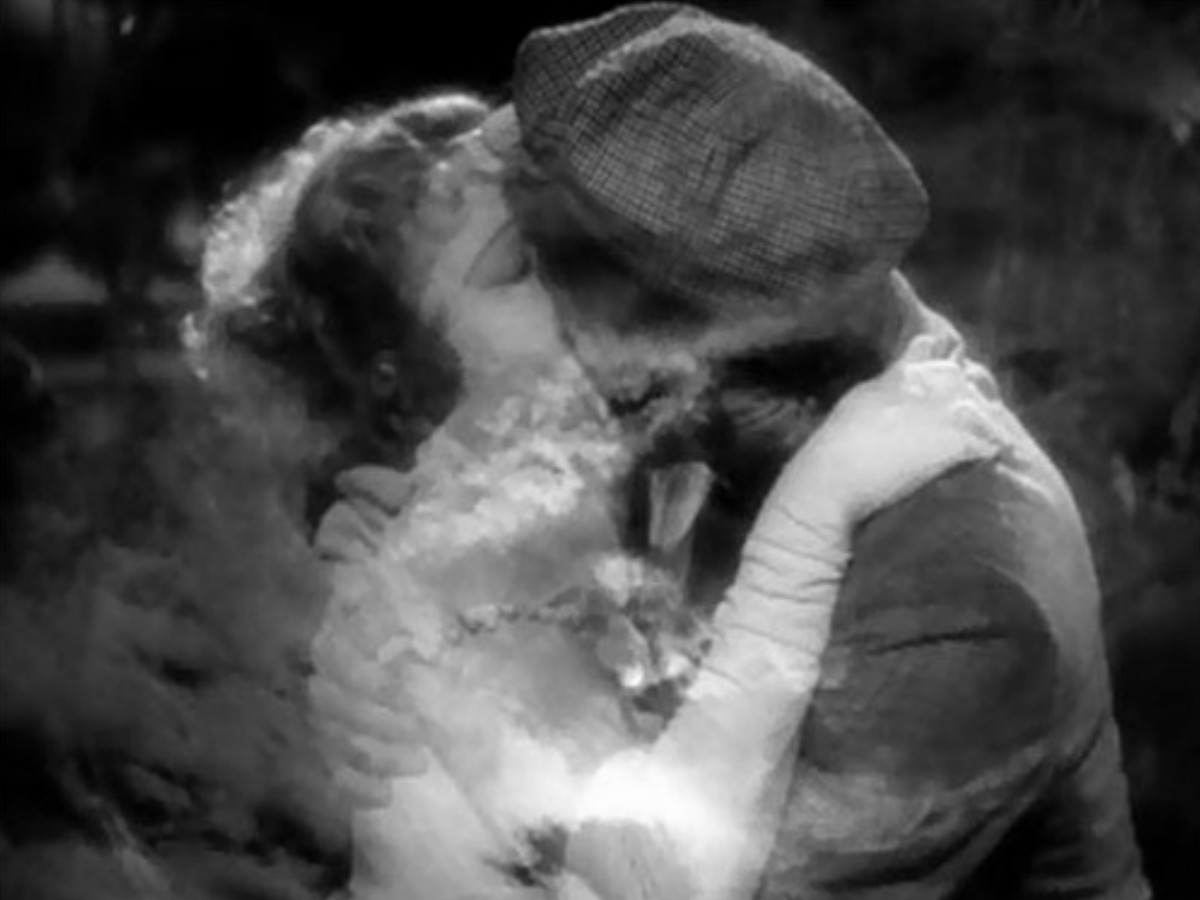 At that party, Jeanette goes into the garden, and Maurice follows her. Eventually, they pledge their love for each other. The scene ends with a slow fadeout on a long kiss to a cloudy sky. Fading out this kiss is suggestive. They should kiss for a reasonable length of time and then stop kissing before there is a fade out.
In the next scene, we see Maurice sleeping. While he slumbers peacefully, he dreams of Jeanette, which we know because of the overdubbed lines and singing in his head. At the end of the scene, a split screen is used to show Jeanette asleep right next to Maurice. Although they are in separate beds in separate rooms, this technique makes it look like they are in bed together. This technique should be removed. If Jeanette is shown sleeping, it should be in a solo shot of her in her room.
In the next scene, Jeanette is being fitted for a new riding habit by Madame Dupont (Mary Doran), the refined older seamstress. While she is wearing the unfinished habit, the coat's neckline is too low. It reveals the top of her undergarment. The neckline should be higher.
Maurice comes in during the measuring, and he and Jeanette begin to make eyes at each other. She asks him what he thinks of her riding habit. He answers with a string of rapturous compliments, but it is obvious that he is not talking about the riding habit but the woman wearing it. She invites him to come over and take a closer look, but he still isn't looking at the outfit, and she knows it. Their behavior is too flirtatious in this scene. Her behavior is particularly unacceptable. She has that "come hither" look which one rarely sees from her in Code films. It looks overly vampish. This character shouldn't be characterized as a tramp. She should seem flattered and amused that Maurice is too enchanted with her to notice her clothes, but she shouldn't entice him with her eyes.
When Maurice finally pays attention to Jeanette's riding habit, he is very displeased. He criticizes every aspect of it. Taking matters into his own hands, he takes the coat off Jeanette to fix it. Jeanette is left wearing only her step-in with the skirt. Instead, she should be wearing a small white blouse underneath. I don't think that riding habits were worn over nothing but the lingerie, so it would make more sense for her to be wearing a little top.
Later in this scene, Maurice and Jeanette kiss. It looks very indecent because she is just wearing her lingerie on top. This would be better if she were wearing a proper top, as I suggested.
Madame Dupont leaves the room in a huff after Maurice starts criticizing her riding habit. She storms into the hallways and tells the three aunts that she has never been so insulted. The three ladies start shrieking frightfully. As the other family members come into the hallways, the aunts pass the news that Madame Dupont has been insulted. Everyone has a different response, each suggestive of the fact that they misunderstood the statement. The Count incredulously says, "At her age?" The Countess huffs, "Some men have no taste!" The Vicomte wryly remarks, "The old girl must have something." All these reactions are unacceptably suggestive. Instead, the Duke should just say, "How has she been insulted? We must do something about this!"
In this scene, Valentine is wearing a black dress with a solid black slip, of sorts, and sheer black material over it. The neckline of the black slip is too low. The style would be alright if the neckline were raised.
When the family comes into the room where Maurice and Jeanette are kissing and contemplating her riding habit, they are shocked to find them alone together thus. Jeanette tries to cover her chest with the thin strip of material that was the coat's collar before Maurice tore it off. The way Jeanette tries to cover her chest draws undo attention to that area. This would be unnecessary if she were wearing a proper top. The family could be outraged because they are kissing there like that, not because she isn't dressed.
After the Duke and the rest of the family leave, having granted Maurice two hours to fix the riding habit, he proceeds to measure Jeanette. This is one of the most famous parts of this film. I'm sure all pre-Code film fans have seen the image of Jeanette looking coquettish as Maurice measures her chest. He also suggestively measures her waist and hips. Although he is doing it for practical reasons, the treatment is indecent. He should only be shown measuring her arm.
After it is revealed that Maurice is just a tailor, not a nobleman, practically every member of the household begins singing, "The son of a gun is nothing but a tailor." A chamber maid sings the lyric, "I used to flirt until it hurt,/While he stood there in his undershirt." This lyric is unacceptably suggestive and must be eliminated. Then, a washerwoman sings about washing out his underwear and wishing she had torn the buttons off his "panties." All references to his underwear must be eliminated.
That concludes my breening! It seems like there isn't much left of this film. I have heard many people call this movie a masterpiece. If it truly had brilliance in it, it could withstain this breening. If not, it wasn't that deep and brilliant in the first place. Hopefully, with these suggested changes, the plot would have been developed more thoroughly, and the characters would have been deepened. There are very few Code musicals which are this silly and frivolous. There must be a reason why!

Click the above image to buy this movie on DVD at Amazon and support PEPS through the Amazon Affiliate program!
This year, on November 8-10, we of PEPS will be hosting The Second Annual Claude Rains Blogathon, the thrilling sequel to last year's gala! Our previous blogathon honoring this beloved actor proved to be our most successful ever, so how could we help but reprise it? Join us for three thrilling days as we celebrate all the brilliant performances of this illustrious star of the cinema!
This year, PEPS is celebrating the holidays with a blogathon! It is called The Happy Holidays Blogathon, and it will run December 6-8. It is all about films which feature the winter holidays. Eligible holidays include Thanksgiving, Christmas, Hanukkah, Kwanzaa, News Years, The Twelve Days of Christmas, The Epiphany, Russian Christmas, and Russian New Years! Whether it is just one scene or the whole film, this is your chance to write about your favorite holiday movies!
Follow us to bring back the Code and save the arts in America!
We are lifting our voices in classical song to help the sun rise on a new day of pure entertainment!
Only the Code can make the sun rise on a new day of pure entertainment!