On Thursdays, I usually publish articles in my Breening Thursday series, my oldest weekly series. In these articles, I take movies made outside the Breen Code Era (1934-1954) and say how they would have been different if they were self-regulated by the Production Code Administration under Joseph Breen. During July, which was #CleanMovieMonth85, a month specifically dedicated to nothing but Code films, I suspended this un-Code film series. Instead, I published articles in a new series every Thursday. This series is Code Concepts, and it is a series of articles in which I explain the most important facets and most common myths of the Breen Era.
I published three of these articles during July. In August, I returned to publishing Breening Thursday articles, so I haven't worked Code Concepts articles in the schedule. However, it is a very important series for explaining some of the most important issues of the Code years. Thus, I have decided to dedicate one Thursday each month to a Code Concept instead of a breening article. It's important to understand the principles of self-regulation as well as seeing them in action. Due to other commitments, I haven't published any Breening Thursday articles so far this month. However, our breening articles for The Phantom of the Opera Blogathon and The Third Annual Great Breening Blogathon have provided plenty of breening instead! We will publish breening articles the next two Thursdays in October.
If I can, I try to take my Code Concepts topics from the questions, comments, and musings of my readers so that I can address issues which are important to them. During #CleanMovieMonth85, Sally Silverscreen of 18 Cinema Lane posted five guest articles as part of the celebration. She was the most prolific guest participant in the series, so I greatly value her contributions. She is a newer supporter of the Code, just having learned about it last October because of our Second Annual Great Breening Blogathon. As such, her thoughts and reactions toward the Code are an excellent guide of what a new Code supporter who has always appreciated decent films thinks.
Two  of Sally's #CleanMovieMonth85 articles were about foreign films made during the Breen Era. Her third guest article was about Madeleine (original post),a British film from 1950, and her fourth was about Les Enfants Terribles (original post), a French film also from 1950. In the article about the second film, she expressed her surprise that both films were approved by the Code. However, she rightly noted that they were released during the Greater Breen Era (1934-1954) and that the MPAA logo was visible in the opening credits of the British film.
In her review of Madeleine, Sally made the following remarks in regard to the Code:
"Madeleine was created in the United Kingdom, meaning that it's considered a foreign film. The fact that this movie was approved by the Breen Code, as the logo can be seen during the opening credits, surprised me. This is because I was given the impression, after reading the article, 'The Production Code of 1930's Impact on America' from Pure Entertainment Preservation Society, that foreign films weren't directly impacted by the Breen Code."
This shows that Sally did her research before writing her article! Toward the end of the article, she said:
"Similar to Citizen Kane (original post), I could see the Breen Code's influence within Madeleine. Anytime Madeleine and Emile kissed, they turned their heads to hide the kiss from the audience. All of their kisses only lasted a few seconds. Madeleine and Emile engaged in an affair throughout the film. But because of how the script was written, their relationship was never labeled as an affair. Also, the word 'affair' was never said by any of the characters."
Sally is very conscious of what the Code requires and its standards. She concludes the article with a general thought on foreign films from the Code Era:
"After watching this film, I'm now curious to find out what other foreign films were approved by the Breen Code."
In her second article about a foreign film, Sally delved more into serious contemplation of foreign Code films:
"When I found out that this particular movie was released during the Breen Code era, in 1950, I was curious to see if any traces of the Breen Code could be found in the film. So, that is why I chose Les Enfants Terribles for one of my Clean Movie Month reviews! If you read my review of Madeleine, you would know that Les Enfants Terribles is not the first foreign film I reviewed for this blogathon. In fact, I was quite surprised that Madeleine was approved by the Breen Code."
Later in the article, she mentioned the Code standards she saw in the film:
"As I was watching Les Enfants Terribles, I could see some of the Breen Code's influence. One example was anytime the doctor came to examine Paul. Either the examination itself was not shown on-screen or the doctor would only be shown listening to Paul's heartbeat."
However, in her conclusion, she expressed her surprise at much of the film's content, wondering if it reflected changing times:
"However, when it came to this film, the Breen Code could have enforced more. There were several times where characters were swearing, either at each other or just so the sake of it. This shocked me because not only was Les Enfants Terribles released in 1950, but it was also released during the Breen Code era. I was surprised that this movie got away with having this much language in the early '50s. Was this particular film the beginning of the end for the Breen Code? That's definitely a question for another day."
Well, this is another day, so I consider it my duty to clear up this point for Sally and my other readers. How did foreign films relate to the Code and the PCA?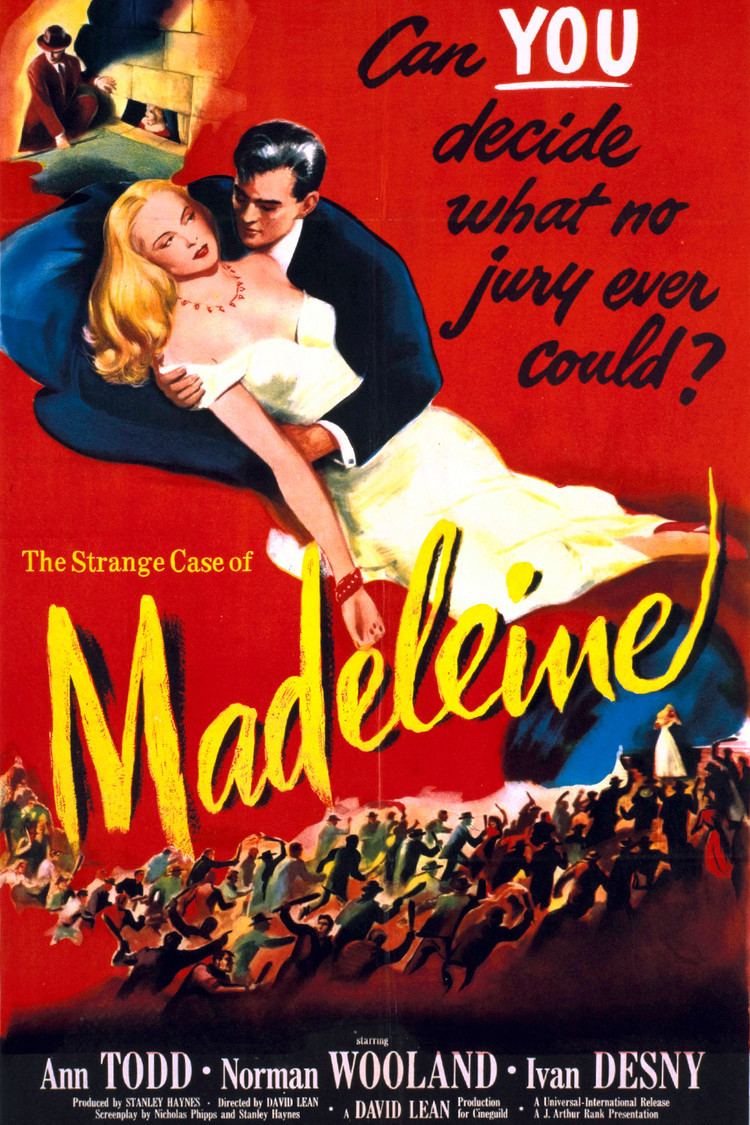 Madeleine was produced by the J. Arthur Rank Organization and Cineguild, two British production companies. It was filmed in England. It was distributed throughout the United Kingdom and the world by General Film Distributors in February of 1950. It was released in America by United Artists in August of the same year, but it was still a foreign import. It was given an PCA Seal of Approval, certificate #13958.
Les Enfants Terribles was produced by Melville Productions, a French production company. It was filmed in France. It was distributed throughout France in March of 1950 by Gaumont Distribution and in America by Arthur Mayer-Edward Kingsley in July of 1952. It had no PCA Seal of Approval, so it was played in art houses.
Foreign films were not self-regulated by the Production Code Administration. However, the United States was a large market for European films, especially British. For that reason, foreign filmmakers had to keep the Code in mind when making their films if they wanted to play them in America. You see, every film that was played in major US theaters had to have a PCA Seal of Approval for distribution, including pre-Code re-releases and foreign imports. That is why there are so many more certificate numbers of PCA-approved films than actual Code films.
European filmmakers occasionally corresponded with the PCA about troublesome topics in films. Joseph Breen also wrote to foreign film companies when he heard that difficult scenarios were in the works. However, they didn't comply with Code standards as often or as thoroughly as he wanted them to. Then, they were often very disgruntled when he ordered cuts to films before issuing seals for American distribution. If the films did not receive the necessary cuts, they were denied Seals of Approval and entry to the United States through any channel except the art houses. Art houses were small independent theaters which did not play standard Hollywood films. They played foreign films, pre-Code films which had not been issued seals for re-release, or independent American films which were not PCA-approved.
PCA-approved foreign films are a strange lot. I have breened some here at PEPS, such as  Miranda from 1948. As Sally noticed, they don't seem like Breen Era films. They frequently contain indecent costumes, profanity, risque dialogue, suggestive situations, heavy female smoking, and other unacceptable elements which were common in pre-Code American movies. Personally, I don't consider foreign films made during the Breen Era to be Code films, even if they do bear the MPAA Seal of Approval. Some of them are still excellent films from an artistic standpoint, but they don't have the thorough decency which came from careful self-regulation. It is for that reason that I include Foreign Films from 1934 to 1954 as a category for breenable films. If they had been breened in the first place, they wouldn't be eligible for hypothetical self-regulation now.
Although Sally's two foreign films for #CleanMovieMonth85 aren't really Code films, they gave us a good reason to discuss a very important aspect of the Breen Era. I sometimes refer to the time during which Joseph Breen enforced the Code as the American Breen Era, since only Hollywood films fully met the Motion Picture Production Code's standards of decency. When you are watching an old film, it isn't enough just to see the Seal of Approval. Make sure that the movie was made by a Hollywood company to be sure that it was breened.
Although Mr. Breen and the PCA didn't directly influence and guide filmmakers from other countries as they did those in America, they influenced them nonetheless. They weren't compelled to comply with Code standards, but foreign filmmakers knew that they had to take the Code into consideration to distribute their movies in America. Thus, European films showed restraint for twenty years, as well!
Of course, they weren't always happy about it. In his 1970 memoirs about his time at the PCA and the history of its function, See No Evil: Life Inside a Hollywood Censor, John A. Vizzard wrote about British-American relations in the film business. Mostly he wrote about the hard times which British peculiarities gave American filmmakers and self-regulators alike, such as the previously-explained twin bed rule. However, he mentioned one incident which revealed how the British could be shockingly liberal yet infuriatingly prudish at the same time.
And, for a final oddity in connection with the British, it is recorded that a member of the House of Lords rose on the floor to denounce the American Code for ordering the deletion of a "questionable" word from an English picture seeking playing time in the U.S.A. The inference was, of course, that the Code was being used as a tool of American monopolistic interests to block the invasion of competitive entertainment from a more talented source. At last, one of the members of the august House, curious beyond bearing, requested to know the word that had been ordered deleted. The speaker demurred. "I cannot tell you," he informed the questioner. "It is not a fit word to be uttered within the confines of these walls."
Foreign films show us that the Code didn't just reflect times with high moral standards. Code films reflected the special brand of decency and wholesomeness which was singular to the United States. Although there were high moral standards in other countries, they didn't apply so thoroughly and reasonably to art. The whole process of self-regulation is distinctly American. It is the process of an industry guiding itself and setting its own high standard. The Code helped Hollywood present American entertainment and the American way of life as a beacon for correct living, decency, uplifting values, and fairness to the rest of the world.
From double beds to sleeping pills, every Code rule had a reason.
Follow us to bring back the Code and save the arts in America!
We are lifting our voices in classical song to help the sun rise on a new day of pure entertainment!
Only the Code can make the sun rise on a new day of pure entertainment!