Today is Sunday, so it's time for another 52 Code Films article. Every week this year, I have pledged to watch at least one new movie from the American Breen Era (1934-1954), the years when Joseph I. Breen led the Production Code Administration's enforcement of the Code. Thus, all the Hollywood movies were carefully self-regulated according to the Code's guidelines of film decency. All movies were made with the goal of being "reasonably acceptable to reasonable people." This is the era of movies which we love. I created this series to expand my knowledge of breened cinema by watching as many Code films as possible. I now am on my thirty-eighth week. It has been a very enlightening and enjoyable experience so far.
Today's topic is A Star is Born from 1954. I have heard about this movie for years, most notably the debate about the Academy Award that Judy Garland should have won. With the release of the new A Star is Born in 2018, new curiosity arose about the older versions of this film. I heard that there was a 1937 non-musical original, and I was fascinated. Since it was free on Amazon Prime, I added it to our watchlist. On July 14, I reviewed that movie as my twenty-eighth new Code film. I found it to be a masterpiece and a perfect Code film. Ever since then, I have been very curious to see the other Code film version of this popular story so that I could compare the two.
When I heard that Sally Silverscreen of 18 Cinema Lane was hosting her very first blogathon, I knew that I had to join, since she is one of my best blogging friends. She's calling it Siskel and Ebert at the Blogathon. It is a tribute to Gene Siskel and Roger Ebert, the famous film critics of Chicago. I did some research on the gentlemen so that I could participate and found that they mainly reviewed current releases from the 1980s and 90s. I searched the list of the movies they reviewed, and one of the only classic films I found was A Star is Born from 1954. Since this movie was important in the careers of both Messrs. Siskel and Ebert, I decided that this blogathon was the perfect opportunity to watch and review the second A Star is Born. We rented this movie on Amazon Video and watched it on Thursday evening.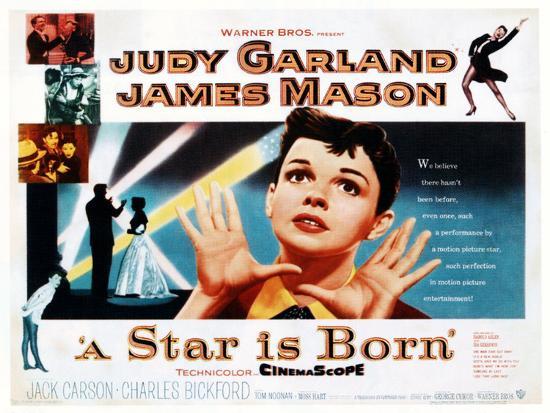 Plot
A band singer saves a famous actor from humiliation when he drunkenly stumbles onstage during a gala, since she makes him part of her number. He is very grateful and quickly becomes interested in her, but a friend of hers in the band advises her to stay away from the sottish star. However, she finds him to be nice. She is very surprised when he appears at the little café where she and the band are unwinding after work late that night. He is more sober now, and he hears her sing an emotional song. Afterward, he tells her that she is a wonderful singer. He drives her home and encourages her to quit the band and stay in Hollywood, telling her that he can get her a screen test. It is a big gamble, but she decides to give up the little dream for the big one. Unfortunately, the actor doesn't know that he is going to be taken away for location shooting the next morning. When she doesn't hear from him, the young singer thinks that he has forgotten about her, so she works odd jobs to make a living. Eventually, he comes back to town, and he scours the city for her. He locates her after he hears her singing in a commercial on television. Once they are reunited, he arranges for her screen test. At first, she just plays bit parts until the actor convinces his friend, the studio head, that he should give her a chance by using her as the star of an important musical. She is a huge sensation in the role, but the film premieres at the same showing as the actor's latest film, which is far from a success. As the young woman becomes the studio's greatest asset, she is becoming very valuable to the waning actor, as well. He asks her to marry him, and she agrees. Much to the displeasure of the studio's heartless publicity man, the couple sneaks away to an obscure little town where nobody recognizes them and gets married privately. They settle down together in a big house in Malibu. They love each other very much, but their marriage is far from blissful. While she is becoming one of the biggest stars in Hollywood, famous for her singing as well as her acting, he is soon dismissed from the studio because his acting has declined after years of drinking. Although he tries to sober up for her, the strain of becoming nothing more than the husband of a famous woman continually drives him back to the bottle. Neither his devoted wife nor his dear friend, the studio head, knows how to help him. Is love enough to save a destructive person from himself?

Cast
The aspiring singer who becomes a famous actress is Esther Blodgett, later called Vicki Lester, played by Judy Garland. The waning actor who takes an interest in her is Norman Maine, played by James Mason. The owner of the film studio where they both work is Oliver Niles, played by Charles Bickford. The studio's heartless publicity man is Matt Libby, played by Jack Carson. Esther's musician friend is Danny McGuire, played by Tom Noonan.

Production Notes
This movie was directed by George Cukor. It was produced by Sidney Luft with associate producer Vern Alves. The production company was Warner Bros. The screenplay was written by Moss Hart. It was based on the screenplay of the 1937 film of the same name, which was written by Dorothy Parker, Alan Campbell, and Robert Carson. The soundtrack included seven new songs with music written by Harold Arlen and words by Ira Gershwin, plus a few existing songs by other composers, which were all sung by Judy Garland. This movie was nominated for six Academy Awards, including Best Actor for James Mason, Best Actress for Judy Garland, Best Color Set Direction for Malcolm C. Bert, Gene Allen, Irene Sharaff, and George James Hopkins, Best Color Costume Design for Jean Louis, Mary Ann Nyberg, and Irene Sharaff, Best Original Song for "The Man That Got Away" for Harold Arlen and Ira Gershwin, and Best Scoring of a Musical Picture for Ray Heindorf. James Mason and Judy Garland both won Golden Globes for their performances in this film, and Miss Garland was also nominated for a BAFTA Award for Best Foreign Actress.

Code Compliance
This is a poor Code film. The cumulative effect of some indecent costumes and some unacceptable lines requires me to give it this classification. Some movies are poor because of a few very specific things. This movie is a poor Code film rather because of a general feeling which the different elements create. Of course, there are some specific elements, such as the chorus girls with low necklines and Judy Garland's outfit which consists of nothing but a shirt and tights. There are also the particular lines which include the usage of the questionable words cruddy and sex. In addition, there is a scene where Esther and Norman kiss on the floor; they are behind a couch, and all we see is their legs. They are married, but this is a little too suggestive for my liking. Of course, compared with modern films, this content criticism, and Code classification in general, is nitpicking to the enth degree. Both Rating System Era remakes of this film, the 1976 version with Barbra Streisand and Kris Kristofferson and the 2018 version with Lady Gaga and Bradley Cooper, are rated R. From what I have read of them, they both fully deserve this harsh rating. Compared to these films, whose content ranges from indecent to downright obscene, this movie, which is still a Code film, is a shining example of decent cinema. However, compared to the very high standard set by other Code films, such as the 1937 original, which has the distinction of being a perfect Code film, this movie could have been better, Code-wise.

My Opinion
I found A Star is Born to be an interesting film. I must say that I didn't enjoy it as much as the 1937 film. I really loved that movie, but this one didn't live up to my expectations. Perhaps I would have liked this film more if I had seen it before I saw the non-musical original. I couldn't help comparing the casting, the acting, the situations, the scenes, and the dialogue with the original, and in many cases I thought that the 1954 version just didn't live up to its predecessor. I thought that the acting was very good. Judy Garland gave a very emotional and convincing performance in her role. I did find it a little disturbing to see the physical and vocal decline which she had endured since the latest movie I have seen with her, In the Good Old Summertime from 1949. I don't think that the hairstyle is very flattering, either. I thought that she was very good in the role, but she wasn't quite as convincing as a young up-and-comer as Janet Gaynor was. On the other hand, her character wasn't supposed to be as fresh as the 1937 Esther Blodgett, either. Rather than coming straight from her hometown, she has had a long struggle to get somewhere as a singer. I can't suggest someone who I think would have been better in this treatment of the story. I think that James Mason was excellent in his role. This film made more of a point of his acting declining rather than his behavior just being intolerable. Mr. Mason was extremely convincing in the role of the troubled but still caring actor. He was emotional, violent, tender, and proud at different moments. I didn't think that Jack Carson was as convincing in the role of the hard-hearted publicity man as Lionel Standard was in the first film, but the character was also not written to be as diabolical. On the other hand, I thought that Charles Bickford's interpretation of Oliver Niles was more sympathetic and tender than Adolphe Menjou's in the original had been. My main problem with this film is its length. I don't mind a movie's being long if I feel that a lot of substance is put into the running time. The first film was 111 minutes, and every moment was enjoyable and pertinent. I felt that this movie was weakened by its excessive music. There was one musical number after the next, and every single song was sung by Judy Garland. I like Judy Garland as much as the next person, but a film can have too much of a good thing. I thought that several scenes would have been better off with a brief, emotional conversation rather than a song. When Esther left the band to stay in Hollywood, I was shocked when still photographs were shown on the screen as dialogue was overdubbed. This bizarre technique went on for I don't know how long. The film almost lost me during this part. Finally, normal footage began again. I was very disturbed when the odd still pictures came back a few minutes later. Thankfully, they weren't used for long that time. I had trouble getting over that strange technique, which baffled me. When I did some research for this article, I was very relieved to learn that this bizarre sequence was part of a restored version, since the footage from the odd scenes was cut before the original release. In addition, two musical numbers were cut. At the time, director George Cukor and many critics bemoaned the loss of this footage, and fans celebrate the restoration of part of this material years later. However, I am inclined to say that these cuts were wise. At its original premiere, this film was 196 minutes long. At its second premiere, it was reduced to 181 minutes, which is the world premiere length which most people now quote. After its world premiere on September 29, 1954, it was cut to 154 minutes so that it could be shown one more time each day. In 1983, Ron Haver restored the film to 176 minutes, but he had to include still shots to replace the footage that couldn't be found. I wish that I had been able to see the pre-restoration version, minus the still shots. From the reviews of the DVD which I have read on Amazon, I think that many other people feel the same way.

Recommendation
I recommend this film to anyone who has seen any other version of A Star is Born. Whether your experience is with the 1970s version, the latest release, or the 1930s version, like mine was, I know you will find it interesting to compare with one of the most famous versions of this film. If you are a 1950s musical fan, you will undoubtedly like this film. If you are a fan of Judy Garland, I'm sure you will love it. If your only experience is with one or both of the Rating System Era remakes, you should definitely watch this film. It will give you a whole new perspective on the story. Even if you are like me and have no interest in watching the later R-rated films, you will find it very valuable as a classic film fan to have a knowledge of one or both of the Code films on which those new movies were based. When people are discussing the new release, you can then join the conversation with your thoughts on this timeless musical.

For the Blogathon
I watched a segment of Siskel and Ebert at the Movies in preparation for this blogathon. I saw that they reviewed A Star is Born from 1954, so I watched that part. Both gentlemen recalled seeing the film as boys in Chicago. Each man named it as the film which first made him really take notice and be interested in cinematography. Although they were only ten and eleven at the time, this film had an impact on their young minds. It made them pay attention to films as art and as well-executed entities themselves. Both critics appreciated the fact that this film dealt with mature topics but was still accessible to children. Although I'm sure neither Mr. Siskel nor Mr. Ebert was a supporter of the Code, both men proved the value of the Code with this affirmation. At ten and eleven, neither of them could or should have seen a later version of this film. Because of the inappropriate content, they couldn't see the entertaining and dramatic content in this movie. This film shows the Code principle that mature topics can be presented to people of all ages, if handled properly.
Now there remains only one other question to ask. In the past eighty-two years, four Stars have been Born, but which is the brightest star? The last two movies have made the actor a fading rock and roll musician instead of a film actor. The 1954 film added the element of music for the first time by making the young woman a band singer instead of an inspiring film actress, although she still became a Hollywood movie star. The third and fourth films have completely departed from the movie-making theme, which was the central point of the 1937 film, the only movie which was all about a young girl who wanted to be a great actress. In all four films, the couple gets married. However, in the two Code films, their relationship is chaste before they wed. The iconic names, Esther Blodgett, later Vicki Lester, and Norman Maine, were used in both Code films. In the 1976 version, the woman's first name was still Esther, and the man's middle name was Norman. In the 2018 film, the man's last name was still Maine. I don't know about the latter two films, but the 1954 omitted the line from Norman to Esther after her success, "A star is born." I thought that this was a great loss, since to me this was one of the most poignant lines in the 1937 films. To me, another very touching line was when Norman said, "Do you mind if I take just one more look?" It was reworked slightly in the 1954 version to be, "I just wanted to take another look at you." In the 1976 version, it became, "I was just takin' another look." In the 2018 film, it went back to, "I just wanted to take another look at you." You can see all four clips in this video on YouTube. I thought that the 1937 film used this line to the greatest effect because, when it was reprised in Norman's last scene, the words "just one more" were chilling. From the opening theme that a broken heart is the price of stardom to the final line, "This is Mrs. Norman Maine," the 1937 has the beauty of simplicity and the luster of perfect Code compliance which makes it the brightest star to me. Which star do you think shines the brightest?

Click the above image to buy this movie on DVD at Amazon and support PEPS through the Amazon Affiliate program!
This week, I watched one extra new Code film, Old Acquaintance from 1943, which I will review some other time.
Calling all Phans to PEPS! This year, on September 23-25, I, Rebekah Brannan, will be hosting The Phantom of the Opera Blogathon. The title tells you exactly what it is. This blogathon will be dedicated to all adaptations, spin-offs, prequels, and sequels of the immortal tale The Phantom of the Opera! As devoted Phans, my sister and I could not let the 110th anniversary of the beginning of the original novel's serialization in the newspaper Le Gaulois pass without some form of commemoration. I invite all of you to celebrate this wonderful event by joining The Phantom of the Opera Blogathon! Now, stay away from trapdoors, beware of shadows, and always keep your hand at the level of your eyes, because we're off to the Paris Opera!
Come back in October for the third year of our annual Code celebration, The Third Annual Breening Blogathon! It is running from October 11-14 in honor of Joseph I. Breen's 131st birthday. Whether you want to breen a film, review a new Code movie, or analyze some aspect of the years when Hollywood was governed by the Code, this is your chance to write about the topics which we always cover. What are your thoughts on the Code? This is your chance to play PCA-member or pretend that you are a member of PEPS. Let's make this our most successful blogathon yet!
Follow us to bring back the Code and save the arts in America!
We are lifting our voices in classical song to help the sun rise on a new day of pure entertainment!
Only the Code can make the sun rise on a new day of pure entertainment!