Today is Sunday, so it's time for another article in our most consistent weekly series, 52 Code Films. Every week this year, I have pledged to watch at least one new Code film, meaning a movie made in America between 1934 and 1954, when Joseph I. Breen ran the Production Code Administration. During the American Breen Era, Mr. Breen ensured that all films made were "reasonably acceptable to reasonable people," and he helped the filmmakers follow the Code to achieve this goal. This is now my thirty-sixth article in the series, which I have found to be very enlightening and enjoyable so far. I hope that you have thought so, too.
Today's topic is The Heiress from 1948. I have heard about this movie for quite a while, many people having recommended it to me. I knew it especially as the film for which Olivia de Havilland won an Academy Award for Best Actress. Since I really like Dame de Havilland, I was eager to see this film. A month or so ago, we saw this film on DVD at Barnes and Noble, so we bought it. Soon after that, I heard about The Costume Drama Blogathon, which is being hosted by Debbie Vega of Moon in Gemini this weekend. I decided that this blogathon would be the perfect opportunity to watch and review this film as one of my new Code movies. It is a good topic, since it is set in 1840s America. I watched this film on Monday. This is my second entry in this blogathon, since I also wrote about a Victorian ensemble for my Film Fashion Fridays article this week as part of this blogathon. Technically, this is my third entry, since Debbie is very kindly including a previous article of mine on the roster, my analysis of Gone with the Wind from 1939.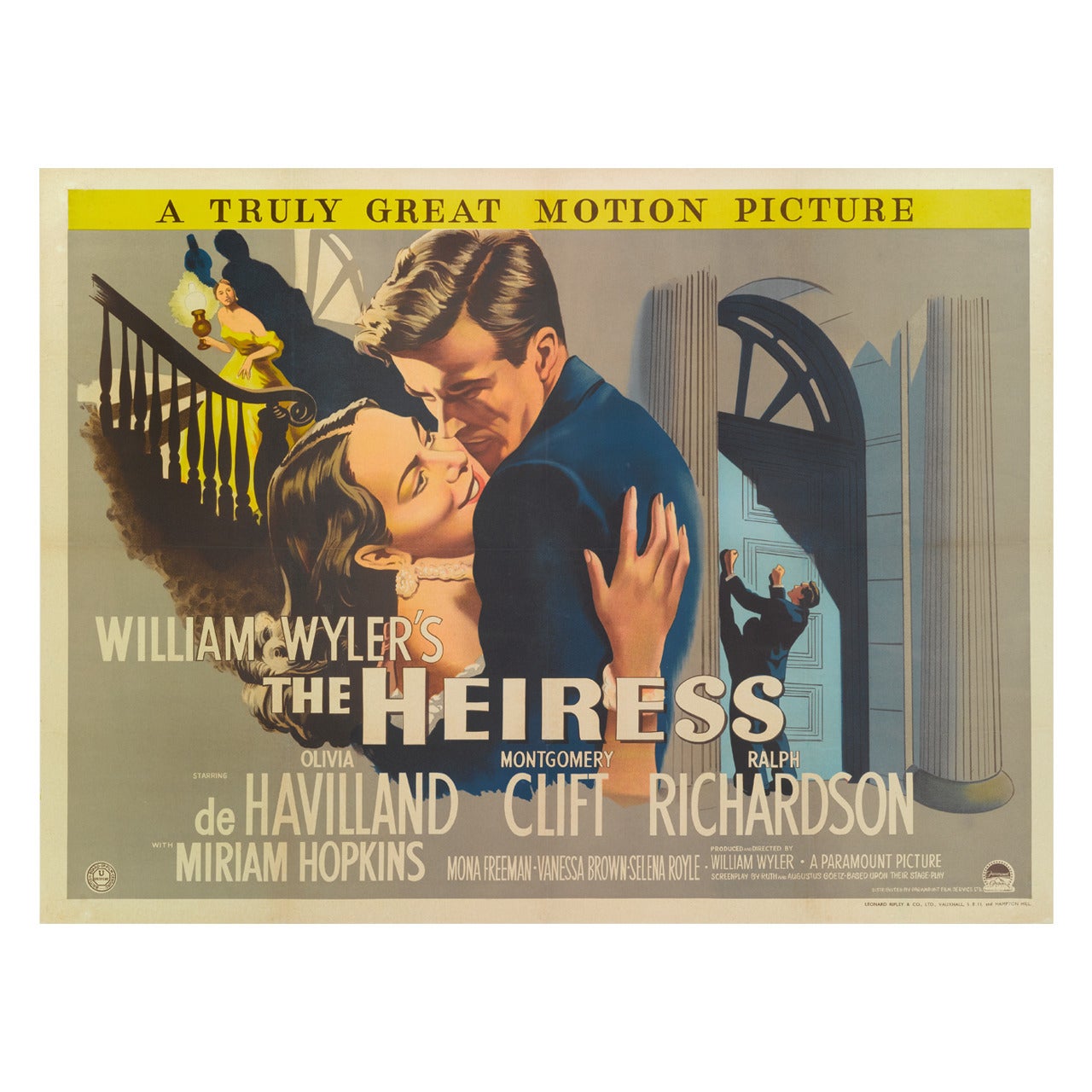 Plot
A New York doctor is convinced that his daughter is the most graceless creature imaginable. Despite his attempts to teach her refinement and charm, she is plain and awkward compared to the glorious memory of his deceased wife. Her widowed aunt is eager to help her shy nice engage in society, so she ensures that she goes to an engagement party for her cousin. At this party, the only man who will dance with her quickly deserts her. Then, she meets the cousin of the bridegroom-to-be. He is young, handsome, terribly charming, and seems very enamored of her. She is flattered and overwhelmed, especially when he calls on her the next day. Her aunt is thrilled that she has an admirer, especially so charming and gallant a young gentleman. However, her father is immediately skeptical. When he learns that the young man is virtually penniless and is living with his widowed sister and her children, he thinks even less of him. It seems that the youth received a small fortune as an inheritance, so he went to Europe, not to study, but to "broaden his horizons." Appalled that the youth did not spend the money to help his sister and her family, choosing to quickly squander his money enjoying himself, the doctor infers that the young man is a fortune-hunter. You see, his daughter is an heiress. She currently has $10,000 a year in her own right. When her father dies, she will have $30,000. However, he has threatened to disinherit her if she marries against his will and judgement. He does not approve of the man with whom his daughter is falling in love, since he thinks that the fellow is only after her money. He thinks that she couldn't possibly have any other charm for him. His daughter insists that he loves her as he says he does. Soon, he asks her to marry him, and she joyfully accepts. Will she be able to convince her father that he is attracted to anything but her inheritance, or will the young man prove that he truly is a fortune-hunter?

Cast
The heiress is Catherine Sloper, played by Olivia de Havilland. Her admirer is Morris Townsend, played by Montgomery Clift. Her father is Dr. Austin Sloper, played by Ralph Richardson. Her aunt is Lavinia Penniman, played by Miriam Hopkins. Morris's sister is Mrs. Montgomery, played by Betty Linley.

Production Notes
This film was directed and produced by William Wyler with associate producers Lester Koenig and Robert Wyler. The production company was Paramount Pictures. The screenplay was written by Ruth and Augustus Goetz, based on their play The Heiress. It was suggested by the novel Washington Square by Henry James. This film won four Academy Awards, including Best Actress for Olivia de Havilland, Best Black-and-White Set Direction for John Meehan, Harry Horner, and Emile Kuri, Best Black-and-White Costume Design for Edith Head and Gile Steel, and Best Scoring of a Dramatic or Comedy Picture for Aaron Copland. It was also nominated for four other Academy Awards, including Best Picture, Best Supporting Actor for Ralph Richardson, Best Director for William Wyler, and Best Black-and-White Cinematography for Leo Tover. Olivia de Havilland also won a Golden Globe for Best Actress, and the film was nominated for Golden Globes for Best Director and for Best Supporting Actress for Miriam Hopkins.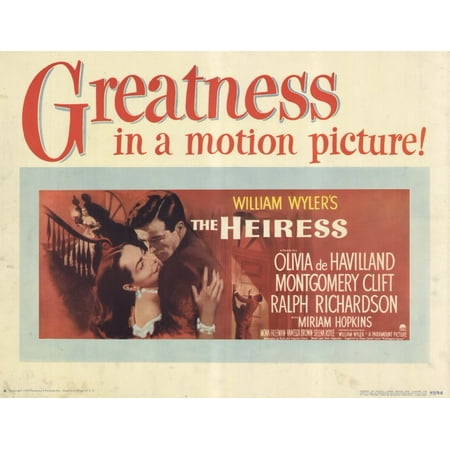 Code Compliance
This is a good Code film. It is completely free from objectionable qualities. All the costumes are decent and modest. The language is perfectly clean and acceptable. There is no improper implication at any time. This is a perfectly wholesome story of a troubled young woman living in the Victorian Era. My father and sister found Catherine's romantic problems, harsh father, and unfortunate conclusion disturbing, but there are no Code violations. If this movie is troubling, it is just the nature of the story. It has nothing to do with the Code or self-regulation. There is nothing in this film to offend anyone. It is very serious subject matter, but it is not unacceptable, indecent, or distasteful.

My Opinion
I think this is a very good film. It is indeed a well-executed and very elegant movie. The cinematography is excellent and very dramatic. The staging, lights, and shadows help bring the beauty of Henry James's classic tale to the screen. Of course, the acting is exquisite. I was impressed by how convincing the gorgeous Olivia de Havilland is as a wallflower. She is surprisingly plain in this role. Also, she is very convincing as a shy, awkward girl. Later, she develops a more confident character which is in direct contrast to her earlier personality. The dual nature of this role reminded me of her two characters as the Dinmoore twins in The Dark Mirror from 1946. In this film, she was very convincing as a woman who changes from an insecure shrinking violet to an embittered but confident heiress. This film was my first experience seeing a movie with Montgomery Clift. I have heard about him, of course, but it was interesting to see him act for the first time. I thought he was excellent in this role. He did a great job of creating a charming yet confusing character. Throughout the film, I didn't know whether or not to believe him in regard to his feelings toward Catherine. He seems sincere, yet there is always something lurking in his manner which makes you wonder, especially after Dr. Smith has planted a seed of doubt regarding his character. The rest of the cast is excellent, as well. I believe this also marks my first time seeing a film with Miriam Hopkins. I have heard of her as a famous pre-Code actress who appeared in many scandalous films, yet I have never actually seen her act before. I found her to be lovely and very effective as the concerned and slightly comical aunt of our heroine. Ralph Richardson made a very convincing and despicable villain as the heiress's father. What I found the most impressive about his performance was the way he revealed his character's true nature little by little as the film progressed so that the audience gradually realizes how heartless he is. The background music is very stirring. The costumes are very historically accurate and beautiful. I liked the old feeling of the actors' speech, since it gave the film a real Victorian feeling.

Recommendation
I highly recommend this film to my readers. If you want to see a wide variety of classic films, this is one which you should add to your watchlist. Fans of film dramas will enjoy this movie. It is a masterpiece. It is quite heavy, but it is definitely worth watching. It is a great cinematic achievement and a very entertaining story. It is filled with great acting and tasteful direction. It was self-regulated well, so it contains no content which would offend anyone. What more could you want from a film?

For the Blogathon
Many period films skimp on the historical details, but not this movie. It is obvious that historical accuracy was just as important to the filmmakers as story development. The costumes were beautiful but designed for the taste of the 1840s rather than the 1940s. The script was written with a very unique style of speech. Most historical films make few if any attempts to incorporate speech of the setting's time period into the script. The dialogue is usually based on more current speech patterns. In this movie, the dialogue reflects the 1840s, so much that it was almost odd to hear the actors speak thus. However, they adapted very naturally to this foreign conversation. I imagine that much of the dialogue was taken directly from the novel, which was written in 1880. This is an example of what a costume drama should be.
Click the above image to buy this movie on DVD at Amazon and support PEPS through the Amazon Affiliate program!
This week, I watched one extra new Code film, Dance, Girl, Dance from 1940, which I will review some other time.
Follow us to bring back the Code and save the arts in America!
We are lifting our voices in classical song to help the sun rise on a new day of pure entertainment!
Only the Code can make the sun rise on a new day of pure entertainment!