August is #AMonthWithoutTheCode65. In honor of this study, I am publishing special Breening Thursday articles, since this is our series about studying new Code films. Every week this month, I decided to publish a special Breening article about a difficult movie. Since there are five Thursdays in August, I can publish one article about each un-Code time period, Silent Era, Pre-Code Era, Foreign Breen Era, Shurlock Era, and Rating System Era. This week's article is my pre-Code entry in the series.
This week's entry in the series is also my contribution to a blogathon, The Fifth Annual Barrymore Blogathon hosted by Crystal Kalyana of In the Good Old Days of Classic Hollywood and Gabriela of Pale Writer. I have participated in this annual blogathon for the last two years. In 2017, I wrote about three Code films which featured the Barrymore siblings separately, Maytime, Captains Courageous, and Just for You. In 2018, I watched and reviewed the only film to feature all three siblings, Rasputin and the Empress. This year, I decided to breen the first movie which the two Barrymore brothers made together, Grand Hotel from 1932. I watched this movie a few years ago, but I decided to rewatch it and breen it for this blogathon. I hope you enjoy my Breening of the Barrymore Brothers!
Grand Hotel is a story about the many residents of the Grand Hotel in Berlin. The activities never leave the hotel itself, and they take place in the course of forty-eight hours. The plot is both brilliant and deeply flawed in terms of morality. Dr. Otternschlag (Lewis Stone) says that a man who is not with a woman is a dead man. By this, he means that a person without romance in his life may as well be dead. By this ideology, Dr. Otternschlag is the only one of the six principle characters who is not alive. Every other main player in this star-studded film participates in, attempts to participate in, or implies willingness to participate in amorous immorality. However, unlike many pre-Code films, this is not a flippant tale of superfluous promiscuity with no consequences, guilt, or punishment. Even if few of the main characters have strong personal morals, the story itself has a strong moral. This film is by no means unbreenable. It has comparatively few surface problems once the core illicit relationships are revised. Let's consider these relationships individually.
The only couple clearly implied to have an illicit affair during the course of the film is Grusinskaya (Greta Garbo) and Baron Felix von Geigern (John Barrymore). She is a lonely ballerina whose popularity is waning because of her temperamental ways. He is a penniless nobleman who breaks into her room to steal her pearl necklace. When he overhears her contemplating suicide, he leaves his hiding place and presents himself as an admirer. He has little trouble in befriending her. He tells her that he is someone who could love her, and she is very touched by his charming, sincere manner. He is surprisingly polite and gentlemanly in this scene. His manner is not overly flirtatious. They do not kiss, nor do they embrace. In fact, the scene is quite reserved. He asks her to let him stay for a while, referring to her previous despair as his reason. The scene fades out on his kissing her hand passionately.
Unfortunately, things are not so reserved the next time we see this couple. They are sitting on two plush chairs which are pushed so close together they are almost combined as a loveseat. The Baron is very reclined, and Grusinskaya has her legs up, covered with a quilt. The Baron's hand is on one of her knees. They look altogether too comfortable. She even has changed her clothes. There is very little suggestive dialogue in this scene, yet the scenario is quite risqué. The implication is in the manner of the characters much more than in the script. If any doubt was left in our minds, it is dispelled by the passionate kissing between the two characters which occurs after Grusinskaya forgives "Flix" for attempting to rob her, since they have realized they love each other.

After swearing their love for each other and sealing it with multiple kisses, the couple plans for the future. Grusinskaya is now cured of the lethargy and depression which have been plaguing her. She happily discusses her impending trip to Vienna, saying that Flix must come with her. She plans their travels after that, dreaming about the six weeks rest in Italy she can enjoy with her new beloved. The Baron says that he can't come with her because he lacks money but would give his soul to be with her. At her insistence, he promises to raise the money he needs in time to take the train to Vienna with her early the next morning.
Unlike some other "romances" in this story, the basis of this relationship is genuine sympathy and human kindness. The Baron risks his own safety and spoils his neat little crime to save the life of the beautiful ballerina, who in turn forgives his crime because of his kindness. Their relationship is very touching for most of its span. Strangely, these two troubled characters offer each other hope and redemption. One can't help but wish that these two lonely, miserable people could find peace and contentment together. The only problem with their proposed life together is that neither Grusinskaya nor the Baron mentions marriage, which makes us think that they intend to travel and live together unmarried indefinitely. To reform the future of their relationship, Grusinskaya should say that they can be married in Vienna before she mentions their further travels. Then, the Baron could say, "I would give my soul to marry you," rather than just to be with her. She could even dreamily talk about their wedding in a little Viennese chapel.
That fixes their future. Their meeting is innocent. What remains to be revised is their present, namely, the night which they spend together in her hotel room. The fact that they are in the same room all night does not necessarily mean that an illicit affair occurs. It is difficult to deny in the existing film, but the implication could be removed. Firstly, she should not be in different clothes. Instead of wearing a flimsy wrapper when Flix first presents himself and changing to a white dress with a transparent skirt, Grusinskaya should go straight from her ballet costume to an acceptable dress. It could look like her second garment in this scenario but should have an opaque skirt and enough support. Secondly, they should not be reclining. They should be sitting up straight across from each other in chairs, but not too close. Thirdly, she should not look so delirious. They may look like they are falling in love, but they must not seem so amorous. The situation must seem like they have just been talking all night, enjoying each other's company. Fourthly, the romantic behavior during their conversation, such as hand-holding, kissing in various places, and extremely near proximity, must be curtailed. It is just too familiar and intimate. Fifthly, the kissing must be restrained. Their kissing scene, which expresses her understanding of his situation, is prolonged and embarrassingly passionate. They must not kiss more than once or twice, and it must be restrained and close-mouthed. As I explained in my article about Code kissing, it is unacceptable for love scenes to look this aggressive.
In addition, there is one line which I find to be unacceptably suggestive. When Flix says that he is a hotel burglar, Grusinskaya releases his hand and bitterly says, "That's not a funny joke." I think she is implying that he took something from her during the night, and she doesn't know about her pearls yet. Maybe no double-entendre was intended  here, but I found it to be suggestive. Also, when she is talking on the telephone, he kisses her shoulder, adding to the excessive familiarity. If these revisions are made, the relationship will seem like a wholesome one. If some people still want to believe that there is an immoral situation, that is their right. I think it is important for this romance to be reformed, since the audience is naturally going to root for this couple. I can't help wanting these sweethearts to be happy together, so it should be acceptable for the audience to feel thus.
One character for whom the audience need feel no sympathy is Preysing (Wallace Beery), who is known as General Director because of his position as an important industrialist. When we first meet this character, he is very concerned about a merger between his textile company and another firm, which will only succeed if he can make a deal with Manchester cotton manufacturers. Early in the film, he makes it clear to a business partner that he is uninterested in bluffing and shady business, since he has been an honest businessman, as well as a good husband and father, for years. He says that he couldn't live with himself otherwise. His stated values are honorable, but there is something in his manner which suggests protesting too much.
He hires a stenographer, an attractive young woman named Miss Flaemm (Joan Crawford), whom many call Flaemmchen. His initial reaction to her is stern and businesslike, despite her attractiveness. When she enters his room for the first time, only to find him clad in nothing but a bath towel while doing bending exercises, he seems embarrassed. He orders her to wait outside for him. (By the way, he should be in a bathrobe instead of just a towel, and he should bend over in a way which puts less focus on his posterior.)
We don't assume that Preysing has any untoward thoughts until his next scene with the secretary. In this scene, the camera focuses on Flaemmchen crossing her legs, indicating Preysing's notice of her appendages. Because of this notice, the charmless man begins casually flirting with his secretary, such as by telling her that she is pretty enough to do other things than be a stenographer. She confirms that she has done other things by showing him a picture for which she posed as a model. We don't see the actual picture, but we see both characters looking at the magazine. From Preysing's intense fascinating with the picture, I would be surprised if Flaemmchen were very well dressed in the unseen image. She props the magazine up, and Preysing continues to stare at it throughout the rest of the scene. It is obvious that he is having lustful thoughts toward his employee. However, at this point I believe he has no intention of acting on them.
All that changes after his business deal runs amuck. Since Preysing is vague about Manchester, the other company refuses to go through with the merger. After heckling all day, Preysing blurts that he has secured a deal with the Manchester company, so the merger is signed! However, he admits that he lied after his business partner, Zinnowitz (Purnell B. Pratt), congratulates him. Preysing is very disturbed by having lied for the first time in his thirty-year business career. The two men agree that Preysing must go to England immediately to strike a deal with Manchester and make good his word. It seems that Preysing's morality was never more than convention. The breaking of one principle, honesty, opens the floodgates for the violation of the rest of his standards. He tells Zinnowitz that he needs relaxation and says that he wants to "drink, dance… do anything!" The last proposed occupation naturally makes him think of his attractive stenographer, since, having abandoned his morals, he can pursue her now. He asks where she is, at first claiming that he wants her for business. However, he reveals his true intentions in the next sentence when he asks Zinnowitz if he thinks Flaemmchen is pretty. Rather than being surprised by his business partner's behavior, Zinnowitz replies, "Pretty as a picture." In a very lecherous spirit, the two men go to the Yellow Room, the hotel bar, in search of the stenographress.
When they find her, Preysing begins revealing his true colors in spades. He is despicably rude to his former employee, the dying Kringelein (Lionel Barrymore), he refuses to be civil to the Baron, and he demands that Flaemmchen discuss business with him immediately. It turn out that that business is monkey business. Preysing wants Flaemmchen to go with him to Manchester, and it is obvious that he wants her for more than her typing skills. Realizing the situation, Flaemmchen asks for 1000 Marks for the trip, which Preysing eagerly agrees to pay. Lest there is any doubt in the audience's mind that he wants for more than a secretary, he gets her a room in the Grand Hotel for one night, which is conveniently placed next to his.
It's obvious that Flaemmchen is not interested in Preysing, despite his money and importance. However, she doesn't fight when he offers her a questionable arrangement. She later says that she accepted because she needed the money. We will discuss Flaemmchen's characterization and motivation presently. Right now we must focus on Preysing. He is the villain, so he may be characterized as a lecherous man, just as long as the situation isn't too pointed. In fact, I find his general characterization to be quite correct. He is not notoriously promiscuous. He seems to have been a faithful husband up to this point, although one can't be sure. There is a very strong message in the fact that Preysing abandons his morals all at once after lying, since he reveals his true evil nature. Then, he has no qualms about carrying on an illicit affair. However, for Flaemmchen's sake and the sake of general decency, the situation can't be so blatant.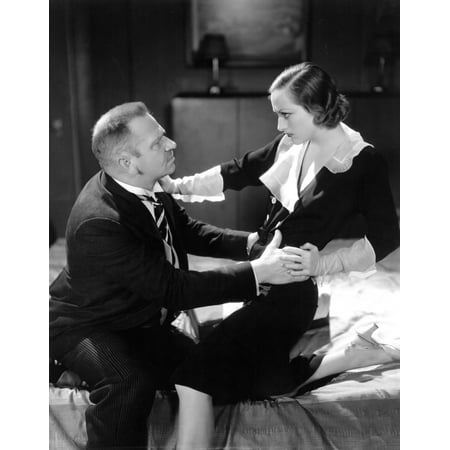 When Preysing is dictating, he notices Flaemmchen's legs, which seems to prompt his flirting. In this case, that is acceptable. However, her reaction is not entirely right. Firstly, she should not mention having traveled with male friends. Maybe they were employers, maybe they were lovers, or maybe it was perfectly innocent. However, it gives a bad impression, which Preysing uses as encouragement for his later proposition. Then, he flirtatiously says that she is pretty enough to be something besides a stenographer, so she shows him her picture in a magazine. The fact that we don't see this picture is suggestive. One is left to just guess how she is dressed and posed. For all we know, she could be in the nude. The picture should be clearly shown, and she should be wearing decent clothes, not lingerie or a bathing suit or anything like that. Preysing could show an interest in the picture, but that should prompt Flaemmchen to quickly put it away rather than prop it up for his view. This whitewashes her behavior toward him.
Another very important scene is when Preysing hires Flaemmchen to go to England with him. He never actually states that anything more than secretarial service will be required, but it is clearly implied. He says, "I thought I would take along a secretary to take care of my – correspondence. You know what I mean." He quickly adds, "I understood you to say that you've traveled, and, uh – you understand." Flaemmchen says that she understands perfectly, and so does anyone in the audience over the age of twelve. They quickly proceed to discuss money. It is acceptable for Preysing to have evil intentions, but it is not acceptable for everyone to understand so perfectly. He should present the offer as strictly a business deal, removing the pauses, the attempt at a tender tone, and the words personal correspondence. Instead, he should be his usual gruff, businesslike self, making no reference to her past travels, since they have been removed. He also shouldn't litter his speech with references to her understanding what he means. Thus, she can honestly take the job as a nice girl, not knowing that he expects something extra. She could seem a little reluctant to take a job where she must travel to another city, but the offer of good pay should entice her. Instead of offering to get her a room in the hotel, which is much too suggestive, he should say that he will need her to come to his room this evening so that he can proceed with his important work. She agrees innocently, not knowing what he has in mind, but the evil smile which he gives to the camera while turning away would reveal his immoral intent. Thus, the climactic scene in his room has an acceptable basis. We will discuss the actual climax after we discuss Flaemmchen's relationship with the Baron von Geigern.
As it exists, the meeting of Miss Flaemm and the Baron is a plain and simple pickup. When the Baron first approaches Flaemmchen, who is standing alone by the railing waiting for Preysing so that she can begin her job, she will barely speak to him. Three minutes later, they have made a date for dancing the next day! However, I appreciate her standoffishness at the beginning. The Baron evidently finds the young woman attractive, so he decides to make her acquaintance. She, however, doesn't like pickups. She firmly declares that she doesn't dance with strange men.
The dialogue becomes unacceptable when Felix starts trying to find out about the man for whom the young woman is waiting. When Flaemmchen reveals that it is his neighbor, Preysing, he expresses his surprise that she is with the "fat, bulbous" man. "Not you!" he says dramatically. After a moment, realizing what he is thinking, she says, "Oh, no, no," not seeming offended, as she should. "Work," she clarifies, pantomiming typing. The misunderstanding that she is the mistress of Preysing goes on too long. After the Baron describes his neighbor in disgust, she should say, "Work," before he has time to say, "Not you." Eventually, the Baron realizes that she is "a little stenographress." In response, he stands very close to her and says, "I don't suppose you'd take some dictation from me sometime, would you?" She glares at him, obviously not appreciating his suggestive remark. This line is entirely unacceptable and should be cut. Not easily discouraged, the Baron invites her to tea. In the breened version, he should proceed immediately from the little stenographress line to the invitation to tea. Flaemmchen declines this offer because it is too close to her only meal of the day. In response to this sparse diet, he asks if she is reducing. "Reducing?" Looking down at her figure, Flaemmchen replies, "Do I need to?" Surveying her figure, he says, "No, I'd say it's just about perfect." He looks at her quite lustfully as he says that. The situation can remain if it's toned down. She should not look down at her figure, and he should simply state that her figure is lovely, not scrutinizing her with his gaze or using an insolent tone. Also, the later line of stenographresses never wearing decent frocks "which they bought themselves" should be removed.
Near the end of the scene, the Baron suggests a date to Flaemmchen. He asks her to meet him in the Yellow Room at 5 PM the next day. Looking at her roguishly, he says, "We'll, uh – dance. Hmm?" She replies, "Alright, we'll, uh – dance. Hmm?" The invitation to dance in a public place is not immoral, but his tone suggests that he has more than dancing in mind. He should simply say, "We can go dancing," with no suggestive tone, to which she could merely reply, "Alright." The rest of the dialogue is acceptable in letter. What gives the whole scene a suggestive flavor is the characters' manners and body language. Their glances, their tones, and the way they stand so close together make otherwise innocent dialogue sound risqué. They should stand farther apart and not look at each other so indecently. As a final affirmation of the situation, the Baron pats Flaemmchen on her posterior as she walks away. There should be no physical contact between them. If these changes were made, their relationship would seem fairly wholesome. Obviously, it can't be anything but a casual pickup, but it could seem less like a pickup for immoral purposes. The Baron likes casual flirtation, since he doesn't believe there is such a thing as serious love until he meets Grusinskaya. In the second scene between him and Miss Flaemm, he tells her that he is in love, and he is very sincere. Their relationship is totally acceptable after that first scene. She seems to have an innocent admiration for him, and he is just courteous to her. Many times, she says that he's "nice" and that he's a gentleman. With these breening suggestions for his relationships with the two ladies, that would be a true statement.
Now we must discuss the ending. If you haven't seen the film, I'm afraid I'm going to give away the conclusion, so you may want to watch the movie before reading this part of the article. The Baron has gambled away his fortune, so he is now reduced to being a hotel thief to support his lavish lifestyle and pay off his gambling debts. That is what prompts him to attempt to steal Grusinskaya's pearl necklace. After falling in love with the ballerina, he can't go through with the crime. Thus, he needs to raise 5000 Marks to give to his partner in crime so that he can leave Berlin and his life of crime forever. He will do anything to get that money so that he can join Grusinskaya on the train for Vienna. After failing all day, he and Kringelein join a card game, during which he loses substantial money. When the drunken Kringelein drops his bulging pocketbook, the desperate Baron can't help picking it up. However, when he hears his desperate friend's anguish after discovering it is missing, he loses his nerve for the crime and pretends like he just found it on the ground. With no other option, he must resort to burglarizing a neighboring hotel room.
In the room right next to Felix's, Preysing is preparing to get his money's worth from his secretary. The scene is highly suggestive, as their rooms are adjoining, Preysing is in his robe, and Flaemmchen is unpacking her nightclothes as they are talking. From their actions alone, there is no question of what the situation is. As if the scenario weren't enough, it is implemented by dialogue in which Preysing asks her not to mention his wife, remarks on her slenderness, and slyly asks her if she is going to be nice to him. Just as this scene is about to go from risqué to obscene, Preysing sees a shadow in the sitting room. In there, he finds the Baron, who pretends like he just accidentally came into the wrong room. Preysing accurately accuses him of stealing his pocketbook. Even though the Baron returns it without an argument, Preysing says he will put him in jail. When the Baron tries to leave by the window, Preysing fiercely strikes him with the telephone several times, knocking him down and killing him.
The murder itself is not in violation of the Code. Of course, the PCA did not condone homicide, but it did allow it to be depicted under proper circumstances. This crime is neither condoned nor unpunished, so it is acceptable. Preysing, who was not likeable beforehand, becomes a loathsome villain when he kills the Baron with little provocation. It was not coldblooded murder, since he did not actually intend to kill him and feels remorse immediately. However, he did strike him with the intent of injuring him. He doesn't feel remorse for the actual act of killing but for the repercussions which his crime is bound to have. He is reduced to begging for his freedom from Kringelein, his former employee whom he demeaned and harassed for years. Eventually, he is led away in handcuffs, no doubt to face a very serious sentence. However, some of the circumstances surrounding the crime are unacceptable.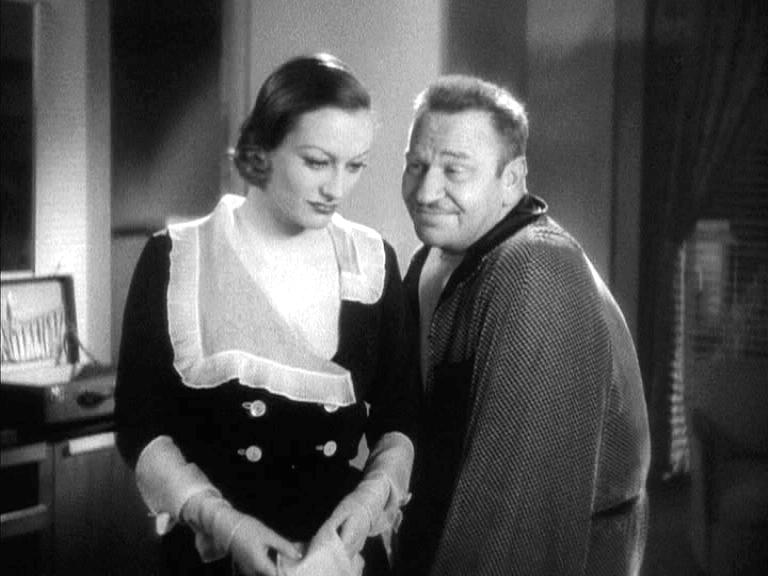 Firstly, the crime occurs on the evening of Preysing's attempted indiscretion. The scenario must be different. As described above, Preysing should lure Flaemmchen to his room under the pretense that he wants to do some work. Then, when she arrives there, she could be surprised to see him in a smoking jacket, not a robe. He could offer her champagne, but she would decline, since she wants to be businesslike. He should then start to pursue her, but she would resist his advances. This would be acceptable as long as his advances are not too pointed or suggestive. Then, just as Preysing is really getting distracted from dictating, he sees a shadow in his bedroom, since they are now in the sitting room. He goes out, and the conflict with the Baron ensues. The blows with the telephone should not be so numerous or so violent. One firm blow shot from behind Preysing would be sufficient. The ensuing dialogue and reactions with Preysing, Flaemmchen, and Kringelein would be completely acceptable if the suggested changes were made. The only other revision I would suggest in this scenario is the removal of the two lines which are spoken in regard to the deceased Baron's eyes being open, although his corpse is never actually shown.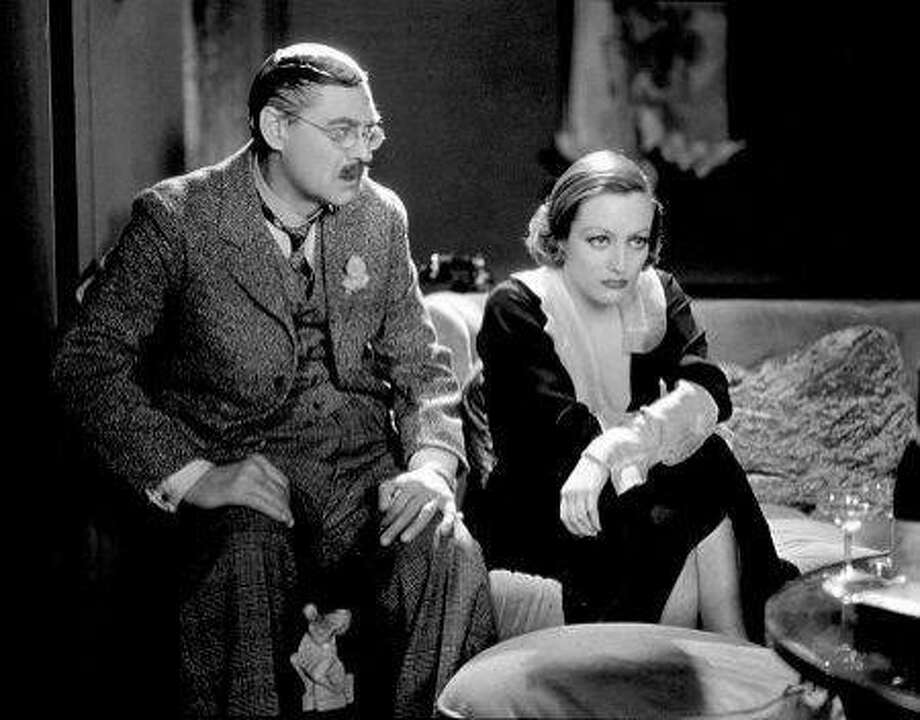 Flaemmchen and Kringelein are both very troubled by the death of Felix, who was their dear friend. The stenographress remembers him as a man who was kind to her, and the dying bookkeeper says that he was the only man who was really friendly to him. Finding they have something in common, Kringelein asks the young lady to spend the rest of his short days with him, saying he has enough money to support her. He can also leave money to her when he dies so she won't have to accept compromising relationships with men like Preysing. Filled with gratitude, she swears that they will find him a good doctor who will cure him. They decide to go to Paris together.
In general, this situation seems very wholesome, since their relationship is scarcely romantic. He is more like a father to her, which reflects the paternal relationship Lionel Barrymore had with Joan Crawford. Although they leave for Paris together at the end of the film, I find it hard to believe that this pair is contemplating an illicit affair. The only thing which gives this suggestion is a line spoken by Kringelein, in which he asks Flaemmchen, "Do you like me? Do you like me as much as Preysing?" This implies that he might be desirous of a compromising relationship with the attractive young woman, since Preysing intended to make her his mistress. If this line of dialogue were removed, it would remove any flavor of Flaemmchen becoming Kringelein's kept woman.
This ending is very depressing. While the Code did not ban depressing endings, it did suggest the inclusion of uplifting messages and encouragement toward right living and right thinking. In a way, the death of the Baron could be viewed as punishment for crime, but attempted thievery is not a crime punishable by death, as both Kringelein and Flaemmchen point out. His love for Grusinskaya could inspire him to reform, as long as their romance is wholesome, according to my suggested reforms.
A possible alternative ending could be as follows. The Baron could interrupt the scene between Preysing and Flaemmchen by knocking on the door rather than by accidentally casting a shadow. When Preysing grumpily comes out, the Baron is there, asking for assistance. Feeling he has no other option, he asks the industrial magnate for a loan, offering his share of his family's land as collateral. Preysing, who never liked the Baron, becomes furious at this presumption. They exchange harsh words, and Preysing strikes the Baron with the telephone, knocking him out. The scene could progress as before, with Preysing thinking the unconscious Baron is dead. After pleading and arguing, Kringelein would call the police, believing that his friend is dead. From that point onward, the story would have to be altered. Let me suggest a possible alternative to the current tragic ending.
The next few scenes could progress as before, including the telephone operators and Grusinskaya trying to call Flix on the telephone. However, the next scene should not be the transfer of the Baron's body to a hearse on a stretcher. Instead, the police examiner should be shown going to the scene of the crime. While Preysing stands by nervously, the examiner should solemnly warn the hotel employees standing around that he wants all details of the case to remain confidential until he has finished his interrogation. Then, Preysing being taken away in handcuffs and Grusinskaya's maid, Suzette (Rafaela Ottiano), warning the chamber maids not to mention what happened to the Baron could be shown. The continuing assumption that Felix is dead would cause good tension for the audience as well as the characters. The removal of the Baron's dog from the hotel should be cut for story cohesiveness. Then, the next scene should be Grusinskaya's departure from the hotel, in which she is very concerned about not having seen the Baron. She exits by getting into her car and saying that they are going to have a guest. In these later scenes, I think it would be good for her to say that she will have a husband rather than just a guest. Then, the story should proceed to the scene between Flaemmchen and Kringelein, in which they lament the Baron's death and plan their future together. This scene could progress as now for most of its time, but it needs a new ending if the film is to have a satisfying conclusion.
Instead of fading out while Flaemmchen tearfully orders tickets to Paris on the telephone, the call should be interrupted by a knock on the door. The police examiner should enter and say that he has some information about the Baron. While Flaemmchen and Kringelein listen eagerly, the police examiner should say that he realized last night that the Baron was not dead but that he allowed the misunderstanding to remain on the hopes that he would be able to ascertain more information about the true nature of the case if the witnesses thought it was a killing rather than an assault. When Felix's body was removed, he was taken to the hospital rather than the morgue. He has just regained consciousness, but he has a slight concussion. The only thing he will say is that he needs 5000 Marks so that he can get to the train. He seems tormented by the fear that he will miss the train to Vienna, since she is waiting for him.

Flaemmchen and Kringelein are overjoyed at the news that their friend is still alive, so they hurry to the hospital. They visit the bewildered Baron's room, but he seems to gain coherency when his friends enter. Kringelein asks if there is anything he can do to help Felix, and the latter says that only 5000 Marks and a miracle could get him to Vienna now. Kringelein says he has more than twice that much money, and he couldn't think of a better way to spend it than to repay the kindness of his only friend. The Baron thanks him heartily and tells him that he will find the man who wants the money at the Grand Hotel. Then, Kringelein says that he must get the Baron to Vienna. Calling the doctor in, Kringelein asks if there isn't some way he could go to Vienna. The doctor replies that, if he had a private nurse for a few weeks, he could recover very well in Vienna, especially since he doubts he would be contented anywhere else. The doctor says that he'll make the arrangements immediately.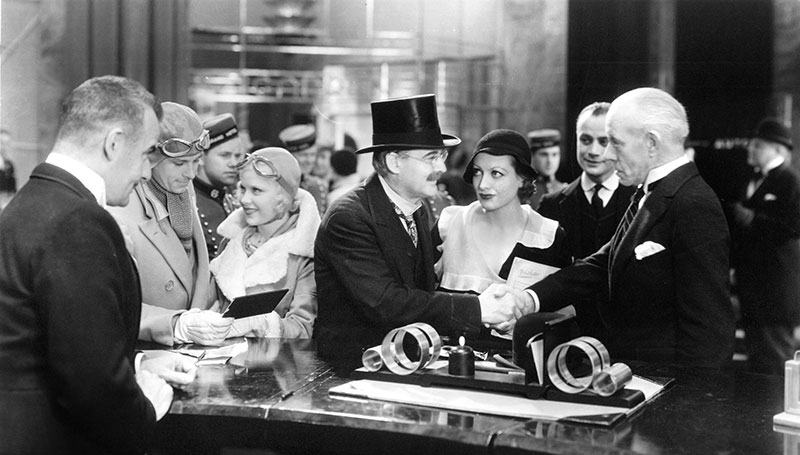 The next thing you would see is the Baron about to leave the hospital with the assistance of a nurse. He tells Kringelein that he doesn't know how he can ever thank him and wishes both him and Flaemmchen the best of health and luck. After he has left, Kringelein tells the doctor that he has been given very little time to live and is looking for a good doctor. The doctor replies, "Well, I know an excellent physician in Paris," and the scene fades out. Then, the film could end with the existing final scene, in which Kringelein and Flaemmchen leave the hotel, a new couple arrives, and Dr. Otternschlag says that nothing ever happens at the Grand Hotel. This ending would be a good happy alternative, but the Code does not require a happy ending. The tragic ending could remain if changed as I suggested.
There are also some surface problems which require changing. Flaemmchen wears a black dress in her first and last scenes. Its neckline is quite low and indecently loose, especially on the left side. The dress would be acceptable if giving a higher neckline. Under both this dress and her other dress, she should wear properly supporting undergarments.
There is too much smoking in this film, especially involving Flaemmchen. It was considered quite scandalous for women to smoke at this time, so showing Joan Crawford smoking so often compromises her character.
In a later scene, the Baron is talking to his beloved Dachshund, Adolphus. He tells him that he must control himself when he meets little lady dogs on the street who are not Dachshunds. This line is too pointed a reference to biological attraction and mating between dogs. It should be removed.
In this same scene, the Baron says, "You know, this is an odd thing for one gentleman to say to another, but you're the only thing in the world I really love." The italicized part of the line contains an unnecessary reference to perversion. Instead, he should say, "this is an odd thing to be said to a dog…."
Later in the scene, the Baron's fellow conspirator and fake chauffeur (Morgan Wallace) enters the room and asks him about his contemplated robbery of Grusinskaya's pearls. The thug suggests that the Baron chloroform the female floorwalker who is too aware of the goings on in the corridor. The Baron objects, stating as a reason, "She has a very nice line." This is too pointed and lecherous a reference to the floorwalker's figure. Instead, he should say, "She's quite pretty."
Near the end of the scene, after the cohort has left, Felix tells his dog that his fellow criminal is so ruthless "he'd eat his young." This reference to cannibalism is quite grotesque. Instead, he should say, "He'd starve his young," which still conveys a highly ruthless nature but with less gruesomeness.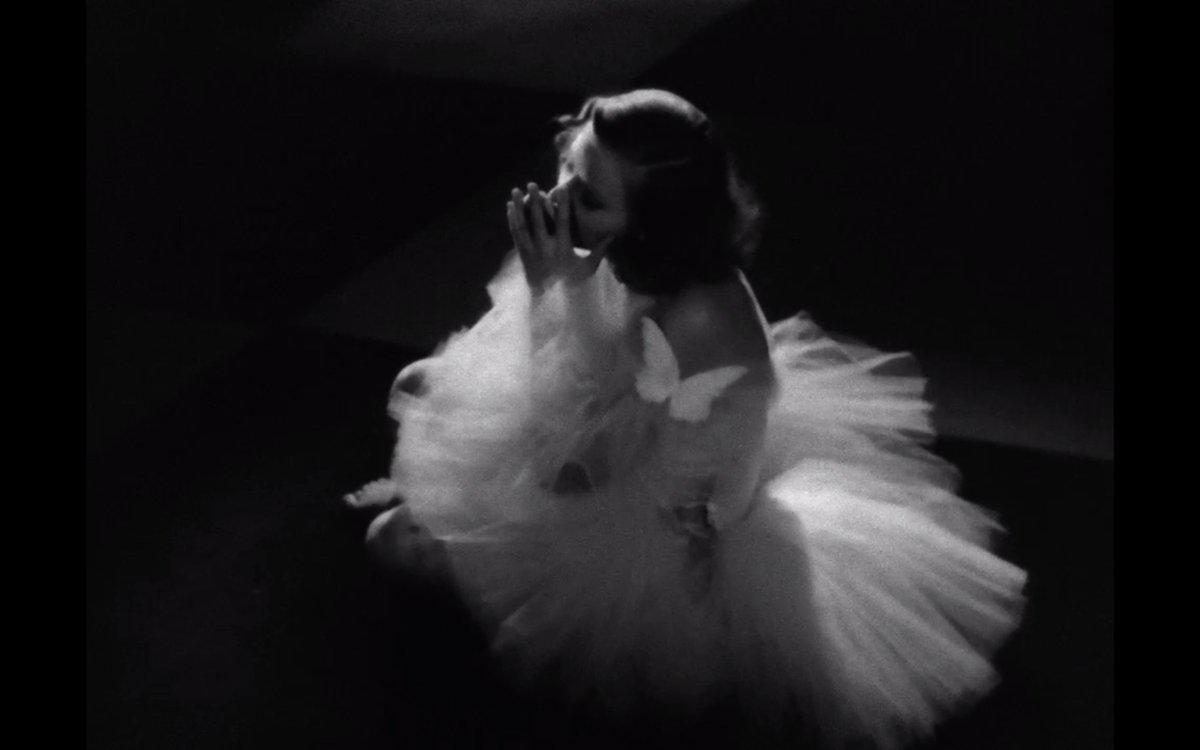 Grusinskaya is shown returning from the theatre in her ballet costume. This is a white tutu, the bodice of which is much too low-cut. The costume's neckline should be raised. As she is woefully sitting alone in her room, Grusinskaya pulls the straps of her costume off her shoulders. It is unacceptable for her to do so, since she looks like she is beginning to disrobe in the middle of her hotel room. This is particularly questionable because we know that the Baron is hiding in the closet, peeking out a crack in the door. He is doing this to find a time when he can escape, not to watch the ballerina undress. However, it is questionable. She should go into her bedroom before she even begins to undo her costume. When she comes out again, she should be wearing the acceptable outfit I described earlier for her first meeting with the Baron.
After this scene, we see a very intoxicated Kringelein making his way to his room, aided by the somewhat less intoxicated Dr. Otternschlag. After being left alone in his room, the completely inebriated Kringelein stumbles around, mutters to himself, and belches disgustingly before wrapping himself up in a comforter and falling off the bed. There is absolutely no point to this scene except to show advanced drunkenness, and for no good reason at that. Such practices were considered bad form, since they make drinking look like accepted fun. This scene should be deleted.
The next day, the hotel's Yellow Room is shown. The scene begins with a sign advertising the Grand Hotel's Afternoon Tea. The features listed are Dancing, an American Bar, and a Jazz Band. The next shot is a prolonged focus on a cocktail shaker being shaken in time to rhythmic jazz music. Then, the camera focuses on several random customers of the bar who are being served drinks out of shakers and bottles. Among them are many women who are smoking heavily. The scene then progresses to dialogue between two patrons of the bar whom we know, Kringelein and Dr. Otternschlag.
This opening sequence may not seem like anything noteworthy, but it had a deep significance in 1932. Until late 1934, Prohibition was still legally in place in the United States. That meant that Americans were neither allowed to purchase alcohol nor to consume it in public. Showing such free-flowing alcohol being legally sold at a European hotel was just tempting movie-goers to seek out illegal liquor. It just added an exclamation point that the sign referred to the bar as an American bar. Although America was "dry" at this time, many American alcohol companies still manufactured alcohol to be sold in foreign countries, although some of it secretly remained in America for black market sale. The word American should be removed from the bar's description on the sign. Also, the opening shots of the cocktail shaker and the excessive drinking should be removed. The scene should progress directly from the sign to the exchange between Kringelein and Otternschlag. Their drinking is enough to show that excessive alcohol consumption does not give genuine pleasure but merely false diversion and escapism.
The next scene is Preysing's moral decomposition. We have determined that his lechery, if properly depicted, is acceptable because he is the villain. However, the attitude of Zinnowitz is unacceptable, since it makes it seem like promiscuity is completely accepted and common among businessmen. At first, Zinnowitz's behavior is correct, since he seems totally ignorant of Preysing's intentions when the latter asks him where Miss Flaemm is. He naively accepts his lie that he wants to work on some dictation with her. However, Preysing destroys his own illusion when he assumes a licentious smile and asks his friend if he thinks the stenographress is pretty, accompanying the question with a very vulgar motion on his own body to represent her figure. Laughing wickedly, Zinnowitz agrees, fully understanding his companion's motives. Zinnowitz must not join Preysing in his sinful pursuit. The other man should remain totally unaware of the villain's promiscuous intentions instead of eagerly accompanying him to the Yellow Room. After the lie about dictation, Preysing should say, "Well, I'll see you later. I need a drink." The other should remain behind, unaware of the fact that Preysing is going to the Yellow Room for more than a highball.

Back at the bar, Flaemmchen sits down next to Kringelein. He offers her a drink and tries to order her a Louisiana Flip, the new beverage which he has discovered. Instead, she orders absinthe. This beverage was a highly controversial spirit nicknamed the Green Fairy which was believed to have hallucinogenic properties. For this reason, it was banned in the United States years before the temperance movement prohibited all alcohol. However, unlike regular alcohol, which was allowed in Europe during American Prohibition, absinthe was banned in many European countries since the early 20th century, including Germany, where this film takes place. This seems like a geographic error, since Flaemmchen wouldn't order a prohibited beverage at a regular bar. It is unacceptable for her to order the prohibited drink. Instead, she should order sherry or some other lighter alcoholic beverage.
Later, Flaemmchen and the Baron talk in the hotel corridor as Flaemmchen is about to go into her room. They vaguely discuss her impending "business" relationship with Preysing. Since the situation of her staying at the hotel with Preysing has been cut, this exchange must be removed as well.
After Preysing hits the Baron with the telephone, he realizes that he seriously injured him. In surprise, he says, "Oh, God!" It is against the Code for the Lord's name to be taken in vain. Instead, he should say, "Oh, no!"
After Flaemmchen discovers the Baron's body on the floor and infers what happened, she runs from the room in terror, fleeing toward Kringelein's room for help. She pushes past some people who then see Preysing come out of the room in pursuit of her. One of the bystanders says, "No wonder she was running." This sarcastic line is very suggestive. It wouldn't fit as well if the scene were revised as a I described. It should be deleted.
That concludes my breening! I hope that my analysis and suggestions help you to look at this film in a new light. I think that this is one of the finest pre-Code films I have seen. It has an excellent story and a very well-written script. It contains a lot of amorous immorality, but it isn't just dirty for the sake of being dirty. Also, there isn't much superfluous and extraneous risqueity. Everything serves the plot instead of just serving as subject matter for quick, cheap laughs. The acting is exceptional. Because of the quality in the existing unbreened film, it was very easy to revise some plot points and make this a Code film which would still, I think, be very entertaining. Some pre-Code films fall apart when breened, since they have no substance and no foundation except risqueity. If a movie can stand up to major reconstructive breening, it is a very good movie. Grand Hotel stands the test.
If you haven't seen this movie, I highly recommend that you watch it. If you have seen it before, why not rewatch it? Either way, I encourage you to read my article and consider the points I made about changes. What do you think? Would they be improvements, or would they weaken the film? Are there better ways this could have been cleaned up? Let me know what you think! Either way, this is one of the best pre-Code films I have seen. Think of how good it could have been with the Code's help!
By the way, please join our month-long study of un-Code films, #AMonthWithoutTheCode65! Throughout August we are not going to watch any American Breen Era films (except for our weekly new Code films), and we are inviting participants to do the same. Writers can join this celebration with articles about their opinions and discoveries about films that were not breened during the month, and we will republish them on our website. What have we learned during sixty-five years without Joseph Breen's Code enforcement?
Click the above image to buy this movie on DVD at Amazon and support PEPS through the Amazon Affiliate program!
Follow us to bring back the Code and save the arts in America!
We are lifting our voices in classical song to help the sun rise on a new day of pure entertainment!
Only the Code can make the sun rise on a new day of pure entertainment!