Today is Sunday, so it is time for another article in the series which we publish at the end of every week, 52 Code Films. This series is dedicated to exploring the American Breen Era to find movies which we have never seen before. There are thousands of amazing movies to see just in the American releases made during these twenty years. I created this series to ensure that, no matter how busy I get, I commit to watching and reviewing at least one new Code film each week.
Today's topic is Meet the Stewarts from 1942. This comedy starring William Holden and Frances Dee is included for free with Amazon Prime. I added it to our watchlist a few months ago but had yet to watch it. I had never seen such an early film with William Holden, but I knew that he had an extensive career before the 1950s, when his films which I have seen were made. I was curious to see such an early performance from this well-known star. I decided that this film would be a good selection for this week's new Code film, so I watched it on Wednesday.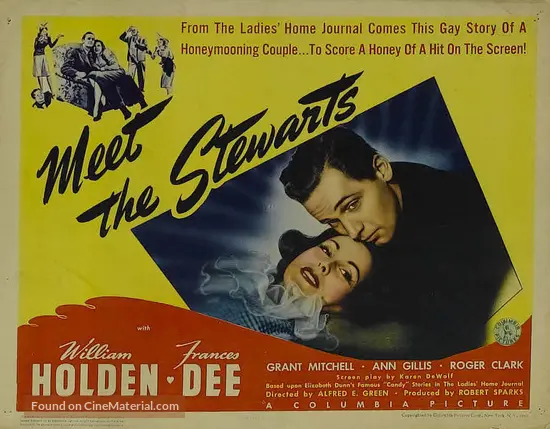 Plot
A cultured young heiress is determined to marry the struggling young businessman whom she loves. He doesn't want to wed her because he refuses to let her father support him and he doesn't think his income can sustain them both. Her father is suspicious of him as a fortune-hunter, so he is against the union. However, when the father learns that the young man vows not to accept a penny from the family, and his daughter insists that she can live on a budget, they decide to get married. However, economical living proves to be harder than the young lady expected. When they furnish their home, she goes over their month's budget by $50 and refuses to part with any items. When she tries to cook, she frequently burns the food, since she doesn't know anything about domestic duties. When she throws a dinner party for their families, her cooking goes awry, but she is saved at the last minute by her family's Chinese cook. At dinner, the husband's domineering older sister criticizes her brother's marriage because she fears that his new wife will strain his finances and endanger his career. She belittles her sister-in-law, saying that she is of no use to her brother because she has no domestic skills. However, the young husband, his mother, and his wife's family stand up for the young woman. Soon after, the former socialite thinks that it would be a good idea for her and her husband to take advantage of her lifetime membership at an exclusive club. Everything seems fine until they realize that, because of new ownership, she now owes hundreds of dollars for membership. To pay off the debt, the young wife gets a secretarial job. She hires a rambunctious woman to be their cook and cleaner, but she turns out to be a better demolition crew than housekeeper. With the new working schedule, their marriage begins to be strained. Will the newlyweds be able to pay off their debts, balance their budget, and still find time for each other?

Cast
The hardworking young man is Mike Stewart, played by William Holden. The society girl whom he marries is Candy Stewart nee Goodwin. Candy's father is Pierce Goodwin, played by Grant Mitchell. Her mother is Mrs. Goodwin, played by Marjorie Gateson. Mike's domineering older sister is Geraldine Stewart, played by Anne Revere. His mother is Mrs. Stewart, played by Mary Gordon. The horrible housekeeper is Willametta, played by Margaret Hamilton. The Chinese cook is Wong, played by Willie Fung.

Production Notes
This film was directed by Alfred E. Green. It was produced by Robert Sparks. The production company was Columbia Pictures. The screenplay was written by Karen DeWolf. The story was based on Something Borrowed, a series of short stories by Elizabeth Dunn which were published in Ladies' Home Journal.

Code Compliance
This is a good Code film. It is totally wholesome and decent. The dialogue is free from objectionable lines, and the scenarios are nothing but acceptable. It is a very nice depiction of married life, with its numerous trials but also with its great joys. The young couple has to endure many obstacles to make their marriage work, but they ultimately find that it is worthwhile. The American way of life is built on the home and the family, and this film glorifies them both beautifully. Unlike pre-Code films, which justified infidelity and regularized divorce, Breen Era movies preserved and defended the holy state of matrimony.

My Opinion
I really enjoyed this movie. I found it to be very fun, lighthearted, and enjoyable to watch. I enjoyed seeing William Holden so young. He looks quite different, and his character in this film is more nervous than his characters with whom I am more familiar. However, I found him to be very convincing and likeable as the young husband. I have never seen Frances Dee in a film before, and I don't think I have even heard of her elsewhere. I found her to be a very pretty and talented young woman. She is convincing yet sympathetic as the rich girl who wants to be a good wife but doesn't have the experience or skill that she wishes she had. Her chemistry with William Holden is endearing and believable. I thought the supporting cast was very good, as well. There is a lot of lighthearted, witty humor along the way as this story is told. This may not be brilliant drama, nor is it the deepest film ever made, but it is very charming and sweet in a simple, wholesome way.

Recommendation
I highly recommend this film to my readers. If you are a classic film fan who can appreciate films which are simple and heartwarming, you will like it. If you are more critical and demand very deep plots and unpredictable conclusions in every movie you watch, you may find this a little trite and simple. Many IMDb reviewers have said that this picture seems more like a 1950s TV show pilot than a 1942 feature film. Although I can see their point, I think that this makes the film no less enjoyable. I enjoy 1950s sitcoms, and I like Meet the Stewarts because it has the same clean innocence and uncomplicated pleasantness. I think this movie packs a lot of substance and story development into only an hour and thirteen minutes. It isn't very long, so I certainly don't think its short running time is time wasted. Why not give it a try? If you are a frequent watcher of old films, you may enjoy seeing William Holden and other familiar actors in uncharacteristic roles. I think you may enjoy meeting the Stewarts!
By the way, please join our month-long study of un-Code films, #AMonthWithoutTheCode65! Throughout August we are not going to watch any American Breen Era films (except for our weekly new Code films), and we are inviting participants to do the same. Writers can join this celebration with articles about their opinions and discoveries about films that were not breened during the month, and we will republish them on our website. What have we learned during sixty-five years without Joseph Breen's Code enforcement?

Click the above image to buy this movie on DVD at Amazon and support PEPS through the Amazon Affiliate program!
This week, I only watched this one new Code film.
Follow us to bring back the Code and save the arts in America!
We are lifting our voices in classical song to help the sun rise on a new day of pure entertainment!
Only the Code can make the sun rise on a new day of pure entertainment!