July 25 – Perfect Code Film Feature #25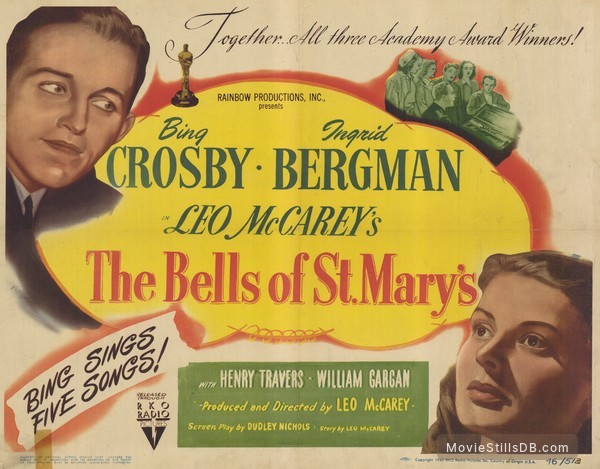 Today's highlighted film is The Bells of St. Mary's from 1945. This is the story of a musical priest who becomes the pastor of a parochial school which is sadly in need of a new building. Although everyone wants to do the best thing for the children, he often differs with the confident sister superior, who is praying that the grumpy millionaire who has just constructed a building next to theirs will give the school his building. This film stars Bing Crosby, Ingrid Bergman, and Henry Travers. It was directed and produced by Leo McCarey and released by RKO Radio Pictures. This is a perfect Code film because it inspires viewers to have faith in something and to cherish that faith and hope, despite all trials and no matter how ridiculous the odds are. I like this movie because it is very serious yet filled with light and musical moments, including an adorable children's Christmas play. My favorite thing about it is the intense interaction between the deeply talented leading actors, who have a dramatic relationship completely devoid of romance.
Click the above image to buy this movie on DVD at Amazon and support PEPS through the Amazon Affiliate program!
Follow us to bring back the Code and save the arts in America!
We are lifting our voices in classical song to help the sun rise on a new day of pure entertainment!
Only the Code can make the sun rise on a new day of pure entertainment!