Today is Friday, so it is time for another Film Fashion Fridays article. In this weekly series, I choose different costumes from Code films and describe how my readers can recreate these fashions for themselves with products sold on Amazon. I try to evenly alternate between ladies' and gentlemen's outfits if I can. My topics are sometimes chosen in advance if I join a blogathon over the weekend. Last week, I had no prearranged topic, so I wrote about one of Billie Dawn's costumes in Born Yesterday from 1950 in honor of Judy Holliday's birthday, which was on Friday. I decided that I liked the idea of honoring an actor's birthday with a costume topic, so I will continue this practice in the future when possible. No leading actors have birthdays today, but Nelson Eddy's 118th birthday would have been tomorrow. I am going to take this opportunity to honor the life and talent of this unique actor and singer with an article about a costume he wore.
Choosing a Nelson Eddy film from which to take a costume is comparatively simple, since he only made fifteen feature films in his career. The majority of these films were historical costume pieces, which are not eligible for being Film Fashion Friday topics. Thus, only three of his films feature modern clothes. This week, I decided to write about one of his costumes from Sweethearts from 1938, his only modern-set film with Jeanette MacDonald, his famous singing partner and "sweetheart" in eight films.
The costume which I am highlighting today is Nelson Eddy's full-dress suit from Sweethearts. His character, Ernest Lane, wears this costume at the sixth-anniversary celebration of the musical Sweethearts, which is also his sixth wedding anniversary with his wife, Gwen Marlow (Jeanette MacDonald). There is nothing specific or unusual about this full-dress suit. In the 1930s-50s, there was a standard style for this type of tuxedo. This is a good opportunity to describe it, since it is the most formal outfit a gentleman can wear. In this movie, Ernest Lane is a famous baritone who has been a star on Broadway opposite his wife for six years. He is a very dapper and refined gentleman. He loves his career, his music, and his beautiful wife, who will always be his sweetheart.
This outfit is sometimes called a full-dress tuxedo. Sometimes it is called a tuxedo with tails. The whole ensemble is also called "white tie and tails." This level of formality can be described just as "white tie," since no other color tie is ever worn with this sort of coat. In the 1930s, this was always called a full-dress suit, which was classified as men's dress-clothes. The outfit consists of a black tailcoat, which is short in the front and has tails in the back, matching black trousers, a white shirt, a white waistcoat known as a pique vest, a white bowtie, and white handkerchief. Nelson Eddy adds a red carnation for extra style.
Is a full-dress suit an important aspect of a gentleman's vintage wardrobe? Without a doubt, it is. When a man wants to be really formal, nothing can surpass the full-dress suit. Modern dignitaries still wear them on the most formal occasions. I find it interesting that modern gentlemen always opt to rent a tuxedo when the time comes for one. Obviously, they feel no need to own a suit which they will wear so infrequently. However, if you are a socially active man who enjoys participating in high-class activities and wants to be a Dapper Dan, you can't rely on a tuxedo rental shop!
Full-dress suits can and must be worn to formal performances such as the opera, the ballet, and other high forms of the theatre. They also should be worn to very fancy parties and formal dinners. They are good taste at expensive and high-class restaurants. They are absolutely indispensable at balls and fancy dances. Just watch a few Fred Astaire movies to see how glamorous and dashing tails look on a man as he whisks a lady across the dance floor! Remember that others' informality is no reason for you to be ashamed of your own vintage fashion. People will be impressed by how dapper you look in your white tie and tails, even if they are wearing unbuttoned suits without ties themselves. Eventually, your fashion will become your own inimitable style, and people will respect you for it. Believe me, vintage fashion will make you a unique individual whom no one will be able to forget!
Let's start by considering some of the finer points of Ernest's full-dress suit. His coat's lapels are shiny and pointed. There are three buttons on each side of the coat. The front of the coat hits at his waist, and the tails come down to his knees in the back. The material is quite sleek, but it isn't too shiny. It is important for the suit to fit properly, since it won't look right if it doesn't. The coat should be fairly snug, not hanging away from the body. Notice how perfectly Mr. Eddy's coat fits. On the other hand, the trousers must not be too tight. They should hang well and not cling to the legs. The sleeves, unlike those of most suits in the 1930s, are not so long that they almost completely cover the shirt's cuffs. You can see about an inch of the cuffs beyond the sleeves, so the cufflinks are visible.
The waistcoat which is worn with a full-dress suit is quite unique. It is called a pique vest, also known as a backless tuxedo vest. It basically looks like a normal waistcoat from the front, but it cuts closer in on the sides so that you can see it on the inside of the coat. The waistcoat has no back. At the back, it just has an adjustable strap at the bottom and a halter-style strap at the top. Although you never see Nelson Eddy without his coat on, you can observe the design of this suit in other movies in which gentlemen are seen donning or doffing tailcoats. For instance, in Something to Sing About from 1937, James Cagney puts on a full-dress suit with the assistance of his wife. Mr. Cagney's movie star character says that the vest reminds him of his shifty producer, "all front and no back." 
The tie worn with this suit is all white. It is pleated and tied in a nice bow. It might be a subtle satin, but it is not too shiny. They didn't make pre-tied or clip-on bowties in the 1930s. One had to tie a bowtie for himself, so that is doubtless the case with this tie. Just the same, if one wears a modern, pre-tied tie, it doesn't really alter the look.
The above product from Amazon is the perfect choice if you are interested in getting your own full-dress suit! It comes with a coat, pants, a vest, and a tie. It comes in four sizes, but, better yet, it is also offered in a tailored fit. You send your measurements, and the suit is made to fit you! All this is just $109.99! This is a great deal and a rare find, since you can't buy a full-dress suit in just any department store. We had to find a rare tuxedo shop in Los Angeles to purchase a full-dress suit for my father two years ago. It is rare to find such a good set as this one on Amazon. This looks like it is excellent quality. The reviews state that the seller is very accommodating. I highly recommend this suit!
The white shirt is not included with the recommended full-dress suit from Amazon. Ernest Lane's shirt is not a regular white dress shirt, such as would be worn under a normal suit. It is sleeker than that sort of shirt. Most noticeably, the collar is not a standard laydown one. Instead of a flat collar, it has a smaller wingtip collar, which stands up and has shorter points. This shirt requires studs on its front, since it lacks buttons. The cuffs are French cuffs, typical 1930s style, meaning they require cufflinks. Mr. Eddy is wearing understated white studs and cufflinks, which was the most common color choice at the time, black being another but less popular option.
The above shirt from Amazon is a very good choice for this ensemble. Unfortunately, it is pleated, which was not popular until the 1970s, but it has a nice wingtip collar. 
The best thing about this shirt is that it has stud holes and French cuffs. This shirt has a classic fit, which is good. Its material is 60% cotton and 40% polyester. At $19.99, it is a good bargain. It is even more reasonable when you consider that it very generously comes with a black bowtie, six black studs, and metal cufflinks. All these accessories are very fine, but they do not fit this ensemble. The cufflinks and shirt studs should be white. I recommend the white mother-of-pearl stud and cufflink set from Amazon which is pictured below; it is a good deal at $12.99.
The above shirt from Amazon is another tuxedo shirt which could be worn with this full-dress suit. The reason I didn't select it as my first choice is that it has a slim fit rather than a traditional fit. However, that probably wouldn't matter too much under this suit. The best thing about this garment is that it is the only shirt I could find which lacks the 1970s pleats on its front. It has a fine wingtip collar. It also requires studs and French cuffs, which is excellent. The material is 65% cotton and 35% polyester. The price is $34.95-$39.99, depending on which size you order. This is a very good price, especially considering that the shirt comes with a black bowtie, six black studs, and black cufflinks. I still recommend replacement of these items with the white mother-of-pearl cufflinks and studs. Unless you are a larger gentleman, this is probably the best option for this ensemble because it lacks the pleats.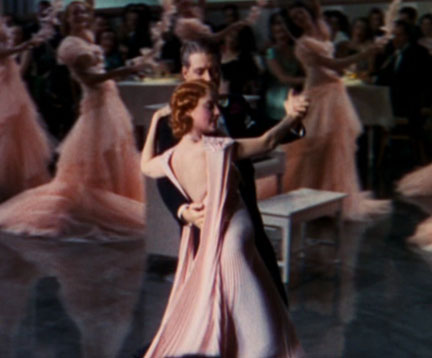 Another accessory one can notice in most of the included pictures of Nelson Eddy in this scene is his white pocketsquare. It is a pure white handkerchief, doubtless 100% silk. It is nicely folded to have three points. The below product from Amazon is the perfect choice for this accessory, since it is a reasonably priced and 100% silk.
 The last important element of this outfit is the right shoes. It is hard to see exactly what shoes Ernest is wearing, but the standard style of the day was black lace-up Oxfords in patent leather. The cap-toe was popular. These shoes are often called tuxedo shoes. Below are two pairs which both fit this description. The one on the right is higher-quality, since it is made of calfskin patent leather, but the price reflects this. The one on the left is entirely man-made and thus is more affordable. Aesthetically, I prefer the second shoe, but they are both good options.
That concludes my description of this outfit! I hope that this encourages you to add a full-dress suit to your closet. No man who aspires to be a Dapper Dan should be without one! Even if you only wear it once a year or less, it's worth it! You never want to be in a situation where you are invited to a formal event but don't have your own full-dress suit to wear and lack the time to rent one! Believe it or not, at Art Deco Society balls of various sorts, many men wear full-dress suits. You don't want to be the only man without your own white tie and tails. I think that these options from Amazon are very good choices for recreating this formal vintage style. People who see you thus attired will think you were fitted by a vintage-expert tailor. They will never guess you are arrayed in Amazon products!
Happy Birthday to the incomparable Nelson Eddy! He truly was a rare talent and a remarkable man. I recommend that you watch one of his fifteen Code films to celebrate his birthday and appreciate his marvelous talent. Take time to notice his striking style. Whether dressed as a Cossack, a Victorian composer, a Mountie, or a modern Broadway star, he was always handsome and dashing. When you recreate his full-dress suit style, be sure to include his most attractive accessory, his warm, sincere, heartfelt smile! If you want to read more loving tributes to Nelson, visit the roster for The Singing Sweethearts Blogathon, which Rebekah hosted on last Valentine's Day in honor of Jeanette and Nelson! "Forever they'll be sweethearts!"
If you want to observe Mr. Eddy's style for yourself, I suggest that you purchase the movie and study his outfit firsthand! Click the above image to purchase all Sweethearts on DVD at Amazon.
By the way, please join our month-long celebration of Code films, #CleanMovieMonth85! Throughout July, we are going to watch nothing but American Breen Era films, and we are inviting participants to do the same. Writers can join this celebration with articles about their own favorite films and discoveries during the month, and we will republish them on our website. Here's to 85 years since the formation of the Production Code Administration!
As a special high-point of our month-long celebration in July, we are hosting a blogathon on the first weekend in July in honor of the formation of the PCA and the twenty wonderful years of decent cinema which followed during Joseph Breen's tenure. It will be called The Favorite Code Film Blogathon. On July 5-7, participants will choose their single favorite Code films and write about why these movies from the era of film decency were so good. Please join!
Remember, take pictures of yourself in vintage style and send them to me to be featured in a future Film Fashion Fridays article! I will gladly republish your pictures, advice, and experiences in vintage clothing for others to see and read. Let's make Friday a day for film fashion!
To every Glamour Girl and Dapper Dan, "Here's looking at you, kid!"
Follow us to bring back the Code and save the arts in America!
We are lifting our voices in classical song to help the sun rise on a new day of pure entertainment!
Only the Code can make the sun rise on a new day of pure entertainment!