Today is Sunday, so it is time for another 52 Code Films article. Every week this year, I have committed to watching at least one movie from the American Breen Era (1934-1954) which I have never seen before. There are so many great classic films yet to be seen, and there is little enough time to watch them. The PCA self-regulated an average of four hundred new movies each year. Since the Breen Era lasted twenty years, that's eight thousand films! I always love to discover a great film that I have never seen before. Because of this series, I have watched and reviewed twenty-five new Code films so far this year, plus the few extras I have watched and not reviewed. I hope that you have enjoyed reading my reviews as much as I have enjoyed writing them!
Today's topic is Wonder Man from 1945. I watched this film on Thursday. It was a VHS which I found in our film collection when I was browsing it to find some movies I haven't seen before. It seems strange to think that there could be films my family has owned my whole life that I haven't watched yet, but there are actually quite a few. My father doesn't even remember some of them. Perhaps someone gave them to us, or we got them a very long time ago and just my mother watched them. When I found this film in our collection, it looked interesting to me, so I decided to make this musical comedy my twenty-fifth new Code film of 2019.

Plot
A flamboyant nightclub performer is always a different character on or off the stage, and he never lets anything spoil his fun. He is engaged to a beautiful dancer who also works at the Pelican Club, where he is employed. He has a reputation for not showing up when he says he will, but they have finally set the date for a few days later. This talented comedian is every unpredictable; his fiancée knows that he may be a different person from one day to the next. Little does she know that, one day soon, he really may be a different person. He had the misfortune of witnessing a murder, and he is the district attorney's primary witness in the murder of a chorus girl by a gangster. Now that the criminal is out on bail, the nightclub entertainer is in danger. The carefree fellow is not worried, but he should be. After that evening's show, a hoodlum masquerading as a flower deliverer comes in and shoots him! His body is put in a florist's truck and brought to Prospect Park, where it is dumped in a lake. Could this be the end of the leading man after such a short time? Thankfully, no. He has a twin brother who is super identical in appearance but very different in temperament. He is a shy but brilliant scholar who knows every fact to be known and can write with both hands at the same time! He spends his days at a library, since he prefers books to crowds, particularly of women. However, he is very fond of the beautiful blonde who works at his favorite library. She invites him over for dinner, and he gladly accepts. When she sends him out to get some potato salad from a nearby delicatessen, he has an irresistible urge to go to Prospect Park, so he rushes out of the shop like a madman. He finds himself on the bridge where, unbeknownst to him, his brother's body was dropped in the lake the night before. He is shocked when he realizes his brother is on the bridge with him. He is glad to see his twin, whom he hasn't seen in ten years. The comedian tries to convince his logical brother that he is a ghost, but it takes quite a bit of magic for him to get through to the scholar. Once convinced, the bookworm agrees to help his brother take revenge on the murderous gangster. The thinker must pretend to be the funny man for a while. It will be hard, but the nightclub performer can go into his brother's body and help him when he has to put on a show. His fiancée, his employer, and everyone else at the club think that the "rube act" is just another one of his gags. However, the gangster and his two henchmen who actually bumped him off are shocked to see him alive and well! They are determined to do the job once and for all, so the scholar is in danger of receiving the same fate as his twin. Meanwhile, the librarian for whom he cares doesn't know what has happened to him recently. Will the twins be able to bring the criminal to justice and help the scholar turn the two lives into one good life for himself?

Cast
The nightclub singer, later a ghost, is Buster "Buzzy" Bellew, played by Danny Kaye. The scholar who later impersonates Buzzy is Edwin Dingle, also played by Danny Kaye. The librarian is Ellen Shanley, played by Virginia Mayo. Buzzy's dancer fiancée is Midge Mallon, played by Vera-Ellen. Buzzy's employer is Monte Rossen, played by Donald Woods. The gangster who wants to bump off Buzzy is Ten Grand Jackson, played by Steve Cochran. His two henchmen are Chimp, played by Allen Jenkins, and Torso, played by Edward Brophy. The confused delicatessen owner is Mr. Schmidt, played by S. Z. Sakall.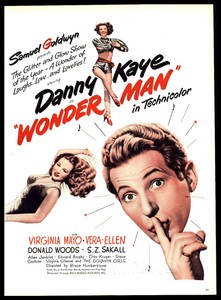 Production Notes
This film was directed by H. Bruce Humberstone. It was produced by Samuel Goldwyn. The film company was Samuel Goldwyn Studios. The screenplay was written by Don Hartman, Melville Shavelson, and Phillip Rapp. Based on an original story by Arthur Sheekman, it was adapted by Jack Jevne and Eddie Moran. This film was nominated for four Academy Awards. It won Best Special Effects, Photographic for John P. Fulton and Sound for Arthur Johns. It was also nominated for Best Sound Recording for Gordon Sawyer, Best Original Song for "So In Love" by David Rose and Leo Robin, and Best Scoring of a Musical Picture for Louis Forbes and Ray Heindorf. It was nominated for the Grand Prize of the Cannes Film Festival in the Feature Film category.

Code Compliance
This is a good Code film. It deals with murder, but it is neither gory nor instructive of how to copy a crime. This is such a wonderful example of a hilarious comedy which never once transgresses the limits of decency. There is never a dirty joke or an off-color bit of humor, yet this movie is non-stop laughs from genuinely funny lines and visual comedy. In the dance numbers, all the costumes are decent. The song lyrics are perfectly acceptable, and the dance choreography is never suggestive. There is nothing that is especially controversial or really inspiring to make this a perfect Code film, but it is a really good Code film. It is just average, wholesome, wonderful entertainment, the stuff of which the Breen Era was made.

My Opinion
I think this is a really good movie. It is the third of the four Danny Kaye and Virginia Mayo pairings which I have seen, and it is my favorite so far. They are so good together! Danny Kaye delivers a great performance in this film. He was famous for playing dual roles, and this is another great example of the talent he had for creating two different characters in one film. Virginia Mayo is really good in this movie as a very nice girl. I didn't think I liked her after seeing a few movies with her, but this and the other new movie I have watched with her and Danny Kaye this year, The Secret Life of Walter Mitty, have made me like her. She is very sweet and pretty in this film, and she plays off Danny Kaye well. I also enjoyed seeing Vera-Ellen in this film, in which she is younger than in any other film I have seen with her. She is very cute and exuberant in her role. She performs a fantastic dance number, complete with toe-tapping and her famous nerve tap. The rest of the cast is excellent as well. I was very impressed by the special effects which were used in relation to the spectral Buzzy. Also, as I mentioned in the previous section, the comedy is hilarious! I couldn't stop laughing at the Messrs. Kaye's antics.

Recommendation
I highly recommend this film to my viewers. Comedy fans and musical lovers will especially like it. If you feel like having a hearty laugh at a film with an enjoyable but ludicrous premise, this is the movie for you! The idea of a man being murdered could be dark, but in this case it is not macabre because Danny Kaye does not cease to be in the film. This is a swell film!
By the way, please join our month-long celebration of Code films, #CleanMovieMonth85! Throughout July, we are going to watch nothing but American Breen Era films, and we are inviting participants to do the same. Writers can join this celebration with articles about their own favorite films and discoveries during the month, and we will republish them on our website. Here's to 85 years since the formation of the Production Code Administration!
As a special high-point of our month-long celebration in July, we are hosting a blogathon on the first weekend in July in honor of the formation of the PCA and the twenty wonderful years of decent cinema which followed during Joseph Breen's tenure. It will be called The Favorite Code Film Blogathon. On July 5-7, participants will choose their single favorite Code films and write about why these movies from the era of film decency were so good. Please join!
Click the above image to buy this movie on DVD at Amazon and support PEPS through the Amazon Affiliate program!
This week, I only watched this one new Code film.
Follow us to bring back the Code and save the arts in America!
We are lifting our voices in classical song to help the sun rise on a new day of pure entertainment!
Only the Code can make the sun rise on a new day of pure entertainment!