Today is Sunday, so it is time for another article in our weekly series about new Code films. This series is called 52 Code Films, and it is all about committing to watching movies from the American Breen Era (1934-1954) which I have never seen before. Every week this year, I have agreed to watch one new Code film. This week, I watched a new movie with Rosalind Russell so that I could participate in The Rosalind Russell Blogathon, hosted by In the Good Old Days of Classic Hollywood, which officially ran from June 4-6. Crystal Kalyana, the hostess, agreed to let me post my article late as this week's entry in this series. Thus, this is my late entry and my belated birthday tribute article for Miss Russell, who would have been 112 on June 4.
Today's topic is No Time for Comedy from 1940. This movie stars Rosalind Russell and James Stewart. When I originally signed up for the Rosalind Russell Blogathon a few weeks ago, I realized that it was being hosted on Tuesday through Thursday. Since that was too early for two of my series, I signed up to breen Auntie Mame from 1958. However, I later remembered that my father had volunteered to breen a Shurlock Era World War II film that week in honor of the 75th anniversary of D-Day. Thus, since he breened Operation Mad Ball from 1957 on Thursday, I asked Crystal if I could post a late article on a new Code film with Rosalind Russell, since I hadn't chosen one to watch yet. On Thursday, I watched this movie, which was free on FlixFling through Roku. When I saw that the cast included Jimmy Stewart, one of my favorite actors, I knew that I wanted to watch this film.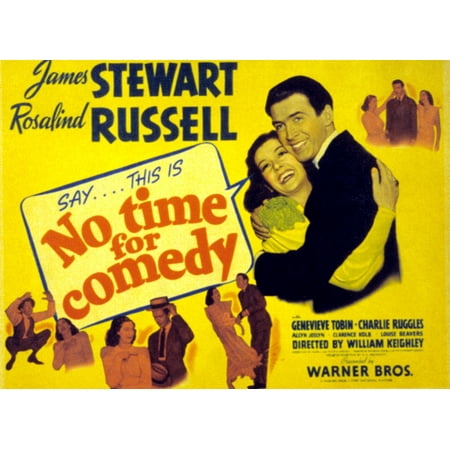 Plot
A comedy is being prepared for its Broadway opening, but everybody in the cast is afraid that the show will never open. The director and producer say that the third act is weak, and the playwright, a newcomer whom no one has ever met, is weeks late in his arrival. When he finally arrives, everyone is shocked that he is a young, lanky boy from a town of three hundred who knew nothing about Park Avenue society when he wrote his play on the subject but basically believed that people are the same everywhere. The director and the producer make fun of the young man's enthusiasm about his work and life in general, but the play's leading lady likes him. The producer eventually decides that the play is no good, so he decides to pull his funding. Unwilling to give up on the young hopeful's comedy, the actress secretly rallies the actors and convinces them to go through with the play without pay for a share of the profits. The show is a huge success under these circumstances, and the actress goes for a walk in Central Park with the young playwright afterwards as they wait for the reviews. The critics love the show! The author is very moved when he learns that the actress made his production possible. They confess their love for each other and plan to get married. Four years later, they are married. The playwright has had four comedy successes with his wife in the lead roles. Now, he is grouchy, bored cynic who drinks heavily when he is between plays. At a party, he meets the silly wife of a Wall Street man. The goofy blonde believes that the author has latent dramatic literary talent, and he is flattered, since he was beginning to feel that he was all washed up. He begins seeing her often as she tries to inspire him to write his next great work, a serious play about immortality. His wife is devastated when she realizes that her husband hasn't told her about his new muse. She fears that she ruined the sweet boy from the small town who came to New York four years earlier by refining him too much. Will they be able to save their marriage, or is he going to choose the woman who tells him he is a great serious talent over the woman who really loves him?

Cast
The young playwright is Gaylord Esterbrook, played by James Stewart. The actress is Linda Paige, played by Rosalind Russell. The blonde who wants to inspire Gaylord is Amanda Swift, played by Genevieve Tobin. Her Wall Street financier husband is Philo Swift, played by Charlie Ruggles. The director of Gaylord's plays is Morgan Carrell, played by Allyn Joslyn. The play's producer is Richard Benson, played by Clarence Kolb. The Esterbrooks' maid is Clementine, played by Louise Beavers.

Production Notes
This film's director is William Keighley. The producer is Hal B. Wallis with assistant producer Robert Lord. The production company was Warner Bros. The screenplay was written by Julius J. and Phillip G. Epstein. It was based on a successful Broadway play by S. N. Behrman which starred Katherine Cornell and Lawrence Olivier.

Code Compliance
This is a good Code film. It is very wholesome and decent. It contains some themes which could have been troublesome, but they were handled very properly. There could have been indecent implications about the relationship between Gaylord and Amanda, but nothing questionable was suggested. This movie features an important message about not losing your beliefs and ideals because of success in the big city. One should not be so concerned with fitting into some group that he loses his identity. We can all learn a good lesson from the story of Gaylord Esterbrook. This movie has that clean, safe feeling which distinguishes Code films. The MPPDA wasn't just carelessly stamped on one page of the opening credits. Joseph I. Breen's personal Seal of Carefulness and Acceptability was invisibly stamped on every frame.

My Opinion
I really liked this film. I was very impressed by it. The acting is excellent. I thought that Jimmy Stewart's performance is very impressive. He does a remarkable job of showing his character's demise. It is very strange and almost disturbing to see how bitter and cynical he has become after four years. He is a heavy drinker, he is unkind to the maid, and he is indifferent to his wife. It is unusual to see lovable Jimmy Stewart in a role like this, especially since he starts out as such a Capraesque youth. As I said in my article about his role in Rose Marie, darker roles show what a marvelous actor Mr. Stewart was. I really liked the way Rosalind Russell interacts with him. Whether loving or frustrated, they respond very convincingly to each other. There is a lot of emotion between them. I thought that this movie had a very unusual but stirring plot. It has some great story twists. It starts out lighthearted and funny, but it takes a very serious turn when the story skips to four years later. The script has a unique mixture of comedy and conflict, another brilliant Epstein twins job! Some modern reviewers don't seem to like this film, but I think that it is a really good movie.

Recommendation
I highly recommend this film to my viewers. I know that classic film fans will enjoy it. I am surprised that I had never heard of it before I saw it on the Roku list. It should be a classic! You will get very involved in the plot, which captivates you as it makes you grow worried about the lead couple's relationship. You can see the Warner Bros. touch in the little details. You will love the acting from the whole cast. The leads are an unusual but excellent couple. If you have time to see No Time for Comedy, don't miss it! It is a great mixture of comedy and drama!

For the Blogathon
I haven't seen many movies with Rosalind Russell. I think I only saw two young performances from her before I watched this movie, and I didn't particularly like her in either one. However, I was very pleasantly surprised by how much she impressed me in this role! She was so sweet and kind to Gaylord. Whether he is a naïve yokel or a sottish grouch, she is always very sympathetic and compassionate toward him. She is very soft and considerate. She is lighthearted and funny, but she is never goofy. When she cries in a later part of the movie, she is so emotional. She really won me over in this role! Now I am a Rosalind Russell fan. I look forward to seeing her in more new Code films. If you want to see her in a lovely young role, watch this movie! You will love it. Happy Belated Birthday, Miss Russell! Thank you, Crystal, for introducing me to this film with this blogathon!
By the way, please join our month-long celebration of Code films, #CleanMovieMonth85! Throughout July, we are going to watch nothing but American Breen Era films, and we are inviting participants to do the same. Writers can join this celebration with articles about their own favorite films and discoveries during the month, and we will republish them on our website. Here's to 85 years since the formation of the Production Code Administration!
As a special high-point of our month-long celebration in July, we are hosting a blogathon on the first weekend in July in honor of the formation of the PCA and the twenty wonderful years of decent cinema which followed during Joseph Breen's tenure. It will be called The Favorite Code Film Blogathon. On July 5-7, participants will choose their single favorite Code films and write about why these movies from the era of film decency were so good. Please join!

Click the above image to buy this movie on DVD at Amazon and support PEPS through the Amazon Affiliate program!
This week, I only watched this one new Code film.
Follow us to bring back the Code and save the arts in America!
We are lifting our voices in classical song to help the sun rise on a new day of pure entertainment!
Only the Code can make the sun rise on a new day of pure entertainment!