It is Friday again, so it is time for another Film Fashion Fridays article! This will be my fourth article in the series. Although I am still getting started with it, it is quickly becoming my favorite series on PEPS. It is challenging, but I enjoy finding outfits I can recommend for my readers to recreate. I hope that, eventually, I will see that my readers are buying the products I recommend on Amazon, enjoying the fashion, and sending me pictures and anecdotes from their own film fashion adventures. I have mentioned in several recent articles that we would be removed from the Amazon Associates program if we did not make three sales by mid-May. Since we only had one purchase before the deadline on May 12, our account was closed. The good news is that we were able to apply again for another six-month trial immediately! Thus, I am pleased to continue offering Amazon product recommendations to you, particularly in this series. Click the image tabs to visit the product pages, buy the items, and support PEPS financially.
So far, I have described one outfit for ladies and one outfit concept for gentlemen. Today, I am going to write about a second outfit for ladies. This outfit will be from a 1940s film.  I hope that this article will give my female readers ideas about another style of vintage clothing they can wear aside from Katharine Hepburn's 1938 ensemble, which I explained two weeks ago. No matter what decade of clothing you choose, don't forget the foundation of all vintage clothing, the proper undergarments, which I described in my first article in this series.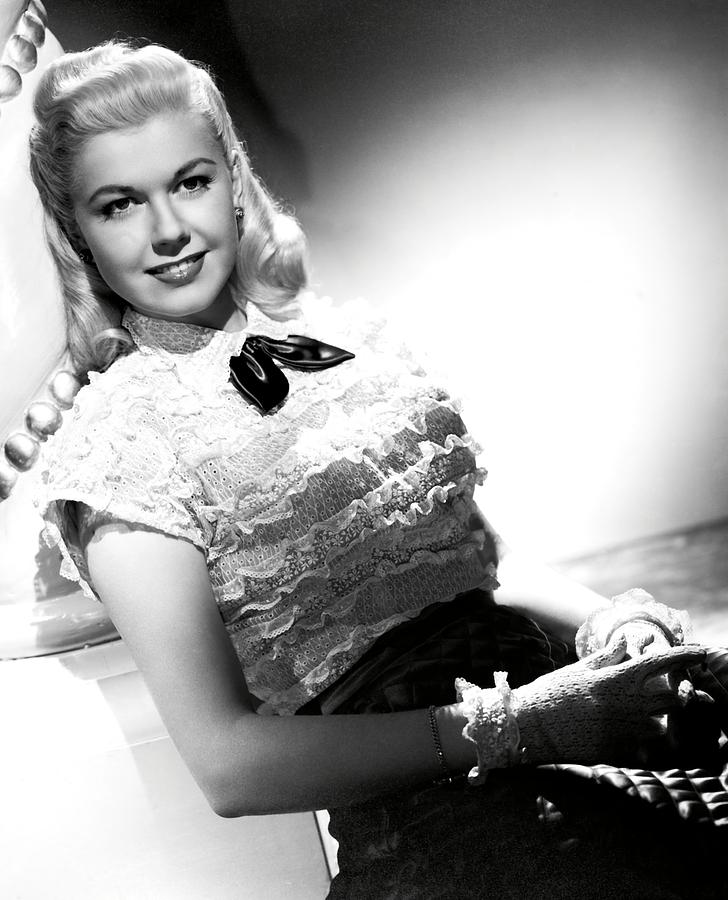 I'm sure all classic film fans were just as saddened as we Brannans were to learn of Doris Day's death on Monday. Her death at ninety-seven marked the departure of one of the last actors from the Golden Era of Hollywood. However, her talent, her beauty, and her style will live forever in the thirty-eight films she made during her twenty-year film career. In honor of this lovely lady's memory, this week's outfit is her first costume from her first movie, Romance on the High Seas from 1948. When Doris walked onto the screen in this adorable gray suit, audiences must have whispered, "It's magic!"
In this lively, lovely musical, Doris Day plays a peppy, jive-talking nightclub singer named Georgia Garrett. She is more "hep" in this movie than in any other in which I have seen her. She wears her hair in bouncy, shoulder-length curls, chews gum, and uses slang like natch, schmoes, and chooch. However, she is never brassy or tough. There is something undeniably endearing and refined about her even as a cafe singer. Part of it is Doris Day's irresistible charm and sweetness. However, I think the biggest thing that lets us know from the start that Georgia Garrett is a lady is her clothing.
When we first see Georgia, she is in a travel bureau where the other prominent female character, Elvira Kent (Janis Paige), is booking a tropical cruise for her wedding anniversary. Miss Garrett addresses the employees, who identify her to Mrs. Kent as a "character" who comes in every few months to research and plan trips which she can't afford to take. Mrs. Kent has to look over at her when she starts singing a South American tune while musing about the possibility of a cruise to Rio. In this scene, the lively, imaginative Georgia delivers hilarious one-liners like, "The canal's for schmoes." However, we don't mistake her for a cheap or unrefined chorus girl. Appearances are very telling, and hers has unmistakable refinement. She is wearing a gray suit rather than a skirt and blouse, so she is very well-dressed. She is wearing a hat, so we know she is a lady. If that isn't enough, you can see from the above picture that she is holding gray gloves. Gloves were a common female accessory, but not wearing them on a casual day about town was not a grave breach of etiquette. The fact that Georgia has gloves tells us that she is actually very refined. She probably came from a middle-case but highly-decent family in the middle of the country. At eighteen, she decided to go to New York and try her luck as a singer, hoping to some day make enough money to see the world. Her jive talk is not a sign of unrefinement. She just speaks that way because she is a musician, and musicians were noted for using jazzier talk than the average American. She may not have as much money as Elvira Kent, but at heart she is just as ladylike and fashionable before she agrees to impersonate the wealthy socialite on a South American cruise as after.
Let's consider the basis of Georgia's outfit, which is a gray suit. It's medium gray, and it seems to have a slight herringbone stripe pattern. The coat has padded shoulders, in standard 1940s style, and long sleeves with a black line around the wrist. Tt is long enough to cover her hips. The skirt is knee-length and fairly loose; it has a thin black line running down either side of the skirt. The coat pulls in at the waist, nicely accentuating her figure. This is largely caused by a thin black belt which seems to be built into the coat. It appears to run inside the coat, only coming out at the front to buckle in the center, giving her a nicely-defined shape. You can notice this excellent design in later pictures I have included. I wish that I could recommend a suit which is as nicely structured as this, but I couldn't find one on Amazon. Unfortunately, I think one is unlikely to have many modern ladies' suits which complement the figure so nicely. However, I did find some good gray suits which are a suitable basis for a modern recreation of this outfit.
The above outfit from Amazon is the only one which has any sort of belt. Although it is not built into the coat's lining, it gives a similar look at the front. It has three-quarter-length sleeves, a high neck, and a knee-length skirt. This style is a little deceptive, since it gives the appearance of being a coat and skirt. However, I eventually realized that it is actually a one-piece dress which has a zipper in the back. Although that is not exactly what Georgia is wearing, you might like this look. The dress is fitted in the body, showing off the figure. The material is a combination of rayon, polyester, and spandex. At $26.99, it is very reasonable. This dress comes in black, dark green, blue, khaki, red, wine red, and gray, which is pictured. Although this is not a suit, it has a good vintage look. The main drawback is that you won't be able to display a red blouse under the coat.
The above suit from Amazon is really a suit. The coat has long sleeves and two large buttons up the front; it separates quite low in the front, so you would be able to see a red blouse under it. The skirt is straight and knee-length. The coat comes in slightly at the waist and flares out a little, so it does have some shape. The material is 65.5% rayon, 30.5% nylon, and 4% spandex. At $49.99, it is almost twice as much as the dress, but it is worth more because it is two separate pieces. This suit comes in black, burgundy, dark blue, glitter black, light purple, cocoa, marigold, milk, off white, copper beige, olive drab, dark olive brown, violet, blue jay, dark brown, dark mauve, indigo, light beige, Maya blue, pink orange, true orange, sparkling tangerine, beige, and gray, which is pictured. Gray is the color I first recommend, since Georgia's suit is gray. However, the gray in which this suit comes is much darker than the color in the movie. For that reason, I suggest glitter black as another color option. Although the dubious name suggests solid black material covered with sequins, the actual material is a very reserved flecked gray. You can only see the pattern on close inspection; from a distance, it almost looks like a lighter gray. I think that this suit in either gray or glitter black is an excellent option for this outfit.
The above suit from Amazon is a second option from the company that makes the previous suit, Marycrafts. This suit also has a long-sleeved coat and knee-length skirt. The main difference between it and the last suit is the structure of the coat. It comes in at the waist and flares at the hips.
 It has four lines on its bodice to give shape to the torso. The most distinct style of this outfit is the five large buttons which cross the torso at a diagonal. Because of these buttons, you can't wear the coat open enough to really see the blouse. However, I wouldn't recommend wearing this coat with nothing under it, so why not wear a red blouse? You might be able to see it above the collar. The price ranges from $39.92 to $49.90 depending on which size you order. The material is 80% polyester, 15% rayon, and 5% spandex. This suit comes in tan, olive drab, green beige, pink, beige, blue, desire red, peach, red pink, mint green, sky blue, violet, and glitter black, which is pictured. Since no gray is offered, I definitely recommend this suit in glitter black. The structure of the coat gives this suit a very feminine style, which is extremely important in vintage clothing.
If you want to have the belted look with either of the suits I recommended, why not wear a skinny black belt over the coat? It will give you a similar cinched look, even without the smart hidden belt. The below belts from Amazon look like good options.
Under her coat, Georgia is wearing a red blouse which seems to have a knit sweater material. It comes all the way up to her neck, although it isn't a turtle neck, and has little ribs on its collar. It is very sleek and a very vibrant red. She wears it tucked into her skirt for a sleek line. The sleeves don't stick out beyond the sleeves of her coat, so one can only guess how long they are. It doesn't effect the look either way.
The above sweater from Amazon looks a lot like Georgia's top. It has a lightweight knit texture of soft, blended yarn and subtle ribbing at the high-necked collar and on the cuffs of the long sleeves. 
It looks quite light, so I don't think it would be too hot or bulky under a coat. It seems to be quite slim through the torso, which is good, since excess material would be bunchy. The price ranges from $29.99 to $69.99, depending on which size you order. The material is 72% viscose and 28% polyester. This sweater comes in black, burgundy, cobalt, emerald, ivory, light gray heather, navy, and the vibrant red which is pictured. I think this is an excellent sweater to wear under the gray suit.
The above sleeveless turtleneck from Amazon is my other suggestion for a blouse in this ensemble. It is a light texture. The lack of sleeves makes it a good option in warmer weather. This is a good choice if you don't want sweater material. The price is $4.29, which is extremely reasonable. The material is 100% polyester. This sweater comes in black, blue, red, and white. The red wouldn't appear as the display picture, but it is a good red, slightly darker than that of the sweater. This is a good short-sleeve option for this ensemble, especially under the second suit option.
The other very remarkable aspect of Georgia's outfit is her hat. It is an adorable grey beret. It looks like wool, and it has a stem on top. She wears it on the right side of her head, tilted forward. It's the perfect accent to this outfit! Below are two gray wool berets from Amazon which look a lot like Georgia's. Either would be an excellent accent to this ensemble.
Georgia wears gold jewelry to accessorize her outfit. On the left side of her coat, she is wearing a gold brooch pin with music notes and a bass clef intertwined, reflecting her profession as a singer. I think this is a lovely touch. A gray suit coat can look rather plain by itself, so it is nicely adorned by a brooch. Any of the five brooches below from Amazon reflect the musical theme. You could also use a gold brooch of your own with another design for the same effect.
Georgia also wears a short gold necklace. As you can see in the above picture, it is a series of circular gold pieces with crystals in the center. It is tight to her neck, falling at the top of her sweater's neckline. I couldn't find anything exactly like it, but the two gold necklaces from Amazon pictured below are similar. I suggest looking in a jewelry store or store jewelry department for more options.
The above picture offers us a full-length shot of Georgia in her first costume. In this picture, we can see her purse quite clearly. It is a red clutch bag, probably leather, with a gold closure at the top. It is fairly long and very smart. I like the accent of red which matches her blouse. The three clutch purses below from Amazon are good options to wear with this outfit. Choose whichever suits your taste.
As I mentioned earlier, Georgia is carrying gray gloves in this scene. In the full-length shot, which is from the opening of the scene, she is still wearing her left one and carrying her right. As she talks to the travel agent, she holds her gloves. Her gloves are wrist-length, quite sleek, and a little darker than her suit. Below are several pairs of short gray gloves of various shades and materials. Whether you want satin, spandex, or fuzzy material, I think you will find a suitable pair from the Amazon products pictured below.
No outfit is complete without shoes, but we never get a chance to see Georgia's. Nonetheless, vintage-style shoes must be worn. Most likely, Georgia is wearing gray pumps of some sort. Red is also an option, but red shoes are a little loud. Below are three options from Amazon which would look good with this outfit. The first two pairs come in red as well as gray, if you prefer that extra splash of color.
That concludes my description of this lovely vintage outfit. With one of each of the described pieces in this outfit, you will have a glamorous 1940s style which Milo Anderson, the costumer for this film, would have been proud to have designed. With this feminine and zesty 1948 style, you can't go wrong. Combine it with a bright smile like Doris Day's, and you can capture the zip of America's sweetheart, whom director Michael Curtiz called "the most everything dame" he had ever seen.
If you want to observe Doris Day's style for yourself, I suggest that you purchase the movie and study her outfit firsthand! Click the above image to purchase Romance on the High Seas on DVD on Amazon.
Doris Day was one of a kind. We will never forget her beauty, her charm, her lovely voice, and her sweetness. As we are honoring and remembering her long, wonderful life, we can celebrate this glamorous lady by imitating her style with our fashion. While donning your gray suit and tam, be sure to play a rousing rendition of the first song Doris Day ever sang onscreen, "I'm in Love." You can watch the clip here.
 The best way to celebrate Miss Day's life is to enjoy her recordings and her movies, especially the sixteen Breen Era films she made while under contract to Warner Bros from 1948 to 1954. Watching these movies will make you declare, "It's You or No One" about Doris Day! Rest in peace, Miss Day.
Remember, take pictures of yourself in vintage style and send them to me to be featured in a future Film Fashion Fridays article! I will gladly republish your pictures, advice, and experiences in vintage clothing for others to see and read. Let's make Friday a day for film fashion!
To every Glamour Girl and Dapper Dan, "Here's looking at you, kid!"
Follow us to bring back the Code and save the arts in America!
We are lifting our voices in classical song to help the sun rise on a new day of pure entertainment!
Only the Code can make the sun rise on a new day of pure entertainment!