Hello, dear readers! It is Friday, so it is time for the second article in our new fashion series, Film Fashion Fridays. Two weeks ago, I dedicated the lengthy first article to explaining the proper undergarments which are the basis for a lady's vintage wardrobe. Unfortunately, I wasn't able to publish the second article in the series last Friday. As the series progresses, I hope to make it a consistent weekly series. Today, I am going to delve into outfits for the first time. I am excited to share my first suggestion for a lady's film-inspired ensemble. Gentlemen, I will publish my first article about men's vintage fashion next week!
Today's outfit is a staple of 1930s fashion. It is the perfect casual outfit from that decade. It is one which you will see in numerous films from the 1930s, pre-Code and Code. It is wonderful because it is simple, versatile, and easily diversified. It is the mid-calf skirt and simple blouse combination. We are taking our inspiration for this outfit from one of my favorite movies, Holiday from 1938. In this endearing film about the value of money and the importance of enjoying life, Katharine Hepburn plays Linda Seton, a frustrated heiress who longs to find true happiness. We see the outfit of choice in her second scene, which takes place in the family playroom on Christmas Day.
This is a casual outfit for Linda, since she is just around the house. Naturally, she is dressed nicely, since most people believed in looking good even when at home. However, she is clearly dressed for her own house because she lacks a hat, a necessary staple of ladies' fashion in the good old days. I will analyze and explain each aspect of her outfit, including pictures. As I consider each garment, I will describe how you can recreate that item, including pictures to Amazon items which are similar. If you click on the photo tabs, you can purchase these items and support PEPS through the Amazon Associates program. Please make a purchase soon, or our membership in the affiliate program will expire in mid-May!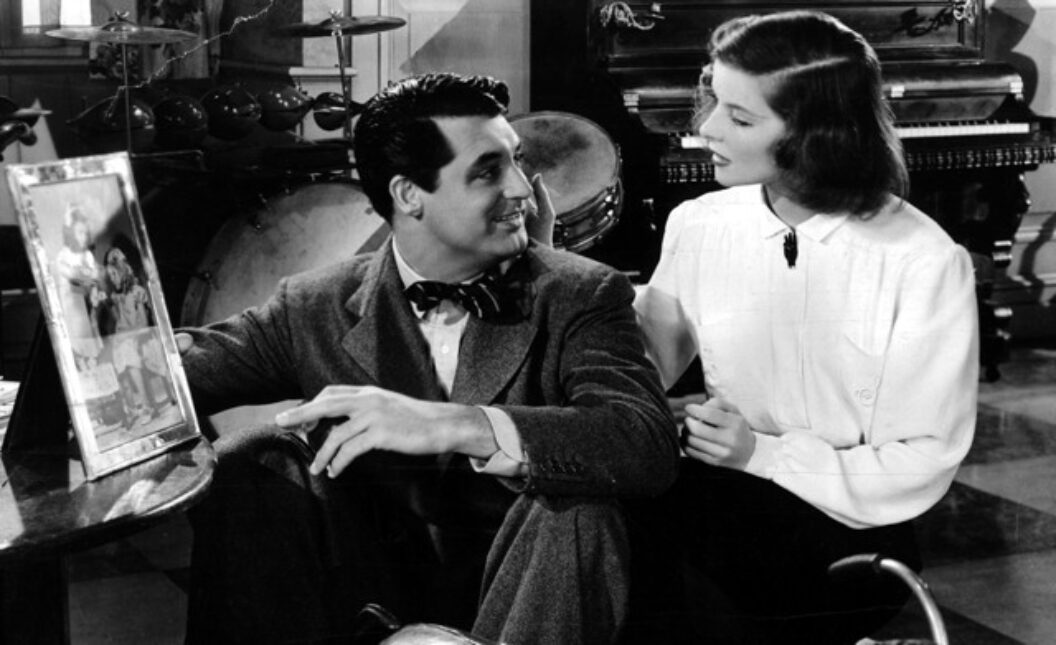 Let's begin at the top and work down. Linda is wearing a simple white blouse. It has loose, long sleeves with fitted, buttoned cuffs. It is button-up, but there seems to be a panel covering the buttons. It has a very small, pointed collar. It appears to be slightly gathered by the shoulders. It is fairly blousy, complementing Miss Hepburn's thin frame.
This blouse has two pockets on its front. In the above picture, you can see that the pockets are monogrammed with her initial, a cursive L. The thread is white, so the L is not visible in all shots. The material of the blouse is thick, so you don't see through it at all, not even on the sleeves. It appears to be a sturdy blouse, as it should be in New York during winter. Although it has buttons, collars, and a cuff, this blouse does not look tailored. It is very feminine.
The above blouse from Amazon is one of the most casual I selected. Surprisingly, it is also the most expensive at $79.99, since it is 100% silk. Because of this, it will probably have a very sleek texture. I like that it is silk, since a woman like Linda Seton would probably wear a silk blouse. It is button-up, but the buttons are not covered. It also has a small collar, although perhaps not as small as Linda's. It would have to be worn buttoned all the way up. This is one of the only blouses with pockets that I found. It does not seem as thick, nor are the sleeves as loose as Linda's. It looks a little casual. However, I think that it could be lovely and very vintage if worn with the whole outfit. It comes in white, black, shifting sand, and kale green.
The above blouse from Amazon is less casual than the previous one. At $17.99, it is far more reasonable than the previous one, being made of no-stretch polyester. Its front is made of double-layer chiffon while its back is single-layer. It has no buttons. It has a slightly-scooped neckline with a round collar. It is completed with a small tie-front. It has long sleeves which are slightly transparent. They end in wide cuffs with small buttons. This is a more feminine and fancy style than even the one which Linda wears. I think it would look very good in the ensemble, since it has a real vintage look with the bow. I have seen this style in many other movies. It comes in white and black plus fifteen other solid colors and five patterns. It also comes in a short sleeve style in black, white, and light blue, and a cap sleeve style in black, white, and wine red.
The above blouse from Amazon is the most fitted so far and is very similar to the one which Katharine Hepburn wore in the film. It is extremely reasonable at $12.99. It is chiffon made of 95% polyester and 5% spandex, giving it a tighter fit through the torso. It has a neat row of widely-spaced decorative buttons up its front. It has a stand collar with a fan-like ruffle at the neck which flatteringly rests on the upper chest. It has long sleeves which are just slightly more transparent than the bodice. They have sleek cuffs of average length with buttons which match those up the front. The ruffle and buttons give this blouse a very vintage look. The structuring in the bodice gives it an even more feminine look by accentuating the figure. It comes in white, red, and pink with long sleeves. Its short-sleeve style only comes in white and pink.
The above blouse from Amazon is a simple one which is enhanced by ruffles on its front. It is soft chiffon made of 98% polyester and 2% elastane. It costs $19.99. The material seems quite opaque. It has clear buttons up its front, but they are partially-covered on the upper torso by a large ruffle on either side of the row. It has a small, simple collar. The sleeves are long and seem as opaque as the torso. They have large cuffs with two simple buttons on each. Essentially, this blouse is as simple and casual as the first one, minus the pockets. However, the large ruffle gives it a fancy, feminine, vintage look which will work well in this outfit. It comes in white, pink, royal blue, lilac, and yellow. It also comes with short sleeves in white, blue, and light blue.
The above blouse from Amazon comes in many varieties. The one which I will describe is pictured above in black; it costs $24.99. Made of 93% polyester and 7% spandex, it has a smooth chiffon finish which seems to be completely opaque throughout. Like the previous selection from this company, it is quite fitted through the torso. It has same-color buttons up the front. It has a V-neckline which is tied with a big bow. The shoulders are rather puffy, and the sleeves are quite long. The cuffs are fairly small with a couple of buttons on each. It comes in white, black, and fuchsia. This is a nice blouse which has a good mixture of sleek simplicity and feminine style.
The other important element of Linda's outfit is her skirt. She is wearing a black mid-calf skirt, the standard length in the 1930s. It was somewhere between the conservative long skirt of the Victorian Era and the scandalous knee-length hemline of the 1920s. Like most skirts of this type, the skirt is tight at the waist and slightly bell-shaped. It gracefully skims over the lower half of the hourglass and hangs flatteringly and loosely over the legs. The material is heavy, and it doesn't cling. The skirt flares slightly at the bottom. It is different from a pencil skirt in the fact that it flares slightly rather than clinging to the upper legs. It is a simple A-line skirt. It is more-flattering to different body types than shorter or tighter skirts.
The above skirt from Amazon is very similar to Katharine Hepburn's. It is a cotton polyester blend with a smooth finish. At $23.99, I would say that it is a good value. It has an elastic waistband. It is about 31 inches long. It is not lined. It is fitted at the waist, but it flairs. It comes in black, red, charcoal, navy, and brown. It looks like an excellent option for this ensemble.

The above skirt from Amazon is another excellent option. It is 75% acrylic polyester, 20% cotton, and 5% wool, which gives it a textured quality. At $31.99, it is more expensive than the other skirt, but it seems to have more features. In addition to its elastic waistband, it has a side-zipper, pockets, and a matching belt in some colors, including black. I think that is very nice, since I often like to wear a belt with skirts such as this. It is 36.6 to 38.2 inches long, depending on which size you order. It is lined, and the reviews agree that it is a heavy material. It is fitted at the waist and flairs. It comes in beige, flecked black, burgundy, speckled gray, and khaki without a belt and in black, burgundy, and gray with a belt. This looks like a really good skirt to use in this outfit and many others!
It isn't very visible in most pictures, but in the above photograph Linda seems to be wearing a black belt at her waistline. If you order the second skirt option, you would be able to wear the included belt. Of course, a belt is entirely optional in this ensemble. However, if you buy the first skirt option but want to wear a belt, you might consider the below items.
No outfit is complete without shoes, so let's look at Linda's in Holiday. She is wearing black pumps with fairly-low heels, since she was a tall lady. The approximately two-inch heels are rather thick, as was the custom in the 1930s. They are slightly pointed. The noteworthy aspect of these shoes is their backs. They are open in the back, but they aren't exactly sling-back shoes. The opening starts too far forward, and there is an extra strap. This sort of shoe is called a loop pump, since a loop goes around the foot. I can't be sure what material the shoes are, but they probably are leather, which was the most common material for pumps in the 1930s.
The above shoes from Amazon are the only loop pumps I could find on the sight. There are several varieties of sling back shoes, but these are the only shoes which really match Linda's. They range from $48.18 to $85.00, varying randomly from one size to the next. They are 100% leather with OrthoLite molded footbeds and Cushion Soft padding. The back strap is adjustable. The heel seems to be about the same height as Linda's, and the toe is also slightly pointed. They come in black, blush, and pewter. The company is Clark's, a shoe brand with which I have been very satisfied. These look like well-made, unique, vintage-looking shoes which will pair well with this outfit and many other film-inspired ensembles. Of course, this outfit could also be well-complemented by a regular pair of black leather pumps. However, if you really want to capture Katharine Hepburn's look, I highly recommend these shoes, since they look remarkably like hers in the film.
Linda adorns the collar of her blouse with a brooch, a nice accent to any solid-colored shirt. The brooch is obviously black. However, even in the above picture, which focuses on the brooch quite clearly, I am unable to discern what the shape is. It seems to be ovoid with little lines sticking out at either end. Sometimes it looks like a fish to me, and other times I think it is a hand. Perhaps it is an abstract shape. I think that a brooch is an accessory with which you can express yourself freely. Any brooch would look nice. If you want to stay near Linda's style, you might want to use a black brooch. Below are four black brooches which I found on Amazon.
As we noted earlier, Linda's blouse has pockets on which a cursive L is embroidered. Since I couldn't find any initialed blouses, I thought that an initial brooch might be a nice homage to that style. Below are two L pins, one in silver and one in gold. You can look on Amazon for your own initial, or you can wear L in honor of Linda!
As I mentioned before, this outfit is based on a very popular style from the 1930s. However, since Linda is wearing it around her house, she doesn't wear some of its key features. Firstly, she just wears a blouse and a skirt. It is unlikely that a 1930s lady would have left the house in so plain an outfit. She surely would have worn a short black sweater or shrug over the blouse. This sort of sweater would sometimes be tied in the front and sometimes be left hanging loose. It rarely would be longer than waist-length.


The above sweater from Amazon is a good tie-front option. It costs $21.99. This cotton shrug is slightly transparent. It can be worn loose or tied in the front. The sleeves are three-quarter-length. The sweater comes in black, white, royal blue, wine red, pink, and light blue. This has a good vintage look, similar to Mae Clarke's shrug in Night World.
The above sweater from Amazon is a good non-tied option. It costs $21.99. It is 80% viscose and 20% nylon with a knitted, ribbed texture. It has three-quarter-length sleeves with ribbed cuffs. The garment is waist-length and structured. It comes in black, white, burgundy, royal blue, dark coffee, blue, green, mustard, navy blue, yellow, red, rose, peach, mint green, and purple. This is a lovely, basic sweater which will look good with any ensemble of this kind.

In the good old days, no respectable lady would go out without wearing a hat unless she were wearing formal eveningwear. By the same token, no gentleman wore his hat inside a building or in a lady's company. These customs stemmed from Biblical rules on head-covering, so they were very important in Western societies with Christian roots. This sort of outfit was always completed by a cloche hat. Cloche is French for bell, so the name was given to the bell-shaped hats which became very popular in the 1920s. The cloche in this outfit would be black. Click on any of the below images to purchase your own cloche hat on Amazon to complete your ensemble.
That's all you need! With the undergarments I described in my last Film Fashion Friday article, you have the basis for any outfit. With the suggestions and links I provided in this article, you are ready to create your first vintage outfit. If you want to start your 1930s-style wardrobe with ease and affordability, make the most of this ensemble. Buy one of the skirts, one of the sweaters, one of the cloche hats, and one pair of shoes. Then, buy several blouses. Each of the blouses I suggested comes in several colors, so you could buy each in a different color. Many also come with short sleeves, which is a great warm-weather variation for this style. If you bought both skirts or both sweaters, you could have even more variations. Although black skirt and sweater is the standard look, you could try a different color, such as navy. However, I recommend matching the skirt, sweater, and shoes, whichever color you choose. The blouse is the piece with which you can have the most freedom.
Linda Seton and Johnny Case, her kindred spirit in this film played by Cary Grant, both want to see the world and enjoy life. When Linda decides to go on her holiday with little time or space for packing, she would surely bring this basic outfit. She could create any number of outfits with the same skirt, sweater, shoes, and hat. All she, or any lady traveler, would have to do is change the blouse. One has the option of not wearing the belt and not wearing the sweater with long-sleeved blouses. I highly recommend this style for traveling. If you have a little extra room, bring another small black hat for some real variety. The three pictures below will bring you to adorable styles which look very smart and vintage.
We Brannan sisters love to wear this sort of style ourselves! In the above picture of Rebekah and me in front of the Pullman Private Car at the Netthercutt Collection in Sylmar, California, you can see that Rebekah is wearing this type of ensemble with knee-length skirt, white front-tie blouse, black sweater, large pumps, and black cloche. It is easy and fun to create this look! You will love its comfort, simplicity, and instantly-recognizable vintage look!
If you want to observe Katharine Hepburn's style for yourself, I suggest that you purchase the movie and study her outfit firsthand! Click the above image to purchase Holiday on DVD on Amazon.
That's all for today! I hope you enjoyed reading this detailed guide to creating an authentic 1930s outfit! Using Katharine Hepburn's 1938 costume as a guide, you can create an outfit which any woman in the 1930s, from a waitress to a movie star, would have been proud to wear. You can wear it to work, shopping, or to dinner, making it fancier depending on which blouse you wear. It is perfect for all types of weather, since you can make it warmer or cooler depending on which sleeve-length you wear. You can wear different black shoes to suit your podiatric needs. You can save space packing by creating multiple outfits with this basis. I hope that this will inspire you to create this outfit for yourself, buying some of the Amazon products I recommended. Remember, take pictures of yourself in vintage style and send them to me to be featured in a future Film Fashion Fridays article! I will gladly republish your pictures, advice, and experiences in vintage clothing for others to see and read. Let's make Friday a day for film fashion!
To every Glamour Girl and Dapper Dan, "Here's looking at you, kid!"
Follow us to bring back the Code and save the arts in America!
We are lifting our voices in classical song to help the sun rise on a new day of pure entertainment!
Only the Code can make the sun rise on a new day of pure entertainment!