Today is Sunday, so it is time for another article in our weekly series 52 Code Films. In this series, I discover American movies from the Breen Code Era (1934-1954) which I haven't seen yet. Have you ever looked over a list of classic films and been shocked by how many of them you haven't seen yet? Whether it's an Academy Award-winning film or an unsung classic, you never know which new classic movie will become your next favorite. Through this series, I hope to discover some wonderful new Code films which I haven't seen yet. I hope that you have enjoyed reading my reviews as much as I have enjoyed watching the movies. Which of the fourteen new Code films I have reviewed so far have you seen or would you like to see?
This week's topic is Winged Victory from 1944. This is a 20th Century Fox production which went behind the scenes of the Army Air Corps during World War II. I watched this film on Wednesday evening. This movie is very difficult to find in a good copy. The copy which we watched was lent to us by no one else but one of the original cast members! Jo-Carroll Dennison, one of the young war brides in this movie, is a client of my father's property management business. Now ninety-six, she is vibrant, sharp, and just as sweet as ever! She lent us a rare DVD copy of her only major role in an old Hollywood movie, having starred in numerous uncredited roles after becoming Miss America in 1942! Due to the fact that the film rights reverted to the Army, probably because the profits originally went to Army charities, it is hard to find hard copies of this movie. Thus, I will review this picture from the copy Miss Dennison lent us. Stay tuned for a special article about this Golden Era of Hollywood legend who is still living!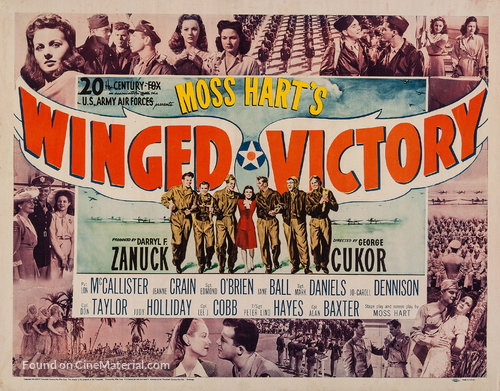 Plot
Three young men from a small Midwestern town wait with baited breath for months to receive responses from the Army Air Forces. Eventually, the letters come, requiring the men to report for duty. An enthusiastic Italian leaves his father's barber shop, a serious bank teller agrees to let his wife accompany him, and a hopeful youth marries his sweetheart before leaving. At camp, the young men meet another Air Forces cadet, a Brooklyn family man with a wife and son. The four cadets learn how difficult, serious, and grueling the Air Corps is. Through their tests, trials, and challenges, the enlisted men learn that patriotism and bravery aren't enough to make successful pilots in the Army Air Forces. Through painful, heartbreaking, and tragic scenes and events, they learn the harsh realities about those who will be able to succeed in combat and help win the war and those who must serve in other ways. Whether in a cockpit or on the home front, every man in the Army Air Corps and every member of his family has a job to do to serve the country and help the war effort.
Cast
The four main soldiers are Frankie Davis, played by Lon McCallister, Irving Miller, played by Edmond O'Brien, Alan Ross, played by Mark Daniels, and Pinky Scariano, played by Don Taylor. Frankie's wife is Jane, played by Jane Ball. Irving's wife is Ruth, played by Judy Holliday. Alan's wife is Dorothy, played by Jo-Carroll Dennison. The last soldier to join the group is Bobby Crills, played by Barry Nelson. His wife is Helen, played by Jeanne Crain.
Production Notes
This film was directed by George Cukor. It was produced by Daryl F. Zanuck. The production studio was 20th Century Fox. The screenplay was by Moss Hart, based on his 1943 stage play of the same name. It was made in association with the U. S. Army Air Forces. It really was a collaboration between the Hollywood studio and the Army Air Corps. The Army assisted the production by providing fourteen technical advisors, who lent expertise and realism to this picture.

Code Compliance
This is a perfect Code film. Firstly, it is completely free from objectionable qualities. Secondly, it is extremely patriotic, inspiring, and uplifting. Set and made during the height of the second World War, this film easily could have included profanity among the soldiers. However, no harsh language is used. Since it includes combat scenes, it also could have included violence or gory images. This also was avoided. The result is a clean, wholesome picture which is both decent and real. Because of the help from real Army Air Corps technicians, this depiction of the Air Forces is very realistic and accurate. This movie doesn't shade the reality of the lives and hardships of men in the Air Forces and their families back home during the war. Some modern viewers don't seem to realize that Code movies could be realistic and acceptable for all audiences at the same time. This movie is a beautiful example which will convince them otherwise.


My Opinion
I think this is a wonderful film. I was truly inspired by this movie's patriotic themes. I am always deeply moved by the trials and patriotism of World War II. Although it happened seventy-five years ago, Code films bring the Allied involvement to life so vividly that I feel the cause behind it even in this day. Winged Victory really gave me this feeling. It was so interesting to see how the Army Air Forces trained cadets and selected those who were capable of being combat pilots. I've never seen another picture which gave such a detailed background view of this branch of the service during World War II. The cast was excellent, each member giving a moving and believable performance. What I thought was an excellent touch of authenticity was the fact that all the gentlemen who played officers were actually in the service. All the men are credited with their military rank in the opening credits. Many of the cast members appeared in the Moss Hart play of the same name. The cast is largely male-dominated because of the focus on the military, but there are a few deep and moving scenes with the female characters. In those brief scenarios, the actresses portray the deep and relatable emotions which thousands of American women experienced during World War II. There are some charming comical moments in the lifelike interactions between the cadets and in the military shows. It is especially funny to see soldiers on a deserted island putting on a Christmas show by dressing up like Carmen Miranda and the Andrews sisters. You have to admire their ingenuity because the USO tour hadn't reached them!

Recommendation
I highly recommend this film to all my readers. It is endearing, heartwarming, touching, exciting, and informative. It contains military background and action as well as emotions and romance. The male characters are strong but sensitive, and the female characters are feminine but courageous. The tenderness of the family scenes are relatable to children. It is very interesting to see iconic actresses before they were famous. Twenty-three-year-old Judy Holliday made her debut in this film, as did eighteen-year-old Jeanne Crain. I also enjoyed seeing the Texan Miss America's performance, which I found to be excellent. It is a shame that this movie isn't more readily available. You can find a very fuzzy recording of it on YouTube here. Neither Amazon nor Ebay has a copy of the film. However, you can buy a DVD here on RetroFlix DVD. However you see it, I know that you will love this film!
This week, I only watched this one new Code film.
Follow us to bring back the Code and save the arts in America!
We are lifting our voices in classical song to help the sun rise on a new day of pure entertainment!
Only the Code can make the sun rise on a new day of pure entertainment!