In April of 2015, my family and I went to Arizona for a holiday. One evening in our hotel, we decided to watch a movie. Out of two films, we chose The Wackiest Ship in the Army from 1960, a World War II comedy with elements of drama starring Jack Lemmon and Ricky Nelson. We hadn't watched the film in years, and I had only vague memories of seeing it as a young girl. Jack Lemmon was a familiar name, but he was not in any of our favorite films. Thus, this film brought him to my attention for the first time. I was very impressed by his performance in this film, which ranged from drama to intensity to comedy and even to sentiment. When we got home, I researched his filmography and discovered that an early musical he made, My Sister Eileen from 1955, was another barely-remembered film in our collection. We watched it, and soon my sister shared my admiration of our new discovery. For the first time in our lives, Rebekah and I had a favorite actor.
In the months that followed, Jack Lemmon was King of the Box Office in our home. We discovered a few other films with him in our collection, and we purchased additional films to delve deeper into his career. The cut-off point was The Great Race, the second and last film he made in 1965. We have always liked earlier films, so we rarely ventured into the 1970s. It was really just chance that we chose The Great Race as our time limit. Since we admired Jack Lemmon's youthful looks, we liked to see him when he was young and fresh. We happened to have The Great Race in our collection, so we watched that and filled in the gap between his film debut in 1954 and that point with his earlier films. However, it was more than a desire to keep him forever younger than forty which stopped us from venturing further. At this point, we had never heard of the Motion Picture Production Code. We knew that, at some point during the last fifty years, the rating system had been put in place, although we knew no details about its creation. However, natural observance told us that films from the later 60s and beyond had more risque than we liked to see. We turned a blind eye to some of the unfortunate content which we knew had begun to enter films in the later 50s, but there came a point when it was just too much. When it came to Jack Lemmon, 1966 was that point.
Throughout 2015, no one could contest Jack Lemmon's popularity. We watched his movies almost constantly. Rebekah even had a Lemmon birthday party, with lemon and yellow decorations, in his honor! Eventually, we had seen all but two of the films in our designated time period, what we considered his early career, Days of Wine and Roses from 1962 and Under the Yum-Yum Tree from 1963. We also enjoyed listening to his records. On February 8, 2016, in honor of his ninety-first birthday, we had a Lemmon celebration and a week-long movie marathon.
In the spring that followed, the frequency of our watching his films lessened, since you can only watch twenty-one films in constant rotation for so long without growing bored of them. In the spring of 2016, we watched a movie from our collection which we had no recollection of seeing, Holiday from 1938. We enjoyed the marvelous performances of Cary Grant and Katharine Hepburn which it contained, but we especially noticed an actor we had never seen before, Lew Ayres. In his portrayal of the depressed, drunken brother in the wealthy family, Mr. Ayres reminded us a lot of Jack Lemmon. This led to an interest in him and his career. A discovery of his films led us deeper into 1930s films than we had ever gone before. Up to that point, our favorite films usually were from the 1940s-60s. Because of Lew Ayres, we discovered a wealth of marvelous 1930s films. This also led us to doing more research about the 1930s culture in general, including a facet of Hollywood which we had only briefly encountered, the Motion Picture Production Code of 1930. A research paper on the Code in late summer sparked the formation of the Pure Entertainment Preservation Society in October of 2016. It also marked the official end of Jack Lemmon's supremacy, since his film career, which began in 1954, was almost exclusively in the Post-Breen Era. As we became students and admirers of the Code, we began watching less Shurlock Era (1954-1968) films in favor of Breen Era (1934-1954) movies.
Now, two and a half years after we began to study the Code, we still enjoy watching occasional Jack Lemmon films. As my knowledge about the Breen and Shurlock Eras of Hollywood have increased, I have analyzed Jack Lemmon's films and what they show about the climate of Hollywood at the time of their making. I have reached the conclusion that, more than any other actor I know, his filmography follows the path of  the Shurlock Era's changing.
Today is February 8, which would have been Jack Lemmon's 94th birthday. In honor of this anniversary, I am going to trace the path of the early portion of Jack Lemmon's career (through 1965), showing how it coincides with the path of Shurlock Era Hollywood. For those of you who haven't read as many of my articles, the Shurlock Era is the name we have given to the fourteen years when Geoffrey M. Shurlock was the head of the Production Code Administration (PCA). It began on October 15, 1954, when he replaced Joseph I. Breen, the brilliant enforcer of the Code who served as the head of the PCA from its conception in 1934 to his retirement in 1954. During Shurlock's tenure, the Code grew noticeably weaker as the moral tone in films loosened. The Shurlock Era ended on November 1, 1968, when the Code and its administration were replaced with the Classification and Rating Administration, which remains in place to this day. Let's begin our study with Jack Lemmon's first feature film, It Should Happen to You.
 Release Date: January 15, 1954
Cast: Judy Holliday as Gladys Glover, Peter Lawford as Evan Adams III, and Jack Lemmon as Pete Sheppard
Production Studio: Columbia Pictures
Director: George Cukor
Purchase on Amazon:
Story Problem: A young woman who went to New York City to make a name for herself decides to do something about it after two unsuccessful years in the big city. She rents a sign on Columbus Circle and puts her name on it, causing trouble for the Adams Soap Company, which likes to use that space. The playboy heir to the company tries to romance her into giving up the sign, but he ends up giving her six signs in place of her one! Meanwhile, her documentary-making beau is frustrated by her schemes to be famous for no real reason. He wants to teach her how to enjoy the simple pleasures of real life.
PCA Seal No.: 16586
This movie, which was filmed in 1953 and released in early 54, was Jack Lemmon's only Breen Era film. As such, it's clean, wholesome, and filled with innocent fun. In fact, it's so wholesome that I included it in my month-long celebration of Code films, #CleanMovieMonth. Jack Lemmon and Judy Holliday are hilarious in this movie, yet there is nothing questionable in it. George Cukor did a brilliant job of directing them to be natural, yet the content is above reproach. As Pete Sheppard, Jack Lemmon did a wonderful job as a leading man, showing his great acting talent. However, just nine months later, the Shurlock Era would begin, so this sort of decent entertainment was not destined to continue throughout Jack Lemmon's career.
Phffft! 
Release Date: November 10, 1954
Cast: Judy Holliday as Nina Chapman Tracey, Jack Lemmon as Robert Tracey, Jack Carson as Charlie Nelson, and Kim Novak as Janis.
Production Studio: Columbia Pictures
Director: Mark Robson
Purchase on Amazon:
Story Problem: Robert and Nina Smith, a successful lawyer and a prominent television writer, get divorced after eight years of marriage. Their marriage has been strained by many things, including Nina's mother's constant interference and advice from her beloved analyst. After they have "phffft," Nina moves in with her mother, and Robert stays with his best friend, playboy playwright Charlie Nelson. Men immediately swarm around Nina, and Charlie constantly tries to find a date for Robert. However, as the divorcees continually bump into each other, they start to realize that they might just be happier together than with anyone else.
PCA Seal No.: 17109
Having been released not even a month after Geoffrey Shurlock became the official head of the PCA on October 15, this film was Jack Lemmon's first Shurlock Era picture. Obviously, this movie was not filmed after Mr. Breen officially retired. However, it was produced during 1954, the year in which Mr. Breen was retiring, so it was in a new batch of films, which were strictly under Geoff Shurlock's self-regulation. In addition, filmmakers new that Mr. Breen was being replaced by the lenient Mr. Shurlock, so they started testing him. This film really shows how quickly the change began. The difference between It Should Happen to You and Phffft is like night and day. Phffft contains shamelessly risque dialogue and situations. In addition, it contains a light-hearted, comical view of divorce which is dangerously casual. You have to wonder if Nina and Robert's divorce is not partially due to his mental infidelity through reading a racy book over and over. After the divorce, Robert lives with Charlie Nelson, whose promiscuous lifestyle is a little too clear and undenounced. His view of romance, women, and relationships is very unwholesome. Charlie arranges a date for Robert with Janis, a young woman with low necklines, little brains, and no morals. After their divorce, Nina and Robert meet in a nightclub and perform a wild rendition of the mambo which gets a little out of control in terms of hip movement. In addition, the film contains a flat statement of the title of Section II of the Code. Although it contains a good resolve of a divorce, this film has a lot of unnecessary problems. The Shurlock era was getting off to a bad start.
Three for the Show
Release Date: February 24, 1955
Cast: Betty Grable as Julie Lowndes, Jack Lemmon as Marty Stewart, Gower Champion as Vernon Lowndes, and Marge Champion as Gwen Howard.
Production Studio: Columbia Pictures
Director: H. C. Potter
Purchase on Amazon: 
Story Problem: Married Broadway performers Vernon and Julie Lowndes are giving their last performance in a hit show which was written by Vernon and his collaborator, the now-deceased war hero Marty Stewart. After the show, Julie gives a speech in honor of the co-author, who was her husband. She faints onstage when she sees her deceased husband standing in the audience, smiling and waving at her. Marty never actually died, but he has now come home to a wife who has married his best friend, who is unwilling to give her up! Julie must choose between her two husbands, and her friend, a pretty dancer named Gwen Howard, eagerly waits to take whoever is left over.
PCA Seal No.: 16952
This movie was a remake of a screwball comedy from the Code Era, Too Many Husbands from 1940. Like many other Breen Era films, it became a musical in the Shurlock 50s. The premise of this film is acceptable. The main problem with it is undue frankness in regards to married life. Julie has an overly flirtatious manner which is most unappealing and a little unwise, since she is supposed to be an appealing character. The other problem is some of the dance numbers, which include a rather dubious and absurd number in which Julie imagines herself as a female sultan with a harem of husbands, led by Marty and Vernon. The lyrics and movements are rather suggestive, to say nothing of the number's basic concept. In addition, there are a lot of risque costumes, particularly those used in dance numbers. The big, exotic dance number, "Why Do You Do Me Like You Do?" features a wide variety of skimpy Latin costumes worn by Betty Grable and the chorus, who perform some indecently isolated movements. This is a very silly film with many problems, not all of which are the PCA's fault. Many of its great defects lie in weak scripting and bad casting. However, I've found that the silliest films from the Golden Era of Hollywood are non-Code films. Proper self-regulation often makes filmmakers dig deeper and develop stories more effectively. Silly films often are caused by a reliance on risqueity instead of quality, which is obviously the problem in Three for the Show.
Release Date: July 30, 1955
Cast: Henry Fonda as Doug Roberts, James Cagney as Captain Morton, William Powell as Doc, and Jack Lemmon as Frank Pulver.
Production Studio: Warner Bros. Pictures
Director: John Ford and Mervyn LeRoy
Purchase on Amazon: 
Story Problem: Doug Roberts is the supply officer of a cargo ship in the South Pacific during World War II. He is restless on the inactive ship, longing for active duty as he languishes under the tyrannical leadership of the unfair Captain Morton. His roommate, Frank Pulver, is contented to sleep most of the day instead of actually working, his only complaint being the lack of women. Doc is Doug's wise friend, and he understands his restlessness. However, the captain finds a ruthless way to make Doug stop requesting transfer, even if it means killing his spirit.
PCA Seal No.: 17195
I can't think of any films I have seen from 1955 which show the decline in the first year of the Shurlock Era more than Mister Roberts does. Warner Bros. was living up to its pre-Code standard of being the grittiest, grimiest studio. Like many pre-Code films, this movie has an almost exclusively male cast with only a few women thrown in for risqué purposes. Despite the fact that there is only about eight minutes of female screen time in this picture, there is an awful lot of racy innuendo, particularly regarding Ensign Pulver. He has dozens of girls in his life, which is being somewhat hampered by this inconvenient war. Bored on the all-male ship, he reads dirty books to entertain himself. When he discovers nurses on a nearby island, he comically plans to entertain the voluptuous head nurse in his cabin. However, he is not the only member of the crew who takes immoral advantage of the presence of nearby females. Several sailors use telescopes to observe the unsuspecting women showering, making lewd comments about them. However, this film violates more than Section II of the Code. There is a very vulgar flavor which pervades the dialogue and atmosphere of the whole film. There are quite a few jokes which include comedie de digestion, since the captain always gets sick to his stomach when Doug upsets him. As I explained in an article I wrote comparing Footlight Parade from 1933 to this film, Mister Roberts, released only eight months into the Shurlock Era, shows a complete reversion to pre-Code standards, which is a shame, because it is a powerful, clever movie with excellent actors. Not all films in the early Shurlock Era were this blatant, but 1955 showed a startling tendency to completely disregard the Code and test every limit with Mr. Shurlock. From this film alone, the Breen Code Era might never have existed.
My Sister Eileen
Release Date: September 22, 1955
Cast: Betty Garrett as Ruth Sherwood, Janet Leigh as Eileen Sherwood, Jack Lemmon as Bob Baker, and Bob Fosse as Frank Lippencott
Production Studio: Columbia Pictures
Director: Richard Quine
Purchase on Amazon: 
Story Problem: Ruth Sherwood, an aspiring writer, and Eileen Sherwood, a would-be actress, are two sisters who decide to leave Ohio to try their luck in the big city, winding up in a basement hovel with a shifty landlord. Eileen is a beautiful blonde who is swarmed by men, but Ruth thinks that she is an unattractive old maid who can never compete with her sister. Eileen is surrounded by men who want to date her rather than hire her, but she finds a true friend in fountain manager Frank Lippencott. Meanwhile, Ruth is fascinated by a cocky newspaper editor who thinks he can figure out any authoress by her stories. Just to prove him wrong, she says that a story about her sister, Eileen, is really about her own romantic life, and Bob is eager to find out if it's true.
PCA Seal No.: 17216
Like Three for the Show, this picture is a musical remake of a screwball comedy from the Breen Era. This is definitely the best film Jack Lemmon made in 1955, Code-wise. For the most part, this film is very decent and wholesome, reflecting the fact that the Code was still very much in place and quite powerful. One helpful fact in the early Shurlock Era which caused many films to still be basically decent was the fact that there were seven PCA members aside from Mr. Shurlock, many of whom were a lot stronger and more perceptive than their leader. One of this film's main problems involves the previous tenant of the sisters' dungeon apartment, Violet. Supposedly she was a fortune teller, but a beat cop's attitude toward the girls implies that she did more than "read palms without a license." In addition, Eileen wears a pair of pajamas with shorts which are ridiculously short; they are so short that the top covers them almost completely! The final questionable element surrounds Bob Baker. He is clearly depicted as a ladies' man, which is not forbidden. The only questionable part is when he invites Ruth over to his apartment for dinner. His pursuit of her is mostly comical, but I think it could have been a little less aggressive. I don't think it's quite acceptable for him to growl at her as he removes her wrap. In addition, with each subsequent film he made, Jack Lemmon's technique of kissing became less and less acceptable. Kisses became longer, more passionate, and less romantic as a result. They began to look a little common. My Sister Eileen was a good film, but it showed the marked tendency toward increasing looseness.
Release Date: October 31, 1956
Cast: June Allyson as Ellie Andrews, Jack Lemmon as Peter Warne, and Charles Bickford as Mr. Andrews.
Production Studio: Columbia Pictures
Director: Dick Powell
Purchase on Amazon:
Story Problem: Ellie Andrews is the daughter of a Texas millionaire who impulsively marries a playboy sportsman in rebellion to her father's control. When he threatens to have the marriage annulled, she runs away and attempts to reach her husband in Houston by bus. During the bus trip, unemployed newspaperman Peter Warne recognizes her and confronts her. When he realizes how helpless she is, he appoints himself her guardian, promising to take her to Houston in exchange for her story. As they travel across the country together, they grow very fond of each other, and Ellie begins to wonder if she really wants to be married to her daredevil bridegroom.
PCA Seal No.: 17753
This was a remake of one of the last pre-Code films, the Academy Award-winning It Happened One Night from 1934. This musical version was so much more decent than its original. This is one of the best films Jack Lemmon made during the Shurlock Era. It is very decent, wholesome, and old-fashioned. In 1956, in some ways, there was a bit of a return to Code-compliance. In 1955, there was a surge of indecency because of the breaking of the flood gates with Mr. Breen's retirement. However, you cannot forget twenty years of reform in entertainment and society overnight. Also, America's social atmosphere was still very decent at this point, although trouble was stirring. I breened this film a while back, but my article revealed that there are very few problems. One jive-talking smart aleck makes some risqué comments about Ellie's figure, and one forbidden expression is used a few times. In addition, there is a strange old woman on the bus who mentions playing strip poker. The only important problem is the fact that Ellie's marriage has to be annulled for her to marry Peter. Read my breening article to see my suggestion of how this problem could have easily been solved. On the whole, this is a very decent and enjoyable film, a charming respite between less wholesome movies in Jack Lemmon's career.
Fire Down Below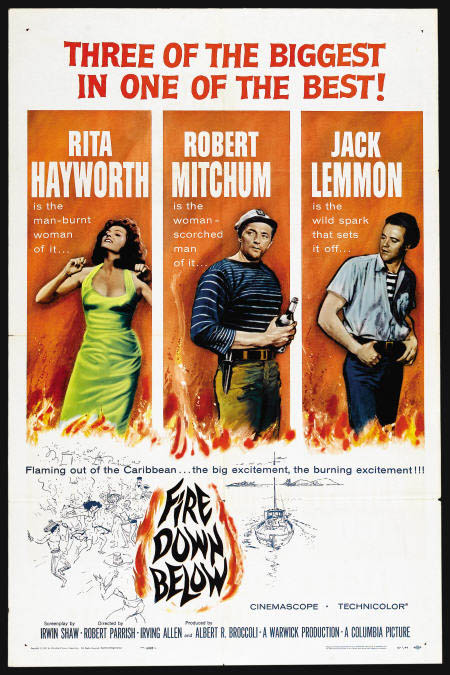 Release Date: August 8, 1957
Cast: Rita Hayworth as Irena, Robert Mitchum as Felix, and Jack Lemmon as Tony.
Production Studio: Columbia Pictures (Warwick Film Productions)
Director: Robert Parrish
Purchase on Amazon:
Story Problem: Robert and Tony are two Americans in the Caribbean who use their small boat to smuggle liquor and cigarettes. When they are asked to smuggle a paperless woman from one island to another, they forget their reservations because of the money. The woman turns out to be a beautiful but compromised European who has a dark past and a shady future. The young Tony treats her with kindness and respect which flow from the love in his somewhat naïve heart. Little does he know that his partner, who understands Irena better, is lusting after the beautiful woman.
PCA Seal No.: 17966
This film is partially a British film, since its production company was Warwick Films. The filming was done on location in Trinidad and Tobago. However, most of the actors were Columbia players, and Columbia Pictures released the film. This is a very controversial and intense picture. Although Days of Wine and Roses is called Jack Lemmon's first really dramatic performance, his role of Tony in Fire Down Below is often sorely over-looked. This film has a lot of problems. However, it could have been another Casablanca with proper self-regulation. There are problems from the first scene in the film, when a married blonde wants more from Tony than boat cruises. The real story with its real problems begins when Felix and Tony are offered a lot of money to take a beautiful but worn European woman from one Caribbean island to another. The main problem with the characterization of Irena is the implication that she has been misused, abused, and supported by many men for many years. It is pretty subtle, but it could have been more delicate. The strongest redeeming element in the film, Code-wise, is Tony's noble ideas and gentlemanly conduct toward Irena. Although she makes her reputation clear to him, he loves her and wants to marry her. To make this dream come true, he goes on a daring smuggling expedition, which has implications of being drug smuggling. However, a drunken Felix is crazed with jealousy, so he tips off the coast guard. After jumping overboard, Tony swears revenge. Unfortunately, when he is coming back on a Greek ship to exact it, there is a collision, and he is trapped in the hold filled with explosives, unable to escape. A lot of drama ensues, some of which is a little too pointedly graphic in line. The nearest thing to a compensating moral value comes in the form of a doctor who gives Tony religious counsel against the bitterness in his heart, but even he can't sway Tony from his vengeful purpose. Tony ultimately learns that, three days after he left, Irena went to Felix and threw herself at his feet, since she knew that she wasn't good enough for Tony. Felix finally helps Tony escape the ship, but the ending is far from happy. When Irena kisses Felix right in front of Tony, the latter throws some money on the table to pay for the drinks and limps out. This conclusion is both unsatisfying and unacceptable. It is obvious that these two people of very low morals are going to live together indefinitely. There is no redemption and no repentance for wrong-doing. Perhaps they should get married, but Felix is divorced, so his first marriage would have to be eliminated to make him eligible. This movie is consistent with the atmosphere of 1957. Quite a few movies with real substance, even if with some problems, were made this year. This film is what the PCA called "a tough nut to crack," with surface elements like low necklines, a rough fight, and a wild Carnival scene which includes an unrestrained dance by Rita Hayworth. It could have been so good, but it needed Mr. Breen to crack it.
Operation Mad Ball
Release Date: August 17, 1957
Cast: Jack Lemmon as Private Hogan, Kathryn Grant as Betty Bixby, and Ernie Kovacs as Captain Lock.
Production Studio: Columbia Pictures
Director: Richard Quine
Purchase on Amazon:
Story Problem: Private Hogan is an Army MP at a hospital in post-war France who is more interested in finding a good time for himself than obeying protocol. When he flirts with a beautiful nurse, Betty Bixby, he makes an enemy of strict Captain Lock, the adjacent at the hospital who has his eye on the pretty young lady. Hogan uses his quick wit and indefatigable personality to get himself out of court martial and begin planning another scheme. When he realizes that many other soldiers such as himself are interested in higher-rank nurses, he decides that the only thing to do is to throw a mad ball behind the officers' backs so that the young couples can be equal for just one evening. He may break every rule in the book and end up being court-martialed, but he is determined to make this ball successful and get his chance with Betty.
PCA Seal No.: 18635
This movie is quite acceptable. Essentially, it is a pleasant comedy. There are only a few surface problems. The only problems involve some comedie de digestion about ulcers, some morose humor about cadavers, and some suggestive and slightly demeaning discussion of women by the men. In addition, there is a potentially suggestive situation implied when Hogan wants to arrange a meeting for one of his buddies and a nurse at a hotel. However, like many films directed by Richard Quine, it has an inoffensive plot. The problems are quite small. They do detract from the generally wholesome feeling of the film, but the movie remains quite positive and generally harmless. I consider 1957 to be the best year of the Shurlock Era. It was distinguished by many noteworthy and outstanding pictures, several of which were relatively good Code films. In addition, few scandalous or very controversial films were released that year. We spend so much time acknowledging and studying the decline of entertainment in the Shurlock Era that it is easy to forget that the Code was still officially in place until 1968. Although it eventually became little more than a formality, self-regulation was still a serious and important part of filmmaking during the 1950s. In 1955 and 1956, there was a marked surge of troublesome films. It was really an automatic reaction to the beginning of new leadership. Filmmakers knew that Geoff Shurlock was a much more lenient person than Joe Breen. They immediately began to test him by submitting and resubmitting material which was in violation of the Code. Since he didn't reject this material firmly enough, there was an immediate decline in content's acceptability. It really was like a river which has been dammed. When the barricade is removed, the restrained water rushes through. However, after a little while, it slows down to a steady stream. That was what happened in 1957. Having satisfied the immediate impulse to defy the Code, filmmakers settled into a steady pattern of Code-violation. Unfortunately, it was a fantasy to imagine that films would stay at this level of half-hearted Code-compliance.
Cowboy
Release Date: January 7, 1958
Cast: Glenn Ford plays Tom Reese, Jack Lemmon plays Frank Harris, and Anna Kashfi plays Maria Vidal.
Production Studio: Columbia Pictures
Director: Delmer Daves
Story Problem: Frank Harris is a sensitive young hotel clerk in Chicago who is in love with a beautiful Mexican girl who is staying in the hotel with her father. He is fascinated by tough cowboy Tom Reese who stays at the hotel. When Maria and her father leave for Mexico, he refuses to be parted from her, so he convinces Tom to take him as a cowboy on his annual cattle-drive to Mexico. When he starts on the trail, Frank is horrified and almost beaten by how tough the trail, the boss, and the other men are. However, when he finds his beloved to be already married in Mexico, his bitterness and Tom's roughness make him the toughest man in the group.
PCA Seal No.: 18818
The false sense of stability in 1957 lasted a very short time. The path away from complete Code-enforcement was not a staircase; it was a ramp. Naturally, filmmakers were not content to continue submitting to shurlocking, the half-hearted, semi-efficient self-regulation which created films that were neither Code-compliant nor what the filmmakers wanted. If they weren't going to be held to a standard, they were going to try lawless unacceptability to attract audiences. Cowboy, Jack Lemmon's first film released in 1958, reflects that feeling. This film's main problem is violence. The life of cowboys on the trail is depicted in unduly pointed detail. The behavior, action, and comedy amongst the men is very rough and quite vulgar. There are passages in this film which are so intense and distasteful that I have had no desire to watch this film more than once. One particularly offensive scenario occurs when two men see a rattlesnake slither by. As a joke, they throw the snake on a comrade, which results in his being bitten and dying. The most disturbing thing about this film is the change we see in Frank. He goes from being a polite, sensitive young man to being a hardened brute who is even rougher than Tom. This makes Tom rethink his opinions on trail life and a man's value. I would have liked seeing both cowboys realize that helping your fellow man is what is really important. However, Frank does not soften at the end. In addition, this film is Jack Lemmon's first movie to include profanity. Tom says a line which is quite similar to Rhett Butler's iconic exit line in Gone with the Wind. However, that was an exception which was granted after months of battling. This profane word was allowed in a much more casual setting. It shows the beginning of frequent and casual use of profanity in films.
Bell, Book and Candle
Release Date: November 11, 1958
Cast: James Stewart as Shep Henderson, Kim Novak as Gillian Holroyd, Jack Lemmon as Nicky Holroyd, Elsa Lanchester as Queenie Holroyd, and Janice Rule as Merle Kittridge.
Production Studio: Columbia Pictures
Director: Richard Quine
Purchase on Amazon:
Story Problem: Gillian Holroyd is a primitive art dealer and modern-day witch who has a storefront next to her New York City apartment, which is shared by her intelligent Siamese cat, Pyewacket. Her nosy, eccentric aunt, Queenie, another witch, lives on the third floor. When a successful publisher, Shep Henderson, moves into the second-floor apartment of the building, Gillian takes an instant liking to him, but she is determined to win him without magic. However, she gives into witchcraft when she realizes that he is engaged to her college nemesis, Merle Kittridge, a notorious beau-snatcher. However, her relationship with Shep makes her rethink and regret her participation in the "bell, book, and candle" life which she, her aunt, and her brother, Nicky, inhabit.
PCA Seal No.: 19072
This film has the distinct notoriety of being Jack Lemmon's first unbreenable film. On the surface, it has some significant problems. Kim Novak's Gillian Holroyd is so seductive. The situation when she casts her spell on Shep is very suggestive. Their kissing is unacceptably lustful and passionate. The fade out to the next scene is suggestive of an immoral situation between them. Also, Merle says one line with implied profanity which is rather surprising for 1958. Later, Shep visits an old witch's house, where he must drink a disgusting brew. The sound effects which accompany this potion are unacceptably vulgar and disgusting. However, all these problems are unimportant compared to the core problem which makes this film unacceptable and unfixable. This film focuses on witchcraft, which is in violation of the Code. This is not clearly stated in any copy of the Code which I have read. However, one has only to study Code films to see that it is true. One just can't find films which deal with witchcraft and black magic from the Code years. Organized religions had to be depicted respectfully, but there are some things which were deemed generally unacceptable. Self-regulators did not want movies to create curiosity about black magic and witchcraft. Films which deal with this dangerous topic are usually very dark or rather comical. This film is a mixture of both. On the one hand, it is a fanciful, humorous comedy about witchcraft. On the other, it deals quite seriously with the lives and problems of witches. The fact that the protagonist and her two family members are witches and that every primary character aside from Merle either practices or is involved with witchcraft shows how deeply black magic is rooted in this story. In this film, being a witch almost seems like being some sort of magical creature, since these witches are credited with super-human features. However, witchcraft also looks very attractive in this film, since Gillian and Nicky both use their magic to benefit themselves in business and their love lives. Films should not deal so heavily with such dangerous, controversial material. However, it is not surprising at all that this was given a Seal of Approval. Whereas Mr. Breen was a devout Christian, Mr. Shurlock was raised in a bizarre heathen cult known as theosophism. I discussed his religious background thoroughly in the article I published on his birthday, which you can read here. Basically, theosophy is an eclectic mixture of humanism, Buddhism, mysticism, Hinduism, and spiritualism; the amount of witchcraft in the group goes to the extent that there were reports of levitation amongst theosophists. This film's dialogue gives final proof and homage to Geoff's personal beliefs. When she is leaving Shep's apartment after being dismissed, Queenie grumbles, "The last man who lived here was a theosophist, and he was very pleasant." This is no coincidence, since theosophy was not a common religion. I'm sure the filmmakers meant this as a nod to the "pleasant" theosophist who let them get away with so much. Besides, if filmmakers made so many Catholic pictures to please Mr. Breen, why wouldn't they make at least a few pictures about witchcraft to please Geoffrey Shurlock?
Some Like It Hot
Release Date: March 19, 1959
Cast: Marylin Monroe as Sugar Kane, Tony Curtis as Joe, and Jack Lemmon as Jerry.
Production Studio: United Artists
Director: Billy Wilder
Purchase on Amazon:
Story Problem: Joe and Jerry are two musicians in a Chicago speakeasy in the winter of 1929. When the speakeasy is raided, they escape, finding themselves unemployed, homeless, and cold. When they accidentally witness a gangster massacre in a garage, they disguise themselves as female musicians, Josephine and Daphne, and join an all-girl band headed for Florida. Jerry is overwhelmed by the availability of the loose flappers, finding it hard to remember that he's a girl, but Joe, a notorious ladies' man, concentrates on befriending the voluptuous, dim-witted singer, Sugar Kane. Once in Florida, he disguises himself as a millionaire to win Sugar, but Jerry as Daphne finds himself pursued by an elderly millionaire who collects wives.
PCA Seal No.: 19281
The Shurlock Era naturally falls into four divisions, each of which was triggered by some film or event. With each coming division and within each division, the moral film standard sank lower and lower. The first division lasted from Geoffrey Shurlock's succession to office in late 1954 through 1958. The standard sank considerably during that time, but there was still some semblance of self-regulation. A major blow to the Code came in 1959 from Billy Wilder's Some Like It Hot. This popular comedy features bold double entendre, shocking indecency, and perverted implications. One doesn't have to know about the Code to know that there are unacceptable elements in this film. It has startling violence with blood and machine guns involving the gangsters. Marylin Monroe wears costumes which would scarcely exclude her from a nudist colony. The risqueity in the dialogue is absolutely obscene. The most surprising elements in this film are the implications in the situation between Daphne and the millionaire "suitor." Although the old goat is attracted to Jerry's female disguise, the famous last line (Nobody's perfect) leaves the audience wondering. Although people usually refer to this film as groundbreaking, I find it to be very reminiscent of movies made before the Code. I think that it is has the risqueity, indecency, violence, goofiness, and overall feeling of a pre-Code film. Perhaps this impression is increased by the fact that the story is set in 1929. Ironically, Jack Lemmon's previous film, Bell, Book and Candle, which contained a fraction of this film's surface problems, is unbreenable, while this movie is breenable. Although it has severe core problems, it could have been a good Code film. (See my article about American Gothic for more information on breenability.) Two common misconceptions about official reactions to this film are that it was condemned by the Legion of Decency and that it was denied PCA approval. The first is not true, since it received the Legion of Decency's less harsh rating, B, which meant "morally objectionable in part." This is not too surprising, since the Legion condemned few American pictures after the enforcement of the Code in 1934. Sadly, the second misconception is also false; the PCA did grant this film a Seal of Approval. Geoffrey Shurlock did not fight very hard to protect the Code from assaults by daring filmmakers such as Billy Wilder, since he had been trying to officially dissolve the PCA since the early 1950s. Furthermore, he revealed his convictions about film content in a letter to the Legion's executive secretary, stating that the PCA had "been scanning very carefully the trade paper reviews of SOME LIKE IT HOT," not one of which "has been in the slightest way critical of this film, or questioned either its morality or its taste." The tone of the letter proves that Mr. Shurlock's primary concern in self-regulation was avoiding conflict, since he was essentially a pacifist. Protecting public morals, maintaining decency, and enforcing the Code were not important goals for him. He blindly allowed filmmakers to disregard the Code when making movies like this, hoping that moralists' "alarm" would "prove in the long run to be no worry at all. At any rate, that is the hope we are nourishing." Obviously, Geoff was being supremely diplomatic while using others' opinions to defend his own ineptness. Unfortunately, "the alarm the Legion very understandably expressed" proved to be valid very shortly, since the general acceptance of this movie spelled disaster for the Code and American society's decency.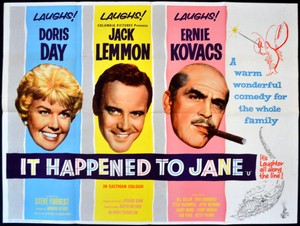 Release Date: August 5, 1959
Cast: Doris Day as Jane Osgood, Jack Lemmon as George Denham, and Ernie Kovacs as Harry Foster Malone.
Production Studio: Columbia Pictures
Director: Richard Quine
Purchase on Amazon:
Story Problem: Jane Osgood is a New England widow with two children who supports her family with a lobster business. When railroad staff-cutting causes her lobsters to sit and die at the station, she is devastated by the blow to her business and outraged by the railroad's unjust behavior. With the help of her childhood friend and lawyer, George, she registers a complaint. The assistants of the railroad's ruthless owner, Harry Foster Malone, know they must offer her some compensation. When they offer her only the price of the lobsters without damages, Jane refuses to take the money and begins a massive battle against the cold railroad boss. In the process, she is befriended and courted by a dashing newspaperman who wants to help her and may just offer her something that George has not, a proposal.
PCA Seal No.: 19188
1959 was the beginning of a new period in the Shurlock Era, and it really started with Some Like It Hot. However, not all films immediately accepted this new standard, which is indicated by Jack Lemmon's next film, It Happened to Jane. As I indicated in this film's breening article, it has very few Code-violations. As a matter of fact, it was the most Code-compliant film which Jack Lemmon had made in years. The only problems are a few suggestive lines and forbidden expressions. However, the general tone of the film is one of uplifting, Americana ideals. It still is very much a Code film. If this were an average Shurlock Era film, I would say that Geoff hadn't let the standard fall far. However, this was on the very best side of the spectrum for this Era, especially for 1959. This is a wonderful movie with great acting and a touching message. Unfortunately, movies such as this were the exception, not the rule. As soon as Geoff allowed even small comprises to be made in the Code's standards, the decline and failure of the PCA was inevitable and increasing every day. As Mr. Breen always said, the Code was a like a brick wall. If you remove one brick, the whole wall falls down.
The Apartment
Release Date: June 15, 1960
Cast: Jack Lemmon as C. C. "Bud" Baxter, Shirley MacLaine as Frank Kubelik, and Fred MacMurray as Jeff Sheldrake.
Production Studio: United Artists
Director: Billy Wilder
Purchase on Amazon:
Story Problem: C. C. "Bud" Baxter is a young man who is working his way up in a huge New York insurance company, speeding up his career climb by loaning his apartment to four executives for rendezvous with women other than their wives. Meanwhile, he himself is interested in a pretty, melancholy elevator operator named Fran Kubelik, having much more honorable intentions than the executives. When a high-power executive, Jeff Sheldrake, calls Bud to his office, Baxter realizes his system has been discovered, but, instead of firing him, Jeff gives him a promotion and procures exclusive rights to the apartment for himself and his skullduggery. Baxter is thrilled with his new position, never guessing that Fran is the married Mr. Sheldrake's mistress. Fran has believed Jeff's promises to divorce his wife and marry her, but when she finds out that he has had numerous other mistresses in the building, she realizes what sort of man he is.
PCA Seal No.: 19647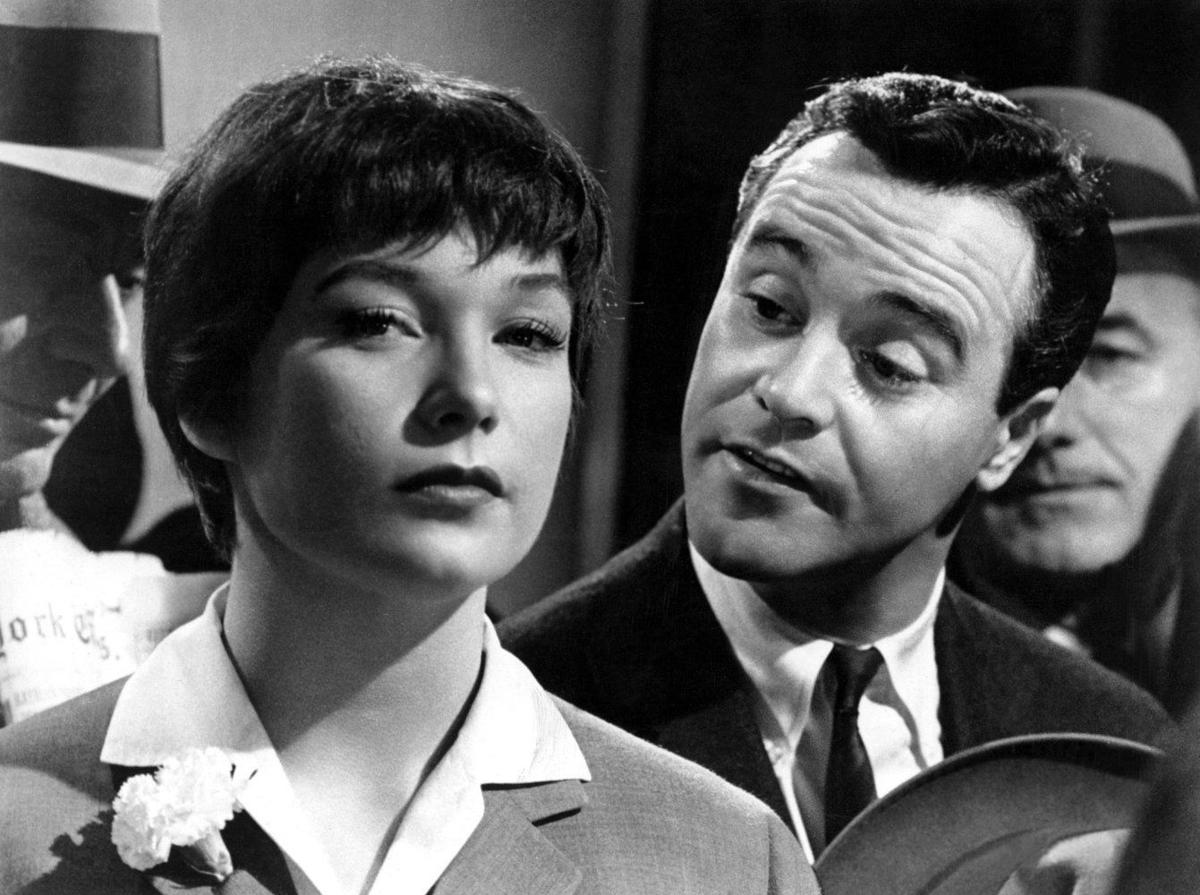 It Happened to Jane was just a temporary resurgence in film decency. Jack Lemmon's next film proved that the general film trend was still downwards. 1960 brought another successful collaboration between Messrs. Lemmon and Wilder. The Apartment is a dark drama with comedic elements and controversial topics in a form of social commentary. There is much less indecency in costuming in this film than in Some Like It Hot, and the amount of risqué dialogue is significantly less. In general, there is more generally funny comedy than obscene humor. However, this film features numerous uses of blatant profanity, which its predecessor did not. Ultimately, this film, although less offensive on the surface, is worse than Some Like It Hot. Because of the adulterous affairs which married businessmen obviously conduct in the titular apartment, the basic premise of the story is undeniably lewd. In addition, the suggested and plainly-stated immorality in this film is pervasive, inescapable, and irremovable. Finally, there is a suicide attempt with sleeping pills, which was forbidden under the Code. Mr. Breen felt that those contemplating self-destruction should not be given suggestions of ways to kill themselves; on the other hand, Mr. Shurlock said that, if the world was that close to the brink of suicide, the PCA couldn't save it. Despite its many problems, this is an entertaining film; from an artistic standpoint, it is better than Some Like It Hot, since it has more substance. However, its deep-rooted, core Code violations make it unbreenable. Joseph Breen could have helped Billy Wilder to make a similar film about an aspiring young executive who falls in love with an elevator operator, not knowing that she is his employee's girlfriend. However, the core idea of his loaning his apartment to his superiors for skullduggery is unavoidably suggestive, so it could not remain. Since this is the basic premise of the film, I must officially classify it as unbreenable in its current state. The fact that Billy Wilder was contemplating the story in the 1940s shows that he agreed. Obviously, he knew that Joe Breen would not approve of the adulterous premise, so he waited for his retirement to make the film. With Geoffrey Shurlock's lenient self-regulation, it only took five years for standards to sink to the level which would allow this questionable story.
Release Date: December 29, 1960
Cast: Jack Lemmon as Rip Crandall, Ricky Nelson as Tommy Hanson, and John Lund as Wilbur Vandewater.
Production Studio: Columbia Pictures
Director: Richard Murphy
Purchase on Amazon:
Story Problem: Rip Crandall is a Navy lieutenant in the South Pacific during World War II. He is transferred to his own command one day, thinking that he is getting a great promotion, only to arrive at a motley sailing ship with a disorderly, untrained crew. The only man aboard who knows about naval procedures is Ensign Tommy Hanson, an energetic young man who greatly admires Rip. Rip soon finds out that an old sailing nemesis of his, Wilbur Vandewater, was behind this transfer, so he confronts him about his perhaps unethical motives for choosing him. Using his beautiful secretary and a large amount of whisky, Vandewater tricks Crandall into accepting the dangerous assignment, but the former yachtsman may find that his "crew of cherry pickers" has some dedicated sailors after all.
PCA Seal No.: 19722
This World War II film was an improvement, Code-wise, upon The Apartment. Its basic premise is harmless, and its depiction is charming and amusing. However, it contains the unfortunate unacceptable elements which plagued all films by this point. There are two instances of pointed profanity and one forbidden expression in the dialogue. There are some insulting stereotypes about Japanese. Since it is a war film, the primary problem is some violence in battle scenes and attacks, including a few graphic images. In every year of his film career up to this point except 1958, Jack Lemmon had made at least one troublesome picture as well as a more Code-compliant film. In 1960, The Wackiest Ship in the Army was his fairly-acceptable film. Compared to Jack Lemmon's two Billy Wilder films up to this point, this comedy was a self-regulator's vacation!
The Notorious Landlady
Release Date: June 27, 1962
Cast: Kim Novak as Carlye Hardwicke, Jack Lemmon as Bill Gridley, and Fred Astaire as Franklyn Ambruster.
Production Studio: Columbia Pictures
Director: Richard Quine
Purchase on Amazon:
Story Problem: Bill Gridley is a member of the state department who has just arrived in London to work at the American Embassy under the friendly, dignified Franklyn Armbruster. Looking for a place to live, Bill answers an add for a flat in the newspaper, losing no time in charming the pretty cockney maid who shows him the flat. He soon deduces that she is really the owner, Mrs. Hardwicke, an American who needs to rent one floor of her large house but prefers a couple. He quickly charms her into renting it to him, not knowing that six months earlier she was accused of murdering her husband, whose body has not been found living or dead to solve the case. Mr. Armbruster, frustrated with his employee's bad luck, informs him of Mrs. Hardwicke's reputation, but Bill knows she couldn't have done it and vows to clear the name of the woman with whom he may be falling in love.
PCA Seal No.: 20113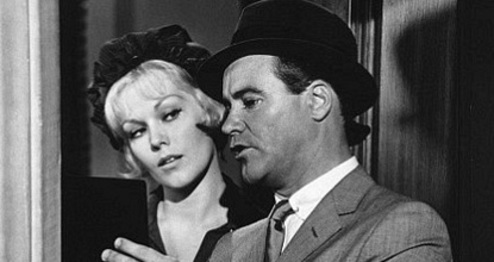 This movie was made in an older style. In many ways, it is like a 1940s mystery or film noir. The black and white cinematography adds to that feeling. As in many films he directed, Richard Quine relied largely on clever dialogue, good scripting, and dynamic acting, using less risqueity and vulgarity than he could have in 1962. However, this film does contain some unacceptable content. There is no profanity in this film, but there is some violent and disgusting dialogue about murders and assaults. The main problem is some amorous suggestion involving the landlady and her relationship with her renter. Most of the risqueity occurs in regards to the immoral affair which the other diplomats think is happening or could happen to gain more information about the unsolved murder mystery. Despite the suggestion, nothing actually happens between the American sweethearts except some overly-passionate kissing. However, on one evening, Bill's sprucing up in his nightclothes while cheerfully looking up implies that he plans to go upstairs to Carlye's room for perhaps more than a tete-a-tete. However, the shooting of her husband stops the situation before it begins.  Unfortunately, during the shooting, there are the problems of attempted marital forcing and an open-eyed corpse. In addition, Kim Novak wears some low necklines. The biggest decency problem for her is a scene in which she is in a bubble-less bathtub with water reaching only to her waist, barely covering herself with her arms. That is by far the most shocking element. This is Jack Lemmon's last "good" film. Although it does have some problems, its central idea is acceptable and well-handled, and the surface problems don't overwhelm its enjoyable aspects. It is a very clear example of Hollywood's tragic state by 1962. Even potentially great movies like this were compromised because of the trends in American filmmaking.
Days of Wine and Roses
Release Date: December 26, 1962
Cast: Jack Lemmon as Joe Clay, Lee Remick as Kirsten Arnesen, and Charles Bickford as Ellis Arnesen.
Production Studio: Warner Bros. Pictures
Director: Blake Edwards
Purchase on Amazon:
Story Problem: Joe Clay is an advertising man with a habit of excessive drinking. When he meets and falls in love with a beautiful young woman who prefers chocolate to alcohol, he is determined to bring her down his path. He introduces alcohol to her, and they are soon married alcoholics. They eventually have a daughter named Debbie. However, their drinking becomes more and more severe, and it soon becomes apparent that "days of wine and roses" always spiral into disastrous drunkenness.
PCA Seal No.: 20209
When this film was released, it was called not only Jack Lemmon's first real drama but the first movie to accurately portray alcoholism's dark truth. People said that Hollywood was finally willing to make films with the realism which they had shunned for years. That belief lingers for many to this day. However, I think it is an inaccurate idea. In 1945, almost twenty years earlier, Billy Wilder made a very dark and impacting film about alcoholism, The Lost Weekend, a groundbreaking movie which won great critical acclaim. As for realism in movies, I think that Code-compliant films had been able to show some dark elements and contain a good deal of realism as far back as the 1930s. The fact that light-hearted musicals and cheerful comedies were popular doesn't mean that the Code forbade or discouraged the making of realistic dramas. As for the Code-compliance of this film, I cannot accurately say, since this is one of the two films I have not seen from Jack Lemmon's early career. The basic premise of the film is acceptable, and the treatment seems to be relatively unobjectionable. From watching the trailer and reading about the film, I have gathered the idea that the biggest problem in this film is the favors which Joe Clay procures for his clients. He arranges parties with alcohol and loose women. It seems that there are some unduly suggestive situations in this regard. In one clip in the trailer, Joe seems to be giving a party for an Arabic noble on a yacht filled with girls, at least one of whom is wearing an indecent belly-dancer costume. I understand that there is one use of profanity. I have also read about one shot which focuses on the posterior of a waitress wearing tight pants. There may be some scenes connected to the couple's drunkenness and alcoholism that are too violent or disturbing, but for the most part I would say that the darkness and unsettling nature of the work is used to portray the evil of drinking. Since it wasn't included just for sensationalism or shock, the idea of it is acceptable. While this movie had a good concept and basic message, the lack of self-regulation and the increasing looseness gave this film a dark, gritty edge which was unnecessary to put it across. As a matter of fact, it is that "edge" which prevented me from wanting to see this film.
Release Date: June 5, 1963
Cast: Jack Lemmon as Nester Patou, Shirley MacLaine as Irma la Douce, and Lou Jacobi as Moustache.
Production Studio: United Artists
Director: Billy Wilder
Purchase on Amazon:
Story Problem: Nester Patou is a naïve Parisian policeman with high ideals about temperance, honesty, morality, and duty. When he starts a new beat, he meets a friendly, philosophical bartender, Moustache, observes suspicious behavior at the hotel across the street, and soon deduces that there is some illegal practice taking place. Thinking himself a hero, he raids the house of ill-repute and arrests all the fallen women, only to find himself fired because the police force is in league with the red light district. Disgraced and depressed, he returns to the bar and converses with the favorite woman of the street, Irma la Douce, whom he befriended before he knew her profession. When he punches her abusive beau, Irma decides that he is her boyfriend and takes him to her apartment, where he allows himself to be brought into her life of immorality and corruption.
PCA Seal No.: 20447
This movie was without a doubt Jack Lemmon's worst film to date. It is not surprising that this film was directed by Billy Wilder, who had directed Jack Lemmon's two worst films up to that point. However, this film combined the surface filth of Some Like It Hot with the core unbreenability of The Apartment to create a blatantly obscene, generally worthless, and thoroughly offensive film. The film is entirely about a woman of the oldest profession in Paris's red light district who meets an overzealous, moralist policeman. When he is fired for raiding the district and breaking up the local police force's little racquet, he immediately compromises his ideals about drinking and prurience and goes home with Irma la Douce. As if this premise isn't enough, the film is filled with dialogue and situations which are so risqué, they are beyond suggestive; they are downright obscene. There are uses of profanity. In addition, the women wear clothes which are shockingly low-cut and often completely transparent. As if that isn't bad enough, there are several scenes in which Shirley MacLaine and some of the other actresses appear in only their undergarments. There are even some shots of the women's backs without undergarments. All this accompanies a story which is a direct jab at moralists, decency, and the Production Code. This film really shows why 1963 was the beginning of the third period in the Shurlock Era. It was a time in which profanity was common, near nudity was allowed, and very little bothered the PCA. The self-regulators were beaten down by the many violations and rebellions. They hadn't fought them hard enough, so the filmmakers were winning, since they realized that there was very little which would deny them a Seal of Approval. A blow to the MPAA came that year with president Eric Johnston's sudden death. When he died on August 22, no replacement was chosen. Thus, the MPAA existed without official leadership for a while. By this point, the Production Code Administration was not a self-regulatory association, since filmmakers no longer submitted scripts and story ideas for approval and assistance. They just submitted their finished films for screening. The PCA would watch the films, perhaps demand a few cuts, and issue seals. It was nothing more than a weak censor board. The fact that this film received a Seal of Approval shows that they would approve almost anything by this point.
Under the Yum-Yum Tree
Release Date: October 23, 1963
Cast: Jack Lemmon as Hogan, Carol Lynley as Robin Austin, and Dean Jones as Dave Manning.
Production Studio: Columbia Pictures
Director: David Swift
Purchase on Amazon:
Story Problem: Hogan is a lecherous landlord who only rents his apartments to single women, who are thrilled to receive cut-rate rent while Hogan pursues his tenants romantically. When one of his tenants, college professor Irene Wilson, discovers his system, she moves out in a huff, making room for a beautiful, blonde college student, Robin Austin, and her brunette roommate. Little does Hogan know that Robin is Irene's niece and her roommate is her fiancé. Robin has convinced Dave to agree to an unheard-of, strictly platonic trial cohabitation before marriage so they can test their compatibility. Hogan is determined to break up their engagement and make a play for Robin himself.
PCA Seal No.: 20453
1963 was a big year for Jack Lemmon, since he was King of the Box Office for the only time in his career. Undoubtedly, this honor arose from his successful films from the previous year, especially Days of Wine and Roses. However, he received that honor in a particularly low year for him. His two films released that year were unbreenable disasters which were entirely based on prurience and lust. This film's premise about a lecherous landlord who rents apartments in his building only to women is inescapably suggestive. I don't have to have watched this movie to know that no one thinks that he is doing this because he wants to have a respectable women's boarding house. His character is steeped in immoral desire, right down to the fact that he always wears red. The trailer alone reveals that his tenants are loose women who seem to enjoy his amorous intentions, thinking, I suppose, that he really cares about them. The film's obscene credits show just how filthy this movie is. The story's focus is particularly on Robin, whose own love life is rather sordid. Her idea of living with her fiancé before marriage, even under the agreement of self-control, is disgustingly ahead of its time. At the beginning of the Shurlock Era, discussion of amorous behavior began to sneak into films. By this point, it was being openly and flagrantly discussed, as it is even in this movie's trailer! In addition, it is clear from the trailer and the publicity shots that many women wear indecent costumes in this film. 1963 was the first year that Jack Lemmon played openly promiscuous characters. In Irma la Douce, he at least starts as a moral, decent man, although he surrenders to Irma's seduction without a fight. In this film, he is a completely corrupt lecher who takes advantage of his landlord status. With the increase in lewd films during the Shurlock Era, few actors were able to retain their reputations by playing decent characters. Almost every actor or actress in the 1960s had to play morally compromising roles, since that was the direction in which films were recklessly speeding. All Geoffrey Shurlock had to say about the demise of the film industry was, "What's there to prevent it?"
Good Neighbor Sam
Release Date: July 22, 1964
Cast: Jack Lemmon as Sam Bissell, Dorothy Provine as Min Bissell, Romy Schneider as Janet Lagerlof, and Michael Connors as Howard Ebbets.
Production Studio: Columbia Pictures
Director: David Swift
Purchase on Amazon:
Story Problem: Sam Bissell is an average fellow who lives in San Francisco with his wife, Min, and their two daughters and works as a lowly employee at an advertising firm. He is made an account executive of the Nurdlinger Dairy account one day, since he is the only man in the company who is the moral, decent family man Mr. Nurdlinger wants to handle his business. That same day, Min's best friend, a beautiful European named Janet Lagerlof, moves in next door, having recently been divorced, and finds out that she will receive a $15 million inheritance from her grandfather if her marriage is intact. When her next-of-kin cousins begin snooping in hopes of receiving the inheritance themselves, Janet says that Sam is her husband and has to keep up the act to trick a private investigator. As though things aren't complicated enough, her husband, Howard Ebbets, arrives the next night and has to pretend to be Sam Bissell to ensure that Janet will receive her inheritance.
PCA Seal No.: 20663
After Under the Yum-Yum Tree, Jack Lemmon wanted to make a family picture. This picture was Good Neighbor Sam, also directed by David Swift. If this wacky comedy is an example of a family film, I shudder to think how bad his previous film must be. The film industry had sunk pretty low if this is a good, wholesome family movie. It is about a man with a family, but that is the only way it can be called a family film. It is superior to his 1963 films in the fact that it could have been a Code film. However, in its existing state, it is far from acceptable for all ages. Many suggestive situations ensue when Sam masquerades as his neighbor's husband. Things get even messier when the neighbor's husband shows up and pretends to be Sam! It is a 1960s version of a screwball comedy, filled with mistaken identity and complicated situations. There are many risqué costumes, most of which are worn by Janet. There are a few uses of pointed profanity. There is also some belching in this film, making it Jack Lemmon's first movie to feature this sort of vulgarity. A major plot point is the Nurdlinger Dairy advertising campaign. Mr. Nurdlinger is outraged by the obscenity of the first campaign designed for his product. The layout is extremely lewd, using far from subtle amorous references, dirty fertility jokes, and racy sketches to sell eggs and milk. Mr. Nurdlinger's outspoken denouncement of the firm's advertising as well as personal immorality is admirable, refreshing, and delivered with fiery honesty by Edward G. Robinson. When the upstanding Mr. Nurdlinger demands a good family man to handle his wholesome campaign, the company turns to Sam, who seems to be the only man in the organization who is not promiscuous. I admire Mr. Nurdlinger's denouncement of dirty advertising and demand for decency. However, the original lewd campaign is unacceptable, as is the implication that all the businessmen are unfaithful cads. The Hucksters from 1947 contained a similar denouncement of dirty advertising for a clean product, but it was handled with Code delicacy. The worst scene occurs near the film's end when Sam and Janet are defacing all the Nurdlinger billboards with their pictures. To reach the final billboard, Sam rents a room in a cheap hotel, not knowing that it is a house of ill-repute. He eventually realizes the situation when a buxom blonde in red enters his room and starts undressing. When she sees his paint cans, she starts screaming and swearing hysterically. The whole situation is shockingly suggestive, especially for a family film! When one considers other films released in 1964, it is understandable that Jack Lemmon considered this to be a milder choice. This was the year that The Pawnbroker was released. Although the PCA originally denied the film about a Jewish Holocaust survivor a Seal of Approval because of nudity and graphic immoral depictions, the MPAA granted it an exception because of special circumstances. This was the first PCA-approved film to features shots of women's bare chests. The MPAA vowed that this film was not setting a precedent, but it clearly was. Irma la Douce was only a few steps away from showing as much as The Pawnbroker did without a special exception in 1963, so it was obvious that other filmmakers would push to make the exception the rule.
How to Murder Your Wife
Release Date: January 26, 1965
Cast: Jack Lemmon as Stanley Ford, Virna Lisi as Mrs. Ford, Terry-Thomas as Charles, and Eddie Mayehoff as Harold.
Production Studio: United Artists
Director: Richard Quine
Purchase on Amazon:
Story Problem: Stanley Ford is a syndicated cartoonist who lives the bachelor's life of Riley in his expensive New York apartment, where he receives special service from his British butler, Charles. While his best friend and lawyer, Harold, is miserable with his henpecking wife, Stanley is very happy with his carefree life of wine, women, and song. One evening, at a wild bachelor party for a friend, a very drunk Stanley marries a beautiful Italian woman who pops out of a cake in a whipped-cream bikini. Although Stanley wants a divorce, Harold's wife settles him down with the beautiful woman who can't speak a word of English but is charmingly affectionate. When Charles leaves and Stanley feels himself gaining weight and losing freedom, he devises a clever way to use his comic strip to eliminate his problems.
PCA Seal No.: 20436
Early 1965 brought another unbreenable film for Jack Lemmon. This film is the actor's first film with an unbreenable title. The Code fought to keep films from becoming a school for immorality or crime. Not only this film's title but its opening warning and promotional campaign emphasize the fact that this movie is an instructional guide to men on how to discreetly eliminate their spouses. As a matter of fact, the actual film is less of a guide to matricide than the posters lead one to believe. The main assault that the film makes is not against wive's lives but against matrimony itself. Stanley Ford is depicted as a happy man who enjoys a unacceptably promiscuous bachelor lifestyle. He leads an ideal existence until he marries an Italian beauty while drunk, upsetting his whole life. After that, he gains weight, loses sleep, becomes clumsy, is henpecked, loses all his freedom, and even removes the glamour from his comic strip character, who is a caricature of himself. He decides to eliminate his secret agent's wife, not his real wife, mind you. He devises an elaborate scheme to murder the comic strip wife, using drugs in alcohol to put her out, which is unacceptable instruction of how to knock someone out. Then, he dumps a dummy replica of her in a cement mixer to finish the job! When his real wife sees the comic strip, she thinks that he wants to do that to her, so she leaves. Then, his wife being absent, Stanley is arrested for murdering her! Realizing that no one believes his innocence, Stanley pleads guilty. However, he convinces the all-male jury that he did so to regain his freedom and that they will scare their wives into behaving themselves by releasing him. All the husbands, including the attorneys, dream of how their bachelor lives would be, so they unanimously agree to acquit him. From start to finish, this film has a lot of very amorous content, including risqué dialogue, bedroom scenes, excessive kissing, and suggestive fadeouts. Even though most of it is within marriage, it is unacceptably and embarrassingly pointed. In addition, there is a lot of indecency in costuming. There is a scantily-clad belly dancer, but the main problem is Mrs. Ford, whom we first see in nothing more than some whipped cream! Then, the next morning, we see her in Stanley's bed, supposedly wearing nothing more than the sheet. Their marriage does not remove the scene's indecent, suggestive flavor. She continues running around in a short raincoat for a while, since she has no other clothes. Even after she has bought an expensive wardrobe, she wears many low necklines. This film is filled with pointed, flippant profanity; it has the most swearing of any Jack Lemmon film I have seen, and so much of it is casual and pointless. I think that the misogamistic message in this film is a reaction to the attacks on marriage which had been made by films for years. As a result, people didn't honor marriage the way they once did. In addition, I think that it was men's reaction to women's increasing dominance. Since women weren't being good wives anymore, men started resenting marriage and womankind. This is most clearly depicted by Harold's wife, a nasty woman who tyrannizes her husband and makes his life miserably. He is a family man because he thinks he should be, but he clearly gets no joy out of it. Thus, he is happy to see his carefree bachelor friend fall into a similar plight. The courtroom scene is the ultimate blow to matrimony, since it implies that every married man would rather be a carefree bachelor again and would gladly kill his wife if he thought he could get away with it. This is insulting to both men and women, and it is destructive to the home and families. There are some amusing elements in this film, but the offensive elements outnumber them so much that I have only watched this movie a few times.
The Great Race
Release Date: July 1, 1965
Cast: Tony Curtis as The Great Leslie, Jack Lemmon as Professor Fate, Natalie Wood as Maggie Dubois, and Peter Falk as Max.
Production Studio: Warner Bros. Pictures
Director: Blake Edwards
Purchase on Amazon:
Story Problem: The Great Leslie is a daredevil in 1908 New York who constantly competes with his nemesis, the evil Professor Fate, who is clumsily assisted by a dim-witted assistant named Max. To show his automotive skills, Leslie suggests an automobile race from New York to Paris, which Professor Fate quickly joins with a monstrous car of his own design called the Hannibal Twin-8. A bold suffragist newspaperwoman named Maggie Dubois enters the race with her own car so she can cover it mile by mile. Professor Fate and Max sabotage most of the contestants on the first day, so it is just Fate and Max, Leslie and his assistant, and Maggie. As they travel and battle through the Wild West, frigid Alaska, bleak Siberia, and a European country with a mad prince, Leslie and Maggie feel the beginnings of a romance which is challenged only by Maggie's feminist beliefs.
PCA Seal No.: 20800
The final Jack Lemmon film we have watched is the actor's second film from 1965 and his last film until 1967. In many ways, it was an improvement upon his films from the last couple years, Code-wise. The main problems involve Maggie, the outspoken and forward suffragist. One of her favorite topics is the equality of the sexes and the idea that men and women should be able to freely discuss intimate relations. Her revolutionary beliefs tend toward downright looseness. She wears numerous beautiful dresses, a few of which have low necklines. Unfortunately, few of them remain intact. Several of them get torn, shredded, or destroyed somehow, usually just to expose her body. At one point, she takes a bath in a lake in nothing more than a corset-liner; from a distance, she looks naked. Then, she is arrested, having put on only her corset and stockings with no adequate undergarments underneath. She runs around thus revealed for much too long. There are some other indecently-dressed women in the saloon in a Western saloon, where some suggestive lyrics are sung and inappropriate dance movements are performed. There is some excessive kissing between Leslie and multiple women, including Maggie. Most of the film is occupied by goofy physical comedy, some of which is vulgar and too violent. Many of the singular problems occur in the mythical European city of Pottsdorf, where they encounter a lunatic prince who is Professor Fate's lookalike. This prince is characterized as unacceptably effeminate; he is obviously a caricature of "Mad" Kind Ludwig II of Bavaria, who was known to have been perverted. While in this kingdom, Max disguises himself as a friar, and there are several unacceptable clergy jokes. This film reflected the general tone of 1965, full of problems but with a lingering sense of restraint. It was the brief lull before the last surge which destroyed the Code. On December 5, 1965, Joseph I. Breen died at age seventy-seven. The next year, Jack Valenti became the head of the MPAA, the position which had been vacant since Eric Johnston's death three years earlier. It was symbolic that he became president after Mr. Breen's death, since he was opposed to all the things for which Joe Breen had fought. He soon reduced the Code to a set of eleven points. In 1968, he replaced the Code with the Classification and Rating Administration, and an era had ended.
Happy Birthday, Mr. Lemmon! One of the greatest film talents of the later 20th century entered the world in an elevator on February 8, 1925, as John Uhler Lemmon III. He brought great dedication and skill to his work. He always wanted to help others and give the next generation a chance, which he called sending the elevator back down. He was a prolific actor who made films from 1954 until 2000, the year before his death. During his long career, he earned two Academy Awards out of six nominations, an AFI Lifetime Achievement Award, and dozens of other awards. However, even within the early part of his career, Jack Lemmon appeared in many morally-compromising films. Although he gives brilliant performances in all his films, many of his movies are not acceptable for all audiences because of the time in which they were made.
Studying Jack Lemmon's career reminds me how sad it is that the Rating System Era creates the films it does. There are so many clever films and brilliant actors who can't be appreciated by the youth and moralists because of severe ratings. This pitiable state goes back to the Shurlock Era, the battlefield in which the Code's war against immoral films was fought and lost. Jack Lemmon's career shows us that the Code did not die suddenly or overnight. It decayed slowly over a period of fourteen years, starting in late 1954. Jack Lemmon's early career reflects that better than any chart of statistics. From just twenty-four films, you can get a clearer picture of the first three periods of the Shurlock Era than by reading many books about them.
Jack Lemmon was born in 1925, and he made his first feature film in 1953. He came at the very end of the Golden Era of Hollywood! He missed so many great opportunities because of when he was born and when he went to Hollywood. If he had been in Hollywood ten years earlier, he could have been in dozens of good Code films instead of just one. Also, he had brilliant musical talents which were barely used in films because of the decline in musicals. He could sing, compose, and play the piano, the organ, the guitar, the double bass, and the harmonica. He used these talents in several earlier films, but he only appeared in three official musicals. Think of what his career could have been if he was born in 1915! At any rate, use this weekend to watch some of his films in honor of his birthday and celebrate his great talent. As you watch these films, consider their positions within the Shurlock Era. Imagine how films made in the last fifty years would have been different if movies made in 2000 were still made like movies from 1954!
I was unable to publish the first Film Fashion Fridays article this week because I was working on this article. I want to start the series properly, so I will publish the first official entry on February 15. Thank you for your patience!
Follow us to bring back the Code and save the arts in America!
We are lifting our voices in classical song to help the sun rise on a new day of pure entertainment!
Only the Code can make the sun rise on a new day of pure entertainment!