Today is Meg Ryan's 57th birthday. In honor of this event, Paul Smith of Pfeiffer Pfilms and Meg Movies is hosting The Meg Ryan Birthday Blogathon. Mr. Smith is an entertaining writer, a devoted supporter of my column, and a very nice gentleman, so I wanted to support his blogathon. However, I knew that would be difficult, since I don't watch Rating System Era films (1968-present) as a general rule, and Miss Ryan began her film career in the 1980s. However, after looking at her filmography, I thought of an idea for a topic.
I realized that many of Meg Ryan's movies were remakes or adaptions of movies from the Golden Era of Hollywood. That made me think of an article which could honor Miss Ryan without actually reviewing one of her films, Thus, I decided to join this blogathon with an overview of several films Miss Ryan has made which are remakes of classic films. I'll give an overview of these films chronologically.
Rich and Famous (1981)
This was Meg Ryan's debut film. It was also the final film of George Cukor, the acclaimed director of classic films who made his directorial debut in 1930. This film was a remake of Old Acquaintance from 1943, a Warner Bros. dramatic comedy with Bette Davis and Miriam Hopkins. This film was based on a stage play of the same title by John Van Druten. In the 1981 film, the leading female characters were played by Jacqueline Bisset and Candice Bergen. In this film, Miss Ryan played Debby, the daughter of Candice Bergen's character, at age eighteen.
Click the above images to buy these movies on DVD at Amazon and support PEPS through the Amazon Affiliate program!
Anastasia (1997)
This is an animated musical film which was released by Fox Films but was made by former Disney animation directors Don Bluth and Gary Goldman. This cartoon was loosely based on events surrounding the Russian Revolution and Grigori Rasputin's influence on the czar and his family. It is in fact based on the legend of Grand Duchess Anastasia Nikolaevna of Russia, one of the czar's daughters, who supposedly survived the execution of the royal family in 1917. The plot of this movie is based on a Fox live action film from 1956 of the same title which starred Ingrid Bergman and Yule Brynner. This film, in turn, was based on a play by Marcelle Maurette. Meg Ryan did the speaking voice of the leading lady, Anastasia.
Click the above images to buy these movies on DVD at Amazon and support PEPS through the Amazon Affiliate program!
You've Got Mail (1998)
This is a romantic and comic drama which came from a book which has inspired a multitude of theatrical works. The story about bickering co-workers who fall in love with each other as secret pen pals began as a Hungarian play, Parfumerie, which was written by Miklos Laszlo in 1937. In 1940, Ernst Lubitsch directed The Shop Around the Corner, a dramatic adaption of this play with James Stewart and Margaret Sullavan as the leads who work in a store which specializes in furniture, luggage, and leather-goods. In 1949, Robert Z. Leonard directed In the Good Old Summertime, a musical remake in which the secret sweethearts, Van Johnson and Judy Garland, work in a music store. This popular story was even made a musical in 1963, She Loves Me by Joe Masteroff, Sheldon Harnick, and Jerry Bock. The 1998 film, which was directed by Nora Ephron, changed the story significantly, replacing letters with emails between two people who met in an online chat group and agreed to keep their identities secret from one another. Instead of being coworkers at a shop, the leading lady owns a small book store, while the leading man's family runs a string of large book stores. Tom Hanks played the leading man, Joe Fox, and Meg Ryan played the leading lady, Kathleen Kelly.
Click the above images to buy these movies on DVD at Amazon and support PEPS through the Amazon Affiliate program!
The Women (2008)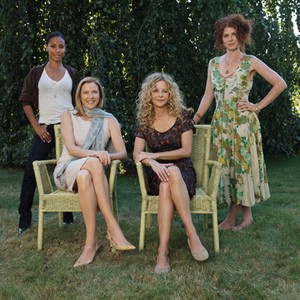 This is an all-female film which was spearheaded and directed by Diane English. It is a remake of George Cukor's famous all-female film of the same name from 1939, which was based on a 1936 play by Clare Boothe Luce. The original, which was very catty and horrifyingly non-Codish, starred Norma Shearer, Rosalind Russell, and Joan Crawford, plus many other famous actresses. The attention to detail in keeping all characters female was so great that even dogs were female; the only male image is in a brief shot of a magazine cover. This movie was remade as a musical entitled The Opposite Sex in 1956, starring June Allyson, Joan Collins, and Ann Miller. This film, however, featured some men instead of just referring to them. In 1977, the 1939 movie was remade as Women in New York by Rainer Werner Fassbinder for German television. Diane English's version kept the exclusive femininity concept of the play and original film for the most part; the only exceptions are a male waiter and a baby boy who appear at the end. Some elements of the story were altered, but the central idea remained quite consistent. The leading lady, Mary Haines, was played by Meg Ryan, with Annette Bening appearing as her journalist friend, Sylvie Fowler, and Eva Mendes playing her rival, Crystal Allen.
Click the above images to buy these movies on DVD at Amazon and support PEPS through the Amazon Affiliate program!
Ithaca (2015)
This film was Meg Ryan's directorial debut as well as a film in which she played an important acting role. It is based on the same story as The Human Comedy, an MGM drama from 1943 which was directed by Clarence Brown and starred Mickey Rooney, Frank Morgan, Fay Bainter, and Van Johnson. It is often believed that the film was based on the 1943 novel of the same name, but the situation was more complicated than that. William Saroyan, the man who wrote the novel based on his own childhood experiences in Fresno, California, actually wrote a screenplay and a film treatment of a movie he was to direct for MGM. When the project proved to be more than two hours long, Mr. Saroyan was payed off and removed from it. The screenplay was finished by Howard Estabrook, while William Saroyan adapted his own script into the novel, which he published before the film's premiere. It was this novel which would inspire the screenplay for Miss Ryan's 2015 film, which was written by Erik Jendresen. Alex Neustaedter played the leading character, Homer Macauley, the adolescent boy around whose family and life during World War II the story is centered. Tom Hanks played his father, who is deceased during most of the film. His older brother, Marcus Macauley, who is serving in the military, was played by Jack Quaid, Meg Ryan's son with her husband, actor Dennis Quaid. Meg Ryan played the mother of the family, Kate Macauley.
Click the above images to buy these movies on DVD at Amazon and support PEPS through the Amazon Affiliate program!
Although I like to stay within the safe realm of films from the Breen Era (1934-1954), many other classic film fans like to watch post-Code films, as well. In honor of Meg Ryan's birthday, I suggest that those of my readers who enjoy watching later films watch the movies I have mentioned. If you haven't seen them ever before or in a while, watch both the classic and the Meg Ryan versions. You might enjoy comparing them in terms of plot, culture, artistry, and decency. Ask yourself if the Code versions are strengthened or weakened by their adherence to moral principles. Whatever your conclusions, enjoy watching these performances by Meg Ryan!
Happy Birthday, Miss Ryan!
Follow us to bring back the Code and save the arts in America!
We are lifting our voices in classical song to help the sun rise on a new day of pure entertainment!
Only the Code can make the sun rise on a new day of pure entertainment!