This weekend, on November 17-19, Crystal Kalyana of In the Good Old Days of Classic Hollywood and Michaela of Love Letters to Old Hollywood are hosting a blogathon in honor of Rock Hudson, whose 93rd birthday would have been today. Happy Birthday, Mr. Hudson! In honor of this event, I am joining The Rock Hudson Blogathon with an article about one of Rock Hudson's early films, Has Anybody Seen My Gal from 1952. This movie is a carefree comedy which fondly recalls the Roaring Twenties with a cast of great actors and a hilarious plot.
Samuel Fulton is an elderly millionaire who has a fortune and no one to whom to leave it. In his life, he accumulated millions, but he never married. When he was a young man, he proposed to a woman, but she refused him. However, Mr. Fulton holds no grudge. His only idea for an heir is her daughter's family. She married another man, but she is now deceased. Her daughter, Harriet Blaisdell, lives with her husband and three children in a simple American town. Before he completes his will, Mr. Fulton decides to visit the family in disguise and observe their behavior. He wants to test them before he wills them his fortune. As a simple boarder named John Smith, he moves into the Blaisdell home. He also gets a job as a soda jerk at the local drug store, which is owned by Charles Blaisdell, the father.
As Mr. Fulton spends time with the family, he gets to know every member. Harriet, the mother, is a discontent woman who resents her family's middleclass status. She longs to be wealthy and bemoans the fact that her mother turned down a man who became a millionaire, not knowing that the unusual boarder is that very man. She wants her daughter Millicent to marry a wealthy local boy, Carl Pennock, even though she doesn't love him. Her husband, Charles, is a simple, decent man. He runs his drugstore honestly, and he is content with his life and his family. They have two daughters and a son. Their older daughter is Millicent, a pretty young lady who is simple and sweet. She is in love with Dan Stebbins, the handsome young soda jerk at her father's drug store. Despite her mother's plans for her life, she is determined to marry Dan. Their son is Howard, a nice young man who is not as involved with the story as his sisters. The youngest child is Roberta, an enthusiastic young girl of about eleven who becomes fast friends with the new boarder. She is happy with simple things in life, like teaching Mr. Smith how to do the Charleston! Dan Stebbins is a nice young man who is sincere about his love for Millicent. He is an honest, hardworking lad who makes friends with Mr. Smith.
Mr. Fulton wants to see how the family will react when they receive a windfall, since he wants to test them before leaving them his millions. As a trial, he arranges for his lawyer to give them $100,000 as a gift from an anonymous giver. They are shocked by this unexpected bounty. Mrs. Blaisdell thinks it is the answer to her years of dreaming. Instead of conservatively using the money to improve their lives, she spends it frivolously to create a brand new life for them. They move into a huge mansion, sell the drugstore, buy the latest wardrobe for the ladies, dabble in the stock market, and hobnob with the wealthy folks in town. Mr. Blaisdell doesn't like these changes, but his wife is determined. Much to Millie's chagrin, her mother becomes very friendly with the Pennocks, who happen to be the richest people in town. Poor Millie ends up engaged to their rascally son! Naturally, Mr. Smith, whom Mrs. Blaisdell never really liked, was not invited to move with them to the mansion. He is living with Dan, who has been deeply upset by the changes in the Blaisdells' life. Rumors about the family's newfound wealth spread dramatically through town. Soon, everyone thinks that they have infinitely more fortune than they really have.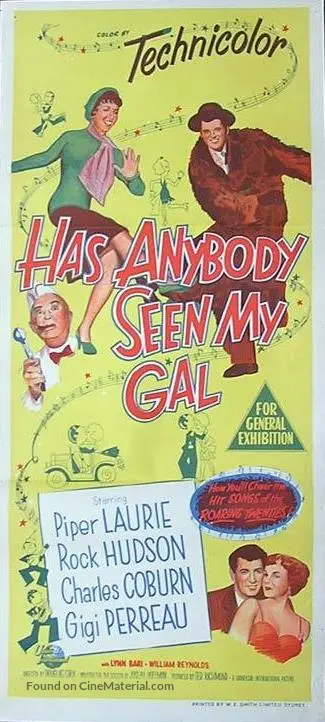 Their unexpected riches bring trouble to the family. Howard gets mixed up in gambling, accruing debts he can't pay, and Millicent's rich fiancé brings her to a speakeasy which gets raided. Both times, Mr. Fulton, who is keeping an eye on his surrogate grandchildren, saves them from disaster but gets in trouble with the law himself. Meanwhile, Mrs. Blaisdell is spending the fortune as if it has no end. Mr. Blaisdell is investing when he has no knowledge of how to do so. Everyone except the selfish mother is unhappy, and they are heading for bankruptcy. Has Mr. Fulton's gift of $100,000 ruined them? Will they ever be able to get back to a happy life? If $100,000 has changed them so much, what would millions do? Mr. Fulton is thinking all these things over. Watch the movie to see how the problems are resolved!
Samuel Fulton, also known as John Smith, is played by Charles Coburn. Millicent Blaisdell is played by Piper Laurie. Dan Stebbins is played by Rock Hudson. Harriet Blaisdell is played by Lynn Bari. Charles Blaisdell is played by Larry Gates. Roberta Blaisdell is played by Gigi Perreau. Carl Pennock is played by Skip Homeier. His parents are played by Paul McVey and Gloria Holden. Howard Blaisdell is played by William Reynolds.
This is a really charming movie. It was made toward the end of the Breen Era, but it is still a really good film. It is a wholesome, decent, Codish view of the 1920s. It contains enough historical details to be realistic, but it emphasizes decent American families instead of just Flaming Youth. There are 1920s tunes, dancing, fashion, and some clever references to unique parts of that culture. Unlike many 1920s women in movies, the leading lady of this film, Millie, is sweet and wholesome. I recommend this movie to anyone who enjoys good films.
I recommend this movie to fans of Rock Hudson who want to see him in an early role. Born Roy Harold Scherer Jr. in 1925, Mr. Hudson was about twenty-seven at the time of this movie's filming. However, most people thought he was twenty-nine, since, surprisingly, his agent added two years to his age so that he could get more mature roles! He made his uncredited film debut in 1948 and his credited debut two years later. Thus, he was still a newcomer in 1952. This was one of his earliest leading roles.
Rock Hudson is very handsome, youthful, and energetic in this film. He embodies the happy soda jerker of the 1920s very well, shifting easily to the part of a frustrated sweetheart. He is one of the best friends of the old millionaire in disguise, comically teaching him to make sodas and other fountain treats. This film is singular to me in the fact that it is the only Breen Era film in which I have seen Rock Hudson. I also like him in his later work, but it is a shame that most of his career was in the Shurlock Era and beyond. He was good in wholesome films like this. I hope to see more of his early films soon! The Code made actors rely on their talent and acting instead of just risqueity.

Click the above image to buy this movie on DVD at Amazon and support PEPS through the Amazon Affiliate program!
Follow us to bring back the Code and save the arts in America!
We are lifting our voices in classical song to help the sun rise on a new day of pure entertainment!
Only the Code can make the sun rise on a new day of pure entertainment!