Yesterday would have been Claude Rains's 129th birthday. In honor of this anniversary, Rebekah wanted to host a special blogathon honoring this British actor, who is one of our favorite stars. This weekend, we are celebrating the vast film career of Claude Rains on the 9th through the 11th. As part of this celebration, I decided to write about one of my favorite films with him, Mr. Skeffington from 1944.
I decided to post my article about this film on November 11 because today is Veterans Day. This holiday was originally begun as Armistice Day in remembrance of the Armistice of the Great War. That famous declaration of peace on "the eleventh hour of the eleventh day of the eleventh month" happened exactly one hundred years ago today, so I am publishing this article at 11:00 AM of my time zone today in remembrance of that great event. It is particularly appropriate for this blogathon because Claude Rains was a veteran of the Great War, having fought gallantly in the Scottish London Regiment, rising from the rank of private to captain. What better film to honor this day than Mr. Skeffington, a film which begins right before the start of World War I?
The story begins in New York City in 1914. The Trellis mansion is preparing for a dinner party that evening. Three young men arrive early, each hoping to have a private word with Fanny Trellis, the beautiful, glamorous, and very selfish mistress of the house. Meanwhile, a fourth young man arrives, and he goes upstairs to see Fanny. He is George Trellis, Fanny's cousin from California. He is glad to see his vain, silly cousin, despite the fact that she is more concerned about the perfection of her curls than greeting him. He inquires about the financial stability of the household, and she tells him that her brother Trippy, the only other living Trellis, has a job at a financial house, the Skeffington firm. Trippy is an intense, mysterious, and moody young man, but Fanny absolutely adores him. When the butler informs them that Mr. Skeffington, his employer, has dropped in to speak with Trippy, the young man rudely says that he doesn't have to talk to him, and he refuses to go down and see his employer. George and Fanny go down in his place. They meet Job Skeffington, a kind, middle-aged Jewish gentleman who is soft-spoken and charmingly sensitive. He reluctantly tells George and Fanny that Trippy has made thousands of dollars in commissions from bonds which he did not really sell. He has been fabricating purchases and making a tidy profit doing it. He was caught and warned, but, instead of repaying the funds he stole, he proceeded to make up more nonexistent buyers. Thus, Mr. Skeffington feels he must now go to the district attorney about the matter. He assumes that the Trellises, who are known to be wealthy, have enough money to repay Trippy's debt. When George and Fanny tell him that Trippy has lost their whole fortune, leaving them penniless, he promises to delay prosecution for a few weeks while they attempt to raise the money. Fanny smiles at Mr. Skeffington and thanks him, and he is so bewitched by her that he can hardly find the doorknob to leave the room!
The next day, Fanny decides to visit Job Skeffington to continue pursuing her conquest. He is very happy to see her, and he gladly entertains her in his office. They have a pleasant conversation, during which she uses all her tricks and charms. It is unnecessary; Job is already completely in her power. She asks him to show her the stock exchange, and he gladly agrees to do so. They decide to go to lunch together first. However, before they leave, a panic ensues in the office as news spreads that war has been declared in Europe. A stampede of confused men storms Mr. Skeffington's office, pushing Fanny aside. She leaves the office indignantly before Job disappointedly realizes that she has gone.
Some weeks later, George tells Fanny that he hasn't been able to raise much money. He doesn't know how they are going to repay Mr. Skeffington. Meanwhile, a gorgeous portrait has been painted of Fanny by one of the most celebrated painters in the city. While Fanny's beaux are insanely jealous of the anonymous commissioner of the portrait, she is enchanted by the romance and secrecy of it. Fanny spruces herself up to go out, despite the fact that she has cancelled her lunch date with a girlfriend. Instead, she goes to Mr. Skeffington's house. She knocks on the door, but no one answers. That is because Mr. Skeffington himself is coming up behind her. He tips his hat to her, and she smiles. He invites her to come in, and she agrees. Suddenly, a truck pulls up, and movers carry a conspicuously rectangular object into the house. It obviously is the portrait that the mystery man commissioned. She smiles at Mr. Skeffington knowingly, and he smiles back.
The next thing you know, Job Skeffington and Fanny Trellis are getting married by a justice of the peace in New Jersey! On the ferry ride back to New York, Job tells Fanny about his life, in which he grew from a poor son of an immigrant candy peddler to a wealthy businessman. He then tells her that he has married her, but he hasn't earned her love yet. She looks at him kindly, but there is no real love in her eyes. She offers to let him kiss her. Job eagerly accepts her offer, not knowing that she is fixing her hair at the same time. Job's selfless love is obviously unrequited by his bride.
They go to Fanny's home to find it full of embittered suitors, who are disgruntled because of her marriage to Mr. Skeffington. However, no one is as unhappy about the union as Trippy. He is rude and drunk. He blatantly insults Mr. Skeffington and goes upstairs to pack. Fanny follows him and tells him that she married Mr. Skeffington so that she could take care of him, but Trippy is prejudiced and implacable. He says that he's going to Europe to join the war. Nothing Fanny can say can change Trippy's mind; he's leaving. She locks her door and won't open it even for her husband.
A year passes, and Mrs. Skeffington is still surrounded by suitors. Job admits to George, his good friend, that Fanny is still only mildly affectionate toward him, but he says that he has patience. Fanny's antipathy toward Job is shown when she responds to his anniversary present, a diamond bracelet, with a cool joke about his wealth. That evening, while they are watching war newsreels, Fanny sees her brother amongst French aviators. The shock makes her faint. Afterwards, the doctor plainly delivers the news to Job that Fanny is expecting a baby. Job is thrilled, but Fanny can only think about the fact that her figure will be ruined by impending motherhood. She insists on going to California to have her baby so that her friends can't see her when she is expectant. Job is hurt that she doesn't want to be with him during this time, but he considerately agrees to her wishes.
Several months later, little Fanny Skeffington is born. Mother and child return to New York and Job. He is very happy to be a father, but motherhood works no change in the selfish Fanny. Soon, it is 1917, and Job and George join the army as the United States joins the Great War. Like Claude Rains himself, Job becomes a captain. Fanny is still surrounded by doting suitors, whom she humors but casually discourages every two months. Job is very sweet with his toddler, Fanny, whom he adores. His relationship with his wife is about the same. Fanny is more consumed with herself than with her husband and child, but she is kind to Job when he is home on leave.
Suddenly, disaster comes in the form of a telegram which Job receives. Trippy is dead. Job goes upstairs and interrupts Fanny's primping to tell her the horrible news. At first, Fanny can't believe it. As realization hits her, she becomes hysterical, crying and sobbing for her brother. While Job goes to get her a brandy, she despairingly confides to George that she only married Mr. Skeffington to take care of Trippy, and now he is gone; she will just be stuck with Job for the rest of his life. She looks up to see Job standing there with tears in his eyes. She is unrepentant, and he walks out. Their marriage is never the same after that.
Fanny Skeffington is played by Bette Davis. Job Skeffington is played by Claude Rains. George Trellis is played by Walter Abel. Trippy Trellis is played by Richard Waring. The rest of the cast is comprised of many excellent actors, young and old, who help make this film a thoroughly entertaining and thrilling two and a half hours.
There was an excellent crew behind the camera, too. The director was Vincent Sherman. The screenplay was by Phillip and Julius Epstein, the famous identical twins who wrote the scripts for some of the finest Warner Bros. films. The Epstein brothers also produced this picture. Jack L. Warner was the executive producer. Miss Davis's lovely gowns were by Orry-Kelly. The dramatic score, which ranges from sweeping background music to what sounds like a horror film score, was written by Franz Waxman. As it says in the dramatic trailer, "Of course it's from Warner Brothers!"
This was the third film collaboration of Claude Rains and Bette Davis. They had previously worked together in Juarez (1939) and Now, Voyager (1942). They made one more film together after this, Deception from 1946. Bette Davis campaigned for the role of Job Skeffington for Claude Rains, since she really wanted to have him as her leading man, and she got her way. I think that the casting is absolutely perfect. There is the right mixture of fondness and coolness in their relationship. Bette Davis said that Claude Rains was her favorite leading man. I can really see that in her performances with him. She gets a sweet, fond, almost soft expression when she looks at him. I haven't seen her have that expression toward any other leading man. She later described Mr. Rains as "brilliant" and "beautiful" and said that they were "really great friends."
Claude Rains's performance as Mr. Skeffington is my favorite role of his. Of all the roles in which I have seen him, I think this is his best performance. Job Skeffington is the most prominent role I have seen him play; it offered him so much time and opportunity to show the many facets of his acting. At the beginning of the film, he is shy, polite, sensitive, and gently witty. Then, he is hopelessly in love with a selfish woman, but he is always kind and patient. George comments that he could give the first Job lessons on patience! Some of his sweetest scenes are with his daughter at various ages. When she is a toddler, he carries her around, gives her toys, plays with her, and sings little Cockney ditties, as he really did to his own daughter, Jennifer Rains, later known as actress Jessica Rains. When Fanny sobs that she only married Job to help Trippy, he looks so devastated. From the beginning, he knew that she didn't love him as he loved her, but he seemed to think that he just didn't love anyone but herself. He patiently believed that he would eventually teach her to love him back. When he heard her so clearly say that she just married him to keep Trippy from going to jail and to get money for the family, he really realized that she didn't love him. Claude Rains does a brilliant job of conveying this emotion with his betrayed, tearful eyes.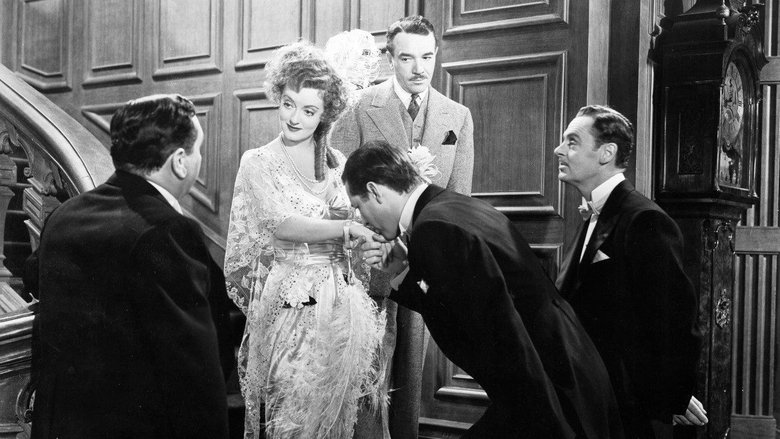 This film wades in some deep water in terms of subject matter. It deals with two very controversial subjects, antisemitism and infidelity. Throughout her marriage, Fanny is surrounded by suitors, who try to steal her away from Mr. Skeffington, feeling that they must rescue her. She doesn't encourage them, but she doesn't tell them to leave her alone, either. She enjoys the attention. It seems fairly innocent, since the suitors are shown frustatedly professing their love, storming down the stairs, and being handed their hats by a generous Job. Things grow more controversial after Trippy's death, which destroys any love which was in the marriage. Among her usual crop of suitors, one special beau distinguishes himself, namely, a handsome young bootlegger named MacMahon (Robert Shayne). It is now the 1920s, and he is making a fortune on illegal liquor. This brash gangster is the only man with whom I think Fanny might be being seriously unfaithful to Job.
One evening, Fanny and "Mac" are at a speakeasy. Mac tells Fanny that he has had Job trailed, and he has discovered that his beloved's husband has been going out with his secretaries, six in all. Fanny can't believe that, since Job is always sitting docilely at home when she arrives. However, Mac's claims are proved when Job and his secretary walk in at that moment. With that proof, Fanny begins divorce proceedings against Job.
Fanny acts very betrayed and indignant about the whole situation. She has been fooling around with other men for years while neglecting Job, yet she hastily accuses him of infidelity. She really is grateful for the situation, since she can divorce him without feeling guilty. During the divorce, she and Job have one serious conversation. Job tells her that he turned to his secretaries for some sympathy and compassion, which he wasn't getting at home. He never would have looked at another woman if she had given him "one grain of affection." She won't listen to him. She has found her escape from an unhappy marriage, and she is taking it.
I learned the entire synopsis of this movie before I saw it, but I had no way of knowing how good it would be until I watched it for myself. A great cast doesn't always make a great picture, but I suspected that this pairing of Claude Rains and Bette Davis would be excellent. Similarly, I was not sure what to expect of this film from a Code standpoint. Every movie made during the Greater Breen Era (1934-1954) was not self-regulated really well. Most movies during this time were made according to the Production Code Administration's standards of decency, but some films were self-regulated better than others. That is generally because Joseph I. Breen was not able to self-regulate every film personally. As with every new Breen Era film I see, I hoped that this would be a good Code film. In this case, I was very pleased by what I saw.
Mr. Skeffington is a perfect Code film. It is part of a unique and wonderful genre of Warner Brothers films made during the Code years. These films feature serious, dramatic, and often controversial topics and themes which could have been disastrous but were handled brilliantly. Because of that, they have magnificent drama and really serious subject matter, but they are handled so well that they are still "reasonably acceptable to reasonable people." Films of this sort are Jezebel (1938), The Private Lives of Elizabeth and Essex (1939), and Casablanca (1943). I was very happy to add Mr. Skeffington to this honored Warner Bros. list. Of course, other studios made pictures like that brilliantly, too. However, there is something special about these films.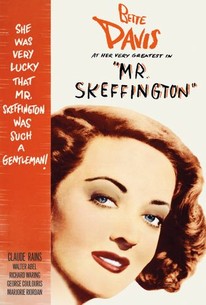 As I have written before, motion pictures are not perfect Code films just because they lack objectionable material. They have to have something extra, such as inspiring qualities or proper handling of difficult topics. One of the things which makes Mr. Skeffington qualify as "perfect" is the handling of the topic of infidelity. It is so beautifully delicate. We know that Fanny goes out on the town with various beaux after her marriage to Job is shattered by Trippy's death. The only beau with whom we see her acting seriously interested is MacMahon. He is young, a characteristic she requires in her suitors, he is very bold, and he is a lawbreaker. These are all characteristics which Job does not possess, so she is attracted to them. In addition, Fanny likes his looks the first time she sees him. However, there is no discussion of or allusion to an actual affair between them.
The seriousness of Fanny's romances is never determined. Is she just being wooed, dined, and entertained, or is she actually committing adultery? There is no proof for either side of the argument. It is completely vague. The same is true of Job's relationships with his secretaries. You only see him with one of them, a woman who is young but neither as youthful nor as beautiful as you would expect a mistress to be. His level of intimacy with this woman is never stated. We know that he receives sympathy and compassion from his secretaries which he does not receive from his wife. Whether or not he breaks his marriage vows to Fanny with these secretaries is not determined. The important result of this situation is that Fanny uses it to break up their marriage.
This movie's topic of infidelity is handled with a delicate brilliance which has never existed in films made outside of the Code Era. Explicit details about such a situation would be inappropriate and could create morbid curiosity about illicit affairs. In any other time, the audience would be bashed over the head with blatant, disgusting details about Mr. and Mrs. Skeffington's separate affairs. Because this is a Code film, the audience is offered a choice for what to believe. Each person who watches this movie has the right to believe what he wants to believe about the relationships, particularly Job's relationships with his secretaries. This is very important, since Job is a sympathetic character, while Fanny is not.
It is clear that Fanny jumps to a conclusion, and the viewer may do so, as well. To many people, this conclusion is perfectly acceptable. To others, however, this conclusion would be disturbing. I, for one, choose to believe that Job was not really having illicit affairs with his secretaries. I think that he was merely taking them out and relieving his loneliness with their company. This is not right or acceptable behavior, since he is a married man. However, it is not as blatantly wrong as the other alternative. In addition, if his behavior was clearly defined as adulterous, it might cause sensitive viewers to justify and condone his behavior. Adultery must never be justified or presented as right, so it was very important that the details be left ambiguous. That is the Code way, and it is the America way. You have the right to believe what you want to believe. Ideas aren't forced on you. You may make your own choices and have your own opinions. It is clean, decent, and democratic.
This is a wonderful movie. It is one of my favorites. It isn't an easy film to watch, and it isn't a movie I would want to watch every week. It is too emotional and moving for that. This is one of those movies that is an emotional experience for the viewer. It is also a great moral tale. It teaches the danger of vanity and selfishness such as Fanny's. It also teaches the shallowness of beauty and the fleetingness of youth. Above all, it shows the virtue of patience and the true meaning of love through Mr. Skeffington's character. This movie contains one of the most horrific examples of a heartless woman. Fanny Skeffington remains a startling image of a woman who believes that she wins and conquers everything, only to realize that she has failed as a wife, a mother, a sweetheart, a beauty, and as anything else a woman can be. Can she ever redeem herself and find true love in her empty life? Watch the film to learn the conclusion of the Skeffington saga!
I truly think that this movie has something for everyone. It contains romance, history, touching family scenes with little Fanny, wit, tragedy, music, reference to war, drama, and even a bit of horror. It will make you laugh, smile, cry, and think deeply. It also has a moving and historically important theme about racism and prejudice. Earlier, I mentioned the controversial theme of antisemitism which is in this movie. It is such an important topic that I think it deserves its own article, which I will publish at a later date. Besides, I am growing quite longwinded in this article. Let me conclude by saying that this is a wonderful film which I whole-heartedly recommend to all those who appreciate good films from the Golden Era of Hollywood!
This concludes my contribution to the Claude Rains Blogathon. I want to thank my sister, Rebekah, for wanting to host this blogathon and for spearheading it. I also want to thank all the wonderful writers who have joined and made it a great success! It is wonderful to read articles by other people who appreciate the great talent and work of Claude Rains. If you haven't seen this film yet, I recommend that you see it right away. If you are already an admirer of Mr. Rains, you will appreciate this as one of his best performances. If you haven't seen much of his work, you will get a wonderful introduction to his talent from this picture. You can appreciate Bette Davis's wonderful performance as Mrs. Skeffington, which earned her a Best Actress Oscar nomination, but you won't like her for much of the film. However, you can't help loving Claude Rains's tender, handsome, and mistreated character, Job Skeffington, for whom he was nominated for Best Supporting Actor. He didn't win, and no wonder, since the role is not a supporting character but the leading man. It is a shame that he couldn't have been honored for this incomparable performance. Then again, awards aren't the mark of a truly great actor. Magnificent actors are those who move the audience and bring their characters to life, creating an indelible mark on our hearts and imaginations. Who did that more than Claude Rains?
Happy Birthday, Claude Rains! Since today is Veterans Day, I want to thank all veterans, living and deceased, who fought and fight for our country's freedom in World War I and every other war. Stay tuned for my next article about Mr. Skeffington, in which I will discuss its rare and valuable message about antisemitism.
Click the above image to buy this movie on DVD at Amazon and support PEPS through the Amazon Affiliate program!
Follow us to bring back the Code and save the arts in America!
We are lifting our voices in classical song to help the sun rise on a new day of pure entertainment!
Only the Code can make the sun rise on a new day of pure entertainment!