Today is the third day of The 2nd Disability in Film Blogathon, hosted by Pop Culture Reverie and In the Good Old Days of Classic Hollywood. Robin and Crystal are hosting this unique blogathon about actors and characters who suffered from some sort of disability. The blogathon's dates are October 24-26, 2018.
I decided to participate with an article about a young veteran who has lost his right leg, played by an actor who really lost his right leg in World War II. The film is The River from 1951, director Jean Renoir's first color film. The leading man is played by Thomas E. Breen, a brave Marine who lost his leg in Guam at age twenty. This handsome young redhead was Joseph I. Breen's third son and the youngest of his six children.
The first role in which I saw Tommy was his first credited film role, which was in Luxury Liner from 1948, which I reviewed for the Reel Infatuation Blogathon here. I enjoyed his performance in that movie so much that I wanted to see him in his only leading role, Captain John in The River. I watched the movie on January 5, which would have been his ninety-fourth birthday. I really enjoyed the captivating film, and I have wanted to review it ever since. This blogathon is a great incentive and opportunity for me to do so. With no further ado, let's go to India to learn about The River.
The story is about an Englishman and his family who live in India, where the father owns a jute mill. He has five daughters of various ages and one son, an energetic young lad who is fascinated with Indian lore. His wife is expecting another child. The story is narrated by the oldest daughter, Harriet, a sensitive, romantic maiden who writes poetry. She has red hair and a kind soul but a plain face. Her best friend is an older English girl named Valerie; Valerie is another redhead who is much prettier but is selfish and shallow. The third young lady in the group is Melanie, a half-Indian girl who is the daughter of their scholarly English neighbor, Mr. John. Melanie is very beautiful, but she looks more like her Indian half than her English side. Her father is sorry that she is caught between the two worlds, and he wants her to marry a wealthy Indian man who loves her. Melanie is unsure about marrying this man, since she doesn't love him.

Life is simple and rather uneventful for the privileged English family until Mr. John's young American cousin comes to visit them. His name is Captain John, and he is a handsome but disturbed veteran who is trying to find his way after the war. Harriet immediately notices that he walks with a limp; she later learns that he wears a prosthetic leg. The superstitious Indian nanny of the family quickly notes that the auburn-haired Captain John is the third redhead in the group, which is bad luck. Whether it is because of his hair or not, the retiring Captain John quickly sends the household into chaos.
Harriet, Valerie, and Melanie immediately develop infatuations for Captain John. Each has her own unique feelings, problems, and ideals. It is understandable that the three young ladies would fall in love with him, since he has the distinct attraction of being a stranger, a foreigner, and the first young white man to visit them in years. He is very handsome, mature, and mysterious. He tries to be kind to all three girls, but he clearly is struggling with inner turmoil because of his disability.
Valerie is the most obvious girl. She sees no barriers between herself and Captain John. She thinks that she is beautiful enough to get anything she wants. She is a little young for him, but she is unconcerned by that. She is very selfish and occasionally cruel with her mocking silliness. She is attracted to him, so she uses her wiles, but there is no sympathy or understanding between them.
Melanie is the oldest of the girls; she is around Captain John because he is staying with her and her father. Although she looks Indian and is betrothed to a man of that race, she is attracted to the fair young man who looks like her father's race. However, she thinks that it is hopeless to even imagine a future for them. Somehow, there is a strange understanding and empathy between her and Captain John, since they both know what it means to be different than others. Unfortunately, Melanie is too bitter because of her own confusion to be kind and sympathetic to John. She can't seem to avoid taunting him with cruel, nasty comments that incite him to rage. There is a strange chemistry between them, but it is a dangerous mixture of attraction and antagonism.
Harriet is the youngest, and her love is the simplest and most generous. She is the only girl who is kind and understanding toward Captain John. She isn't really concerned with herself, since she knows she isn't beautiful. She is understandably enamored of the older man. In her eyes, he is a tragic, romantic figure who is sort of a Byronic hero. She innocently and trustingly shares her thoughts and dreams with him, and he is able to find simple pleasure through her. At times, when they are together, he seems to relive his happier days because of her youthful joy. She is a devoted poetess, so she shares her poems with Captain John. He is unfeignedly impressed by her literature, and he admires her for her sensitive, romantic soul.
Captain John is a very complex and believable character. When with others, he usually smiles and acts somewhat cheerful, but there is a perpetual sadness in his intense brown eyes. His attitude toward his host and his friends is very civil, interested, and polite. You can tell that he was a happy, witty, and fun-loving fellow before the war. However, his disability has made him feel insecure, unsure of himself, and very odd. He is extremely depressed and melancholy because he thinks that he is no longer a whole man. Despite that, he still has a wit and charm about him which can be seen in his thoughtful, philosophical comments.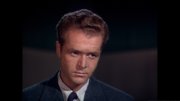 Captain John was a role which was very close to Thomas Breen's reality. In World War II, he was in Edson's Raiders, an elite strike force in the Marine Corps. In 1944, his regiment stormed the beach at Guam. In an explosion, he was thrown across the island, flying past palm trees. Then, a tank rolled over him, crushing both his legs. Doctors were able to save his left leg, but his right leg was amputated. The first thing he remembered upon waking was seeing Spencer Tracy, an old family friend, leaning over his bed. Before the war, he was an athletic young man who enjoyed surfing at his family's Malibu beach home. However, the proud Breen spirit wouldn't be defeated. He learned to surf again with a prosthetic leg after the war! He didn't let his injury keep him from having a full life.
In Luxury Liner, the other film in which I have seen him, Tom Breen walks perfectly smoothly and with no trace of a limp. One would never guess that he had a prosthetic leg. In contrast, he has a definite limp in The River. He must have feigned a limp or not tried to walk evenly for this role because his character's disability is very important to the plot.
The most difficult moment for Captain John happens when he, Valerie, and Harriet are outside together. At first, things are fairly pleasant and friendly. Then, Valerie meanly snatches Harriet's diary and begins reading passages of admiration about Captain John. John scolds her for doing that, and Harriet and Valerie begin fighting. John tries to calm Harriet by gently joking about some of the things in the diary, such as Harriet's remark that his face is like a delicate flower, but Harriet is hurt and embarrassed. She says that she wants to kill them both and leaves. John remonstrates the unrepentant Valerie, and she asks him to play a game with her. He is in no mood for games, but she challengingly says that she doesn't think he can play. Naturally, he rises to the bait. They play a game in which they toss a ring back and forth. At first, they toss it gently and successfully catch it each time. Then, Valerie begins to get wild. She throws the ring too far to the side, and John leaps to catch it. He falls into an awkward position as his leg slips out from under him, and it looks like his prosthetic leg may have disconnected. He is and humiliated, and he angrily tells her to leave him alone. A servant helps him limp back to his room. For the first time, Valerie seems to realize that her actions can have harmful effects on others.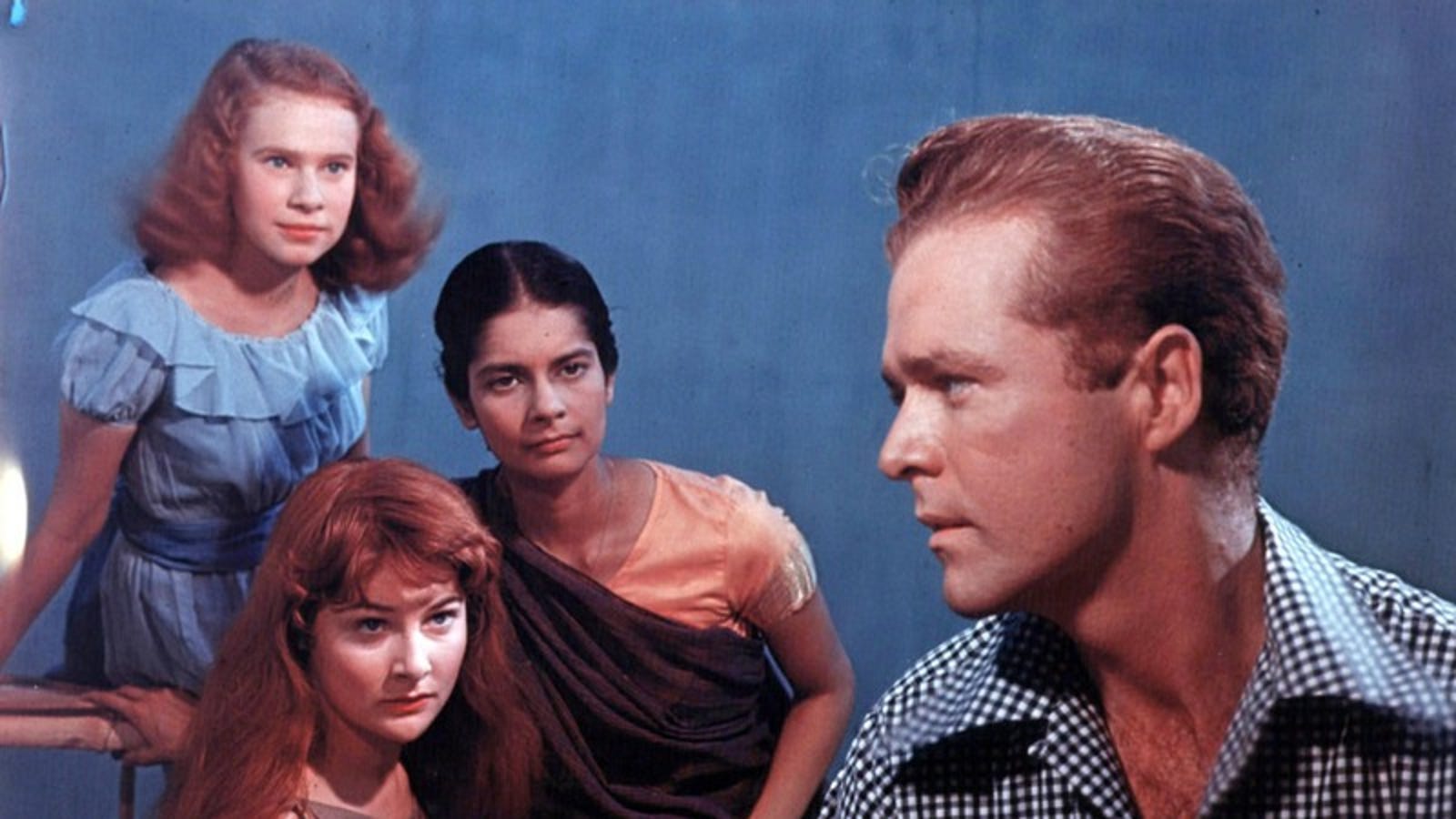 Despite his disability, Captain John has no shortage of female companionship or
romantic admiration. Although three girls are very interested in him, he usually seems too depressed and troubled to enjoy it. However, his shattered self-esteem is slowly nourished by the attention, so he takes his place in the middle of a complicated romance. He shares his most passionate moment with Valerie. After she runs away from him into a thicket, he chases her. When he finally catches her, he
kisses her fiercely and impetuously. However, he shares his tenderest moment with Harriet. In his last scene, he kisses her gently on the forehead. The story's ending is very open, so there is no romantic conclusion with him and any of the girls. Perhaps he marries a girl back in America. However, if he ever would return to India to find his bride, I think she would be Harriet.
Tommy Breen is very effective in this dramatic and romantic role. This was his last film, but he showed his really great talent in it. He retired from acting after this because he disliked the lack of privacy in an actor's life and the struggle of waiting for roles. He had been in the middle of Hollywood life since his family moved to California in 1931 when he was seven, but he decided that he had had enough of it after making this picture. After that, he became a contractor and was one of the main developers of the first Del Webb housing complex, Sun City in Arizona. After that, he worked in several other housing development companies, eventually starting his own construction business.
Captain John is played by Thomas E. Breen in his final film appearance; he is the only actor in the film who was not of Indian or British descent. The father is played by Esmond Knight, another veteran. Like his character, he lost one of his eyes in battle, and you can see that his one eye wanders blindly. The mother is played by Nora Swinburne. Mr. John is played by Arthur Shields. Harriet is played by Patricia Walters in her only film appearance; she was a British girl who, like her character, was born and raised in India. Valerie is played by Adrienne Cori, an actress born in Scotland who had a vibrant film career before and after this movie. Melanie is played by Radha, a real Indian. Nan, the children's Indian nanny, is played by Suprova Mukerjee. The narrator, who is supposed to be an older Harriet, is June Hillman.
This film was shot entirely in India. At times, it seems like a documentary. It is so authentic and richly Indian. It alternates between a traditional film with a plot and characters and a travel film about India. There is Indian music, scenery, wildlife, and culture. It gives the real feeling of life in the exotic subcontinent. Jean Renoir did a beautiful job of painting a realistic setting in which his actors could perform. It is more than a backdrop; it is part of the story. It is all about the river, hence the title. Although all the problems of the characters aren't solved, every character learns and grows during the story. Through the English family's tragedy, Captain John learns how he must carry on with his life. Like the river, one's life can never stand still.
Technically, this was a foreign film. Naturally, it was given a Seal of Approval from the Production Code Administration for distribution in America. However, unlike many foreign films, this movie really deserved its Seal. It is a very good Code film. It is dramatic and moving while being completely decent and acceptable. It is an enjoyable film for anyone to watch. It is novel to see such exoticism in an early 50s film. I imagine that seeing such exotic culture would have been very unusual in 1951. It is still enjoyable to watch because it is so accurate.
I want to thank the hostesses of the 2nd Disability in Film Blogathon. I am glad that they are hosting this tribute to actors and characters who inspire us to count our blessings and rise above our challenges in life. I thank them for giving me a good reason to write about The River. This is an inspiring film which I recommend for everyone. It shows the journey of a young man who suffers from a disability, beautifully portrayed by a young actor who knew exactly how his character would feel because he was experiencing the same thing.
Click the above image to buy this movie on DVD at Amazon and support PEPS through the Amazon Affiliate program!
Follow us to bring back the Code and save the arts in America!
We are lifting our voices in classical song to help the sun rise on a new day of pure entertainment!
Only the Code can make the sun rise on a new day of pure entertainment!