Here at PEPS, we have been busy with The Second Annual Great Breening Blogathon since Friday. However, I am also looking forward to participating in the other blogathons I joined recently. Michaela of Love Letters to Old Hollywood is hosting the 100 Years of Rita Hayworth Blogathon on October 17-19, 2018. I couldn't ignore this celebration of one of the finest actresses of the Code Era. This is a very significant blogathon, since it is celebrating Miss Hayworth's 100th birthday, which would have been on Wednesday. Happy Birthday, Rita!
I'm joining this popular blogathon with an article about Rita Hayworth's first musical at Columbia Pictures, Music in My Heart.  Released in January of 1940, this film was made to showcase Tony Martin, a popular radio star. It was also an attempt by Columbia to find Rita Hayworth's greatest potential. This was her first film after Only Angels Have Wings from 1939, which won her great popularity. Music in My Heart was the first film made by Columbia which attempted to capitalize on this popularity. Although it was not a huge success, it was a step in her journey toward becoming Columbia's major glamour girl and Hollywood's Love Goddess.
The story begins at a theater, where Robert Gregory is a very eager understudy for the leading man in a musical. After waiting a year for his big chance, Bob fears he may now never get it, since he may have to leave the country that night. Because his parents failed to take out citizenship papers, Bob is not really an American citizen, so he fears he will be deported. When the leading man learns that Bob must leave the country that night, he feigns a cold so that his exuberant understudy can have his chance before leaving America at midnight. Bob makes a sensation in his leading role. After he has taken his final bow, he is congratulated and ushered into a cab bound for the dock. He is still in his general's uniform from the show, since he has only half an hour until the ship sails!

While speeding to the dock, Bob's taxi collides with another taxi. The other cab, which ends up on its side, is occupied by an unharmed but rather indignant young lady to the same ship. Patricia O'Malley is going to be married aboard the ship to a middle-aged millionaire whom she doesn't love. The unfortunate pair both climb into Bob's cab and speed toward the boat. Bob immediately likes the pretty young woman and doesn't understand how she can sacrifice happiness for money, but she tells him that she has been living in "happy" poverty all her life, so she knows the value of money. She wants comfort, so she will marry a wealthy man to get it, even if she doesn't love him.
When Pat and Bob arrive at the dock, the boat has already sailed. Thus, Pat has missed her own wedding, and Bob is stranded with no money and no clothes except his costume, since both are on the ship. Pat takes pity on him and brings him back to the boarding house where she lives. The boarding house is a raucous place where everyone has fun, but no one has any money. It is run by a kind Italian called Uncle Luigi, who is accompanied by his trained monkey, Punchinello. Pat lives there with her romantic younger sister, Mary, who is convinced that Pat should marry a young, handsome man instead of the middle-aged millionaire. Another prominent boarder is Sascha, a morose Russian who runs the cafe downstairs. He wears an artificial beard and fake medals and constantly talks about Russia before the revolution. Bob loves the happy, carefree atmosphere, and he feels right at home. He loves everyone there, especially Patricia. He wants to stay there forever and convince Pat that love is more important than wealth.
However, there is one main problem which may keep Bob from even having a chance of winning Pat. He was supposed to sail the night before. Since he missed the boat, he is wanted by the police. When he realizes that his picture is in the paper with an account of his evasion of the police, he knows that his time may be limited. If he doesn't turn himself over, he will probably be caught and imprisoned for years. If he does turn himself over, he'll be deported. He decides to hide out for a while, so he needs a disguise. He borrows Sascha's beard for a while, but he gets rid of it when he gets a singing job. Perhaps it's a good thing, since that isn't his best look.
While Bob is trying to evade the police, Pat learns that her fiance, Charles Spencer Gardner III, did not sail the night before. He spent an anguished, sleepless night, being soothed by his sniveling, devoted valet, Griggs. Now, he has decided that he can't live without Patricia, so he sent Griggs to talk to Pat. She talks to the valet and explains what happened. She agrees to have dinner with Charles, despite the comical interference of Bob, who is masquerading as a waiter. When he dons the beard half-way through the meal, he pretends to be his own brother, thoroughly confusing and annoying Griggs.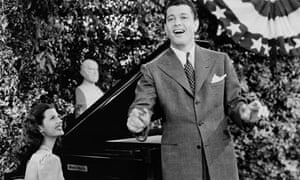 That afternoon, with no whiskers and a brand new suit from one of Luigi's cousins, Bob sings a concert, earning $15 and a good singing job for the future. Pat is thoroughly charmed by the charming young singer. His impetuosity sweeps her off her feet, and she literally lands in his arms! They kiss, and she decides not to be practical. Impractical people have all the fun! They pledge their troth to each other, and she sends Charles a telegram to break their date.
Everyone at the boarding house is happy to learn of the young people's engagement. They have a celebration that evening with dancing, singing, and a musical ensemble in the kitchen. Bob displays his singing talents, and Pat shows her exceptional Latin dancing. Everyone is happy!
That is, everyone is happy except Charles Spencer Gardner III. He is a nice gentleman, even if he is a little stuffy and a little old for Pat. Although she does not really love him, his feelings for her are sincere. As their romance seems permanently ended, he despairs of ever finding a wife who will give him an heir, Charles Spencer Gardner IV. Griggs tells Mr. Gardner that he thinks Pat is in love with a young singer who lives at the boarding house. Having seen his picture in the paper, the sly butler suggests that they turn Bob over to the police. The honorable Charles is offended by this suggestion. Thus, Griggs feels that he must take matters into his own hands.
One day, the whole world collapses for the friendly folks at Uncle Luigi's boarding house. A process server pretends to be a customer at the restaurant so that he can serve eviction papers to Sascha. That same man leaves a newspaper at his table. Casually looking at the paper, Sascha and Pat are shocked to see an article that Bob, the missing actor, has a wife and three children whom he deserted years ago. Pat is devastated, but she makes Sascha swear not to tell Bob about this. Little does she know that this is a phony newspaper and a trick devised by Griggs to separate Pat from Bob. Patricia feels hurt and betrayed, so she calls Charles and makes a date with him for that evening. She tells Bob that she has done that because he has nothing to offer her. He doesn't know that her heart is breaking.
Bob can't let his friends at Luigi's boarding house be evicted. He knows he has to raise rent money for them. When he is listening to the radio, he figures out how to do it. However, although he will earn money he will certainly be arrested by the police. Will Bob end up in jail or deported because of his kindness? Will he be able to find a way to stay in America? Will Pat marry a man she doesn't love? Will she discover the truth about Bob and Grigg's trick? Will the sweethearts ever get together? Watch this charming movie to find out!
Bob Gregory is played by Tony Martin. Patricia O'Malley is played by Rita Hayworth. Her sister, Mary, is played by Edith Fellows. Charles Spencer Gardner III is played by Alan Mowbray. Sascha is played by George Tobias. Griggs is played by Eric Blore. Uncle Luigi is played by George Humbert.
This movie has a charming score. All of the singing is accompanied by Andre Kostelanetz and His Orchestra. In his play at the beginning of the movie, Bob sings "No Other Love," an adaption of a classical piece, with a nameless leading lady played by Julietta Novis. When Bob first visits the boarding house, Luigi sings "Punchinello" to his trained monkey of the same name when he wants him to come down from his perch on a pole. Bob assists him by singing a dramatic rendition of the song, during which he is joined by three girls played by the Brian Sisters. Later, the song is reprised in the kitchen with accompaniment by Luigi on his squeezebox and Sascha on a culinary maraca. Bob and Mary sing while Patricia does the rhumba. When Bob gets a singing job, he sings a captivating ballad called "Oh, What a Lovely Dream" as Pat accompanies him on the piano. Andre Kostelanetz and His Orchestra play an exciting samba called "No tabuleiro da baiana" during a radio program. In the film's finale, Bob sings "It's a Blue World" with the orchestra; Tony Martin's rendition of the song was nominated for an Academy Award. Finally, the title song is played during the opening credits and sung at the end of the film by Bob.
Rita Hayworth is very good in this picture. She embodies the character well. I like the way she portrays a young woman who is torn between a desire for comfort and true love. She acts well, creating a believable character in a short film. Although she doesn't do a lot of dancing in this movie, what she does is very enjoyable. Her rhumba is so smooth, precise, and easy; one can clearly see her experience and expertise in Latin dancing.
Rita is beautiful in this movie. Interestingly, her hair looks very dark. This is surprising, since her hair had been dyed red in previous films. It clearly is its signature titian shade in this photograph from Only Angels Have Wings, which was made the year before. Perhaps it was deemed best for her to have dark hair in Music in My Heart. Anyway, she looks lovely in this movie.
This is a sweet, simple movie with all the charm and decency of the Breen Era. It isn't complex, and it doesn't deal with any difficult topics. It is just a good, clean Code film. It has love, laughs, and music. Movies don't have to be dramatic or complicated to be entertaining and enjoyable! This is a grand showcase for Rita Hayworth and Tony Martin, who have a charming romance in this picture. It's wholesome, sweet young love. This movie is an entertaining picture which is worth the hour and twenty minutes it takes to watch it. Rita Hayworth and the Code put Music in My Heart!
Click the above image to buy this movie on DVD at Amazon and support PEPS through the Amazon Affiliate program!
Follow us to bring back the Code and save the arts in America!
We are lifting our voices in classical song to help the sun rise on a new day of pure entertainment!
Only the Code can make the sun rise on a new day of pure entertainment!