Ladies and gentleman, today is July 31, the final day of this month. The Pure Entertainment Preservation Society decided to dedicate the month of July to the celebration of the Breen era of Hollywood. This year was our first celebration of #CleanMovieMonth, but we hope to celebrate it annually from now on.
Different months are dedicated by various organizations to inform about, celebrate, and bring awareness to different topics. We wanted to bring awareness to, celebrate, and provide information about the twenty years when the Code was law in Hollywood (1934-1954). That may not seem like anything very unique, since we always do that here at PEPS. However, this celebration had some unique aspects. We promised not to watch any movies made outside of the Breen era and challenged our readers to do the same. I don't know if anyone else successfully accomplished this, but we achieved the goal. It wasn't difficult, since we usually watch mostly Breen films. We enjoyed this opportunity to re-watch some old favorites and discover some new ones.
In addition, I reviewed one Breen era film every day of the month except July 15, which was the day of The Story of the Code Through Classical Song at Hollywood and Western. After considering the outline, the cast list, and some additional information, we discussed the Code-compliance of every film. I've compiled a list of all the films we analyzed during this time so we can see what we have learned.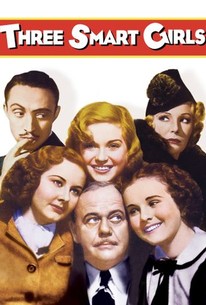 Day 1: Three Smart Girls from 1936
The family triumphs as three sisters use their music and love to defeat divorce and greed and reunite their family.
Day 2: The Private Lives of Elizabeth and Essex from 1939
Medieval drama and intrigue are in all their glory as the love affair between Queen Elizabeth and Essex is discreetly presented, with violence under careful restraints.
Day 3: The Cowboy and the Lady from 1938
Honesty and the simple American life are glorified in this story about a cowboy and a socialite disguised as a lady's maid, which shows the beauty of a wholesome courtship.
Day 4: Let Freedom Ring from 1939
Tyranny is fought in the Old West as one man uses the power of the press to convince immigrants that they need to learn to love and fight for their new country.
Day 5: The Chocolate Soldier from 1941
A sensitive musical comedy star fears that his wife is faithless, but perfect timing and handling assure the audience that she has detected his trickery and is just fooling him.
Day 6: Rebecca from 1940
A young bride is caught in a web of mystery and deception involving her husband's late wife, but evil cannot go too far to be acceptable, and sin must be punished.
Day 7: New Moon from 1940
A duke disguised as a bondsman in colonial New Orleans leads his fellow bondsmen in the fight for French freedom, inspiring allegiance to liberty instead of rebellion.
Day 8: Adam Had Four Sons from 1941
A noble governess fights to keep a family together against the plotting of a vicious vixen who is married to one of the sons, but the evil deeds are never much more than implied.
Day 9: Rhythm on the River from 1940
A composer and lyricist struggle against the selfish man for whom they ghostwrite, learning the importance of honor and integrity amid wholesome love and clean humor.
Day 10: Andy Hardy Gets Spring Fever from 1939
Andy Hardy writes his high school's play and falls in love with his substitute drama teacher, growing up as he learns about responsibility, honesty, and unselfish love.
Day 11: Seven Sweethearts from 1942
Sisterly rivalry ensues when a New York reporter romances two out of seven Dutch daughters, and all must learn about unselfishness, tradition, and family honor.
Day 12: East Side of Heaven from 1939
A cab driver, his fiancée, and his best friend play house as they care for a friend's baby in a charming story which praises innocent love and family life.
Day 13: The Shop Around the Corner from 1940
Anonymous pen pals are bickering co-workers at a shop in Budapest, which is undermined from within by the owner's suspicions about his wife's implied infidelity.
Day 14: Broadway Serenade from 1939
The importance of trust and the price of fame are themes in this musical about a married musical team who are torn asunder by her rise to fame and his jealousy.
Day 15: The Climax of #CleanMovieMonth
In lieu of a review, I discuss our concert, The Story of the Code Through Classical Song, and analyze the origins of the Production Code Administration on its 84th anniversary.
Day 16: Here Come the Waves from 1944
Patriotism swells as identical twins join the Waves during World War II and both fall for a handsome crooner in a story about love, generosity, and duty to your country.
Day 17: First Love from 1939
In a modern take on the Cinderella story, generous servants help a kind young girl go to a fancy party, as her cousins provide a clear example of the emptiness of being selfish.
Day 18: The Bride Goes Wild from 1948
A fraudulent children's author forsakes his life of implied immorality when he meets a beautiful school teacher and a mischievous but lonely orphan, learning about ethics.
Day 19: Saratoga from 1937
Risqué costumes and dialogue are a thing of the past as a bookie falls for his friend's granddaughter, a refined young woman who learns that friendship is greater than pride.
Day 20: Our Very Own from 1950
The true meaning of family is explored when a girl learns that she is adopted, but the details surrounding her birth mother's troubled past are veiled in this gripping drama.
Day 21: I Love You Again from 1940
A conman recovers from nine years of amnesia and learns that he has a dual life, but his life of crime seems very empty compared to the promise of an honest life with his wife.
Day 22: Stage Door from 1937
Aspiring Broadway actresses struggle with poverty, jealousy, and despair, facing the question of whether or not to receive favors from lecherous, ruthless producers.
Day 23: Good News from 1947
College life in the 1920s is pure and wholesome fun in this musical about a football player who must choose between a sweet, studious girl and a greedy, glamorous flapper.
Day 24: Here Comes Mr. Jordan from 1941
 Heaven is a delicate subject in this story about a boxer whose soul is taken too early and must find another body to inhabit with the help of Mr. Jordan, the chief angel.
Day 25: In the Good Old Summertime from 1949
This is a sweet, wholesome story about love being on the inside, since two bickering music shop employees write romantic letters to each other without even knowing it!
Day 26: Music for Millions from 1944
An expectant young mother plays in a classical orchestra while her husband is overseas, keeping up morale with the music and the inspiring faith of her six-year-old sister.
Day 27: It Should Happen To You from 1954
The importance of standing for something and the risks of trying to make a name for yourself are revealed when a young woman gains fame by putting her name on signs.
Day 28: Waikiki Wedding from 1937
A publicity man learns the importance of honesty and integrity when he falls in love with the girl he is supposed to romance to save the good name of a pineapple company.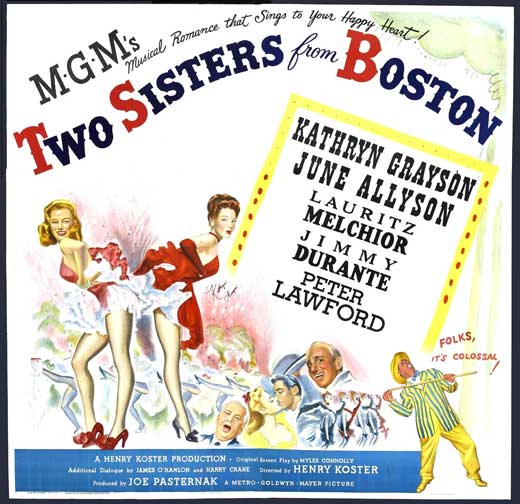 Day 29: Two Sisters from Boston from 1946
The Victorian era is favorably depicted as two sisters in New York work to get one of them out of a burlesque theater and into opera, since decency must be observed!
Day 30: Mr. Smith Goes to Washington from 1939
We learn the importance of patriotism, integrity, and fighting for lost causes when an honest young senator by honorary appointment fights graft in his state's congressmen.
This summation reveals a pattern of movies which teach lessons. A lot of them teach the importance of honesty, integrity, honor, unselfishness, and generosity. Many Code films contain valuable life lessons. They also inspire us to seek wholesome relationships and be good patriots. These are just additions to the things which we can take for granted in Code films. These things, which are really the foundation of the Breen era, include the lack of profanity, indecency, suggestive dialogue, vulgarity, toilet humor, digestive humor, revealing costumes, forbidden expressions, glamorized or detailed crime, or detailed or condoned suicide. These elements, which riddle movies from all other times, are not to be found in movies from the Breen era. However, mature topics were not always banned. Oftentimes, they were handled properly and delicately, so they could be featured in movies which were appropriate for children. Thus, young people were given the opportunity to see dramatic, inspiring films which would receive harsh ratings under the rating system. The Code was in place so that movies would be wholesome but dramatic, clean but challenging, and inoffensive but mature. It was in place so that all movies could be "reasonably acceptable to reasonable people."
Now that July is over, I am looking forward to receiving links to articles written by other writers who signed up for #CleanMovieMonth. I will republish all their articles, which will contain their thoughts on the Breen era films they watched during the month. Hopefully, they too received a deeper appreciation for the Code because of this celebration.
Tomorrow is the beginning of August, but the events are not over. PEPS has designated August as #AMonthWithoutTheCode. This month is completely opposite to #CleanMovieMonth. Instead of just watching Breen era films, we are watching everything but Breen era films. This is the month to watch all the films you couldn't watch during July. You can watch silent, pre-Code, Shurlock era, and post-Code films. Basically, you can watch any movies which were not made between July 15, 1934, and October 14, 1954. However, you can watch non-American films from 1934-1954, since they weren't self-regulated like movies made in the United States.
What is the purpose of this experiment? We want to have a clear contrast. In July, we focused on the goodness of clean movies. In August, we will totally abstain from this wonderful time. This can make us appreciate the good movies even more. Oftentimes we appreciate something more when we don't have it. I'll provide more details about #AMonthWithoutTheCode tomorrow.
Thank you for reading and participating in PEPS's activities!
Follow us to bring back the Code and save the arts in America!
We are lifting our voices in classical song to help the sun rise on a new day of pure entertainment!