Today is the 29th day of #CleanMovieMonth. We are nearing the end of our month-long celebration of clean movies. We have been reviewing a different movie every day. Every movie has been a film from the Golden Era of the Motion Picture Production Code, the twenty years when Joseph Breen was the head of the Production Code Administration (1934-1954). This was an era of purity and decency in films and in society. We have dedicated the month of July to celebrating this time.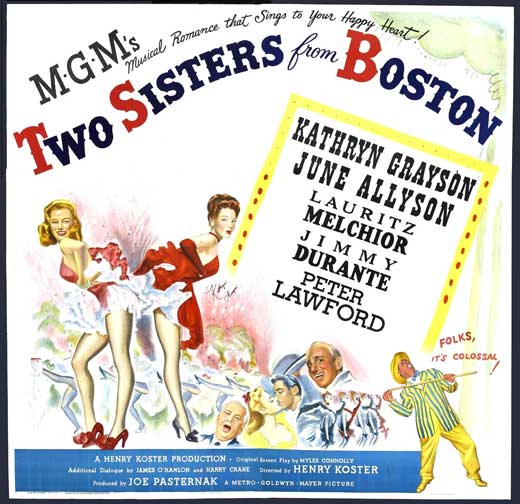 We are very grateful that the evacuation was lifted in Idyllwild this morning. Thus, we can return home. Although the Cranston fire continues to burn, the danger for our mountain community seems to have passed. Now, it's time to return to fun! We are doing this by reviewing an MGM musical about two young ladies from Boston who go to New York City around the turn of the century. One of them is a proper girl who aspires to be a Greek teacher, and her sister is a shimmering soprano who aspires to the opera stage but gets there through the Bowery. The movie is Two Sisters from Boston from 1946, starring Kathryn Grayson and June Allyson.
Outline
Martha Chandler is playing the piano at a demure afternoon tea party in a proper parlor in Boston. During the music, a busybody arrives late and begins whispering to other members of the gathering. The story is whispered from one person to another until it eventually reaches Hugo Tinkerfield, an admirer of Martha. He promptly punches the man who repeated the tale to him, insists that he did the only gentlemanly thing, and storms out. He is followed by the embarrassed Chandlers, who include Martha, her overbearing uncle, Jonathan, her sweet and timid aunt, Jennifer, and her drunken grandfather. In their carriage, Hugo tells them that the man said that Martha's sister, Abigail, has been singing at a low café in the Bowery every night, showing her limbs. The family knew that Abigail is in New York studying to be an opera singer, but the idea that she is singing at a burlesque theater scandalizes them. Uncle Jonathan is concerned that such a tale might jeopardize his current campaign for the position of mayor of Boston. They decide to go to New York to disprove the story. Unfortunately, it is completely true. Abigail performs nightly at the Golden Rooster in the Bowery as High-C Susie, a sizzling soprano with pizzazz and a figure to match! The owner of the joint is her friend Spike Marengo, an old-timer with a huge personality. Abigail is dismayed when she hears that her family is coming to visit her, but she is prepared to meet them. When they arrive, Uncle Johnathan confronts her about the story they heard, but she laughs about it. She says that The Golden Rooster is an opera and that she has been singing in the opera every night. She was showing her limbs as part of a costume. She didn't tell them about this before because the roles are so small. Uncle Jonathan leaves with Aunt Jennifer, saying that he is going to buy tickets to the opera that night so that they can see her perform. Now alone, Martha asks her sister what opera she is going to perform tonight, but Abigail says that she can't remember and rushes off to a rehearsal. Martha, feeling suspicious, looks at the slip of paper which says the Golden Rooster. She decides to go to the Bowery and confirm that her sister is telling the truth. She wanders into the Golden Rooster, where Spike is rehearsing with the chorus girls. She timidly asks Spike if a girl named Abigail Chandler works there, but Spike says no, since he only knows her as Susie Jones. Martha is so happy. However, as she leaves, she sees a winking poster of her sister in a dancing costume; she faints out of shock. When Abigail returns to her apartment, she finds Spike and Martha there. Martha is devastated because of learning the truth about her sister. Spike says that they can't let her uncle bring her back to Boston. They have to keep her aunt and uncle from learning the truth which Martha now knows. Spike promises to get Abigail in the opera that night. He gets her into the theater, into the chorus, and onto the stage by convincing the doorman that he knew him in his checkered past and telling the chorus master that she is a friend of the director of the opera company, Lawrence Tyburt Patterson. To be sure that her uncle and aunt notice her, she jumps out of the chorus a few times during the performance and sings solos. She gets attention but infuriates the tenor in the opera, an excitable man named Richard Olstrom. He chases her off the stage, and she runs to safety outside. Uncle Jonathan is appeased, and he leaves Martha in New York with Abigail. Abigail says that she'll never really be able to sing in the opera now, and that's what she's always wanted. She only sang at the Golden Rooster to pay for her lessons, since the money from Uncle Jonathan wasn't enough. Martha vows to get her sister an audition. The next day, she goes to the Patterson house. Lawrence Tyburt Patterson Sr, who is the director, is out, so she agrees to see his son. Little does she know that Lawrence Patterson Jr heard the story about Abigail being a friend of Mr. Patterson last night. Everyone assumed that she meant the younger Lawrence, but he knows that he's never met this young woman. Thus, he is fearing the worst of his father. Now that her sister is here, he begins proclaiming rules for Abigail to end her relationship with his father. Scarcely believing her ears, Martha faints. As he is taking her home, Lawrence explains the situation to Martha. As they bemoan their fallen kin, they find that they are kindred spirits who both speak Greek. Back at Abigail's apartment, Abigail is furious about what Lawrence believes. She makes it clear that the story is not true. Lawrence apologizes and offers to allow her to sing at a dinner party that his family is giving the next evening. Will she give a successful audition that will earn her a part in the opera? Will the Pattersons discover that Abigail is a burlesque entertainer? Will Mr. Olstrom cause trouble for her at the party? Will she turn her back on her friend Spike now that she is getting her chance in opera? Watch the movie to find out!
Cast
Abigail Chandler is played by Kathryn Grayson. Martha Chandler is played June Allyson. Lawrence Tyburt Patterson Jr is played by Peter Lawford. Spike Marengo is played by Jimmy Durante. Richard Olstrom is played by Lauritz Melchior. Uncle Jonathan is played by Harry Hayden. Aunt Jennifer is played by Isobel Elsom. Mr. Lawrence Tyburt Patterson Sr is played by Thurston Hall. Mrs. Patterson is played by Nella Walker. Grandpa Chandler is played by Jimmy Conlin. Hugo Tinkerfield is played by Wilson Wood.
Additional Information
This movie has an interesting arrangement of classical and common songs. The music at the Golden Rooster is comprised of original songs which were written by MGM composers in the style of late Victorian burlesque songs. Kathryn Grayson, Jimmy Durante, and the chorus girls perform "There Are Two Sides to Every Girl." Abigail and Spike perform two entertaining numbers together, "The Firechief's Daughter" and "Down by the Ocean." Spike makes a memorable entrance with the number "Hello, Hello, Hello." A quartet sings "Nellie Martin." Later, Spike leads the chorus girls in a hilarious rehearsal of "G'Wan Home, Your Mudder's Callin'." Martha gives an uproarious performance of "After the Show" with accompaniment by the chorus girls.
On the other side of the musical realm, there are some lovely classical performances. The opera sequences are adapted from instrumental pieces by Franz Liszt and Felix Mendelssohn. English lyrics were written for them to create scenes within operas. In one scene, Olaf Olstrom is making a recording of "Preislied" from Die Meistersinger by Richard Wagner. It is very interesting to see a replica of early record-making. The process, which includes the iconic horn, looks very authentic. Lauritz Mechior's powerful voice is full of vitality and strength in this song. Later, at a party, Abigail sings "When Romance Passes By." This charming song is part of a semi-classical genre which was very dear to Hollywood. It was taken from an instrumental classical piece, made a vocal composition, and given original English lyrics. It was based on "Valse Lente" by Leo Delibes. This charming waltz is really the only solo in this film which displays Miss Grayson's classical vocal talents.
Code-Compliance
This is a good Code film. What I really like about it is that it shows the propriety and sensibilities of many Bostonians in the Victorian era without mocking it. Uncle Jonathan looks foolish and bombastic, but he is not a moralistic man. He is not concerned about his niece's morality and honor. He is just concerned that his campaign for mayor might be injured. Martha, on the other hand, is a lovable young lady who is a kind and intelligent person as well as a purist. I appreciate the propriety which she and Lawrence both have. The Code has often been called Victorian, as has its principle enforcer, Joseph Breen. They really were both Victorian. Mr. Breen was born in 1888, and he maintained his Victorian sensibilities throughout his life. The Victorian era was a time of high decency and morality. Although the modes had changed by the 1930s-50s, the decent principles were revived in 1934 because of the Code.
This movie also provides an amusing look at the other side of the tracks without being indecent. Abigail does show her limbs, which is the Victorian word for legs. However, the costumes are risqué for the late 1800s without being indecent. They make a point, but they don't go too far. This is a wonderful movie. Anyone who likes music, dancing, and a good laugh should watch it!

Click the above image to buy this movie on DVD at Amazon and support PEPS through the Amazon Affiliate program!
Follow us to bring back the Code and save the arts in America!
We are lifting our voices in classical song to help the sun rise on a new day of pure entertainment!