Today is the first day of #CleanMovieMonth. You can read the announcement and description for this month-long celebration of Code films here. We have named July the month for celebrating sealed Cinema and clean entertainment. You can still join #CleanMovieMonth and watch only films from 1934-1954 to appreciate the Breen Code era.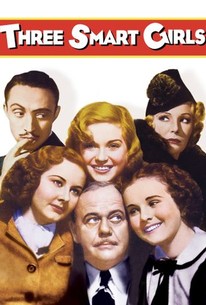 My film choice for today is Three Smart Girls from 1936. This Universal picture, produced by Joseph Pasternak, was the feature film debut of Deanna Durbin, the youthful soprano who saved Universal Pictures from bankruptcy. It's a cheery musical with light, whimsical comedy, touching familial relationships, and charming youthful romance that will be pleasing to all viewers.
Outline
Joan, Kay, and Penny Craig are three sisters who live in Switzerland with their mother, a lovely woman who has been unhappily divorced from her husband for ten years. The father, Judson, who lives in New York City, is only in the girls' lives in the form of pictures and paintings throughout the house. One day, the young ladies are dismayed to see that their mother is crying. They learn that the source of her grief is a newspaper headline declaring her ex-husband's engagement to a much younger woman. The girls decide that they must do something to keep their father from remarrying and ruining all their lives. They convince their housekeeper, Martha, to accompany them on a secret, impromptu trip to New York City. They meet their estranged father, who is very surprised to see them after all these years. When they meet the gold-digging Donna Lyons and her obnoxious mother, they know that they must do something to stop the wedding. They plot to break up the engagement with the help of a handsome young employee in their father's company, who takes a liking to Joan. They decide to enlist the services of a penniless count to woo Donna away from their father. Complications ensue when they mistake a charming young English nobleman for the drunken count. Will the three smart girls be able to save their father from the clutches of the greedy Miss Lyons and her mother and reunite their family? Watch the movie to find out!
Cast
Joan is played by Nan Grey. Kay is played by Barbara Read. Penny is played by Deanna Durbin. Mr. Craig is played by Charles Winninger. Donna Lyons is played by Binnie Barnes. Mrs. Lyons is played by Alice Brady. The young English lord is played by Ray Milland. The count is played by Mischa Auer. Martha is Lucile Watson. Mrs. Craig is played by Nella Walker.
Additional Information
Deanna displays her operatic vocalism in this movie on several occasions. She sings several charming songs, including a rousing rendition of "Il Bacio" in a police station. Musical fans will enjoy her classical singing, which is light and pleasing. Other viewers may like being introduced to music in foreign languages which is unassumingly presented.
Code-Compliance
I consider this to be a perfect Code film. It's completely decent and free from objection. It's really charming and very touching at times. The romance is completely wholesome, with innocent youth roles which were so rarely seen in pre-Code films. The best feature of this film, Code-wise, is the proper handling of divorce and remarriage. From the beginning to the end, you are hoping for the girls to make their father realize how much he has missed and is missing by being across the sea from his wife and daughters. This is the depiction of the family which the Code required and created.
Stay tuned throughout #CleanMovieMonth to read my future postings on clean movies. Join the celebration yourself by watching Code films from the Breen era!

Click the above image to buy this movie on DVD at Amazon and support PEPS through the Amazon Affiliate program!
Follow us to bring back the Code and save the arts in America!
We are lifting our voices in classical song to help the sun rise on a new day of pure entertainment!